10 Biggest News Stories of the Week: Chevy Suburban, Ford Escape Can't Break Bronco Sport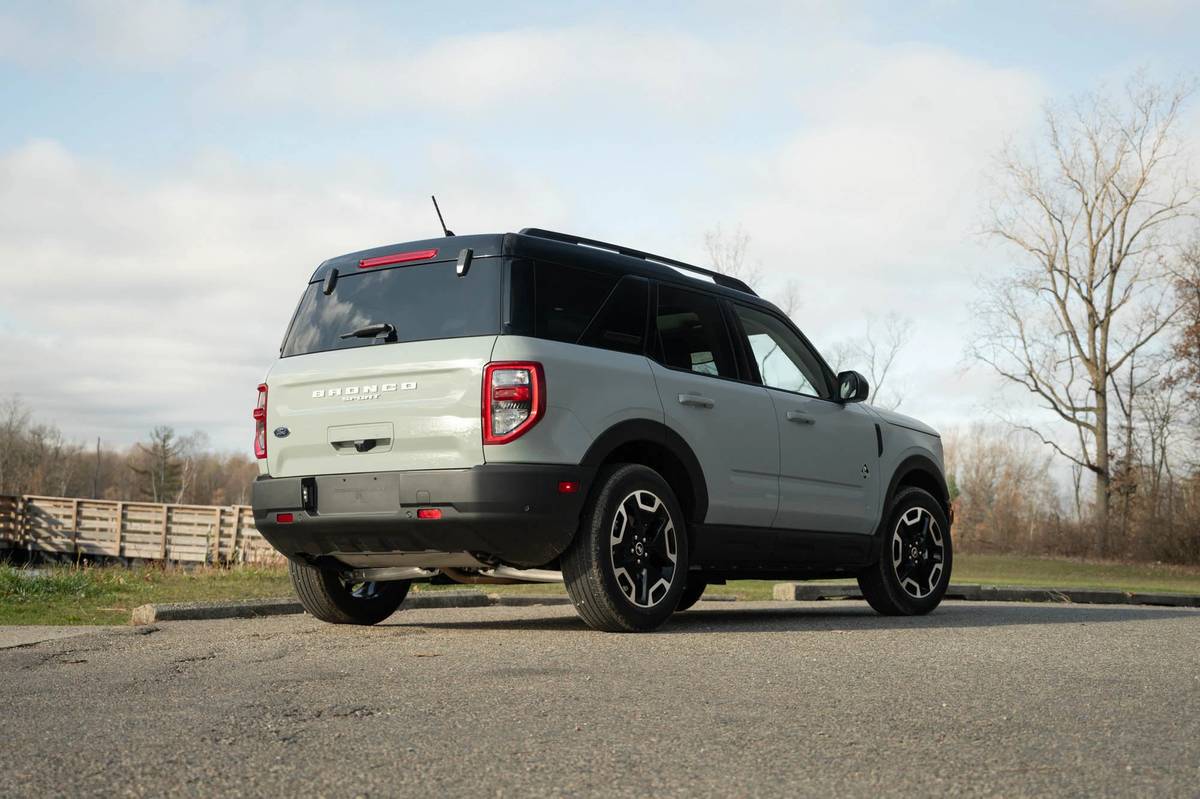 Starting with an official announcement four years ago this month, news has been trickling out about the promised return of the iconic (for better or worse) Ford Bronco. When the off-road-capable SUV arrived in late 2020 after exiting the corral more than two decades ago, it brought along its little bro in the tamer, more everyday-friendly 2021 Bronco Sport. And like that moment when your prospective paramour instead falls for your sibling, we suspect Bronco shoppers just might go gaga for the Sport instead.
Related: 10 Biggest News Stories of the Month: Hyundai Palisade Parts, Nissan Rogue Rebounds
In Cars.com's most popular news article of the past week, we give you a rapid-fire rundown of the many things we liked — and a few we didn't —  about the Bronco Sport when we test-drove it. In the plus column were the Sport's substantial size relative to its on-road agility; more-than-adequate oomph from its 181-horsepower, 1.5-liter three-cylinder engine; diversity of offerings across five distinctive trim levels; impressive off-pavement prowess; ruggedly handsome cabin; and thoughtful extras like that convenient flip-up rear window. Among minuses were occupant-space oddities, its previous-generation multimedia system and a bit of an identity crisis for which it has only its name to blame when compared to big brother Bronco.
For the full details on our compliments and criticisms of the 2021 Ford Bronco Sport, follow the link below to our No. 1 story of the past week.
The Bronco Sport evidently used its considerable off-road ability to climb over one heck of an obstacle in the 2021 Chevrolet Suburban. The redesign of the Bow-Tie brand's full-size family SUV rests comfortably in our weekly countdown's second-place position — as comfortably as full-grown adult passengers can rest, too, thanks to the Suburban's newly revised seating that frees up space in the once-less-accommodating rear confines.
In his comprehensive critique of the behemoth SUV, Cars.com reviewer Joe Wiesenfelder declares the overhaul a success in the adult-seating department, at last posing a legitimate threat to Ford-brand rival the Expedition. Wiesenfelder extends the same praise to the Suburban's less lengthy twin, the Tahoe.
"The Chevrolet Suburban has been many things for many decades; it's one of the longest-running model names in the U.S. market. (Chevrolet says it's the longest-running, but we're not the arbiter of such matters.)," Wiesenfelder writes. "What the Suburban hasn't been for nearly the past two decades is competitive against the Ford Expedition Max (previously known as the Expedition EL) in one important regard: backseat roominess. For 2021, that's finally changed with the redesign of both the Suburban and the Chevrolet Tahoe."
For Wiesenfelder's full review, follow the link below to the No. 2 article on our countdown.
Rounding out the week's top five are our report on how a probe by Cars.com's Kelsey Mays into how the Jeep Wrangler was able to sidestep federal side-curtain airbag requirements spurred a regulatory clarification, at No. 3; our recommendation on whether Ford Escape shoppers should opt for the 2021 model or hunt for a deal on a '20 (the answer is the former if you want the all-new plug-in hybrid variant), at No. 4; and Cars.com editor Brian Normile's explainer about the 2021 Jeep Grand Cherokee, at No. 5.
Beyond that, we've got headlines on the Land Rover Defender, Nissan Kicks, Mazda3 and more — so keep reading till you hit double digits. Here are the top 10 news stories Cars.com readers couldn't get enough of in the past week:
1. 2021 Ford Bronco Sport: 6 Things We Like, 3 We Don't
2. 2021 Chevrolet Suburban Review: Grown for Grown-Ups
3. Feds Update Safety Standard in Wake of Cars.com Investigation
4. Ford Escape: Which Should You Buy, 2020 or 2021?
5. 2021 Jeep Grand Cherokee L: Three Rows and Grand, but Not the Wagoneer
6. What's New for Jeep in 2021?
7. How Do I Calculate if a Lease Is a Good Deal?
8. 2020 Land Rover Defender Review: Tough Luxe
9. 2021 Nissan Kicks Review: Same Value, More Friendly
10. 2021 Mazda3: 4 Things We Like (and 4 We Don't)
Cars.com's Editorial department is your source for automotive news and reviews. In line with Cars.com's long-standing ethics policy, editors and reviewers don't accept gifts or free trips from automakers. The Editorial department is independent of Cars.com's advertising, sales and sponsored content departments.
Source: Read Full Article