2020 Porsche 718 Cayman GT4 and Spyder Say No to Turbos
Fans of high-revving naturally-aspirated engines, rejoice. The Porsche Cayman GT4 is returning to the road, eschewing the rest of the line's turbo flat-fours — and it's bringing an open-top Spyder with it.
Porsche officially announced the pair late Monday. Standing at the top of the 718 Boxster and 718 Cayman ranges, the Spyder and GT4 are both mechanically identical, packing the same 414hp 4.0-liter, flat-six engine. The new engine is unrelated to the similarly-sized heart of the 911 GT3; instead it shares its origins with the 911 Carrera's turbocharged engine. Nonetheless, free of snails, it should be a singer, with a redline of 8,000rpm. Torque sits at 309lbft, which should encourage regular rowing of the (standard) six-speed manual transmission. There's no mention of a PDK either: the only shifting assist is an automatic rev-matching feature for downshifts, which can be turned off.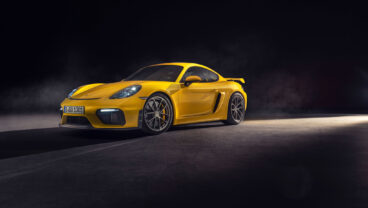 Whether buyers opt for the purist hardtop or the wind-in-your-hair Spyder, both cars tip the scale at 3130lb. That gives them an identical 0-60mph dash of 4.2 seconds — we assume with the lightweight roof up on the Spyder. The Cayman does eke out a slight top speed advantage, with 188mph playing 187mph.
Both cars come with a uniquely-tuned Porsche Active Suspension Management (PASM) adaptive damper system, dropping them 1.2 inches lower to the tarmac than regular 718s. A performance-oriented Porsche Stability Management (PSM) system comes with two stages of deactivation for minimal computer intervention. There's also a mechanical limited-slip differential with torque vectoring.
Steel brake rotors are standard, with Porsche's carbon-ceramic discs available as an option.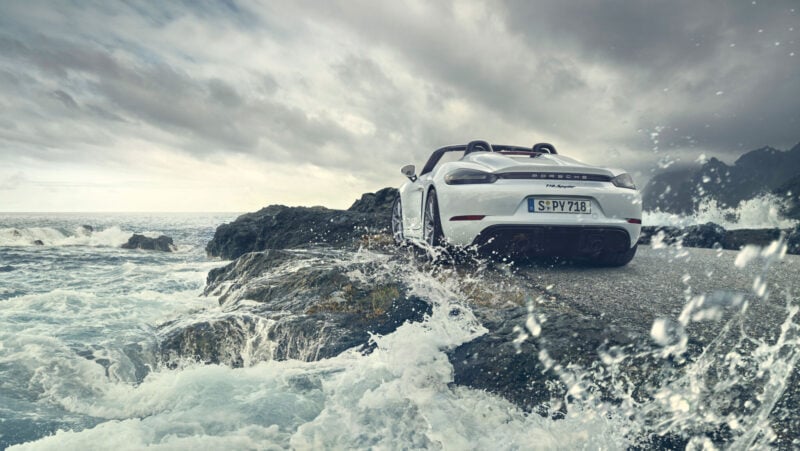 The GT4 and Spyder both gain a harder-edged look outside too. A large front lip spoiler is joined by a functional diffuser out back. On the GT4 this accounts for 30% of the rear axle downforce; the Spyder becomes the first Boxster model to generate aerodynamic downforce at the rear because of it. The Spyder's rear spoiler deploys automatically at 74mph, whereas the GT4's larger fixed item produces 20% more downforce than the previous model.
All in, Porsche says the 718 Cayman GT4 can post lap times a full 10 seconds faster than the original GT4. That puts it at an even 7:30 — faster than the 911 GT2 of only a decade ago. Talk about progress!
Changes to the interior are minimal. Both cars get a GT Sport steering wheel, with a handy centering line on the GT4's rim. Porsche has also shaved a half inch off the gear lever's height for more directness. In select markets, a Clubsport package will include a half-cage, fire extinguisher, and six-point driver's side seatbelt.
The 2020 Porsche 718 Spyder and 718 Cayman GT4 are now available to order, starting at $97,550 and $100,450 respectively, including destination.
Source: Read Full Article