2021 Subaru Crosstrek Review: Bigger Is (Mostly) Better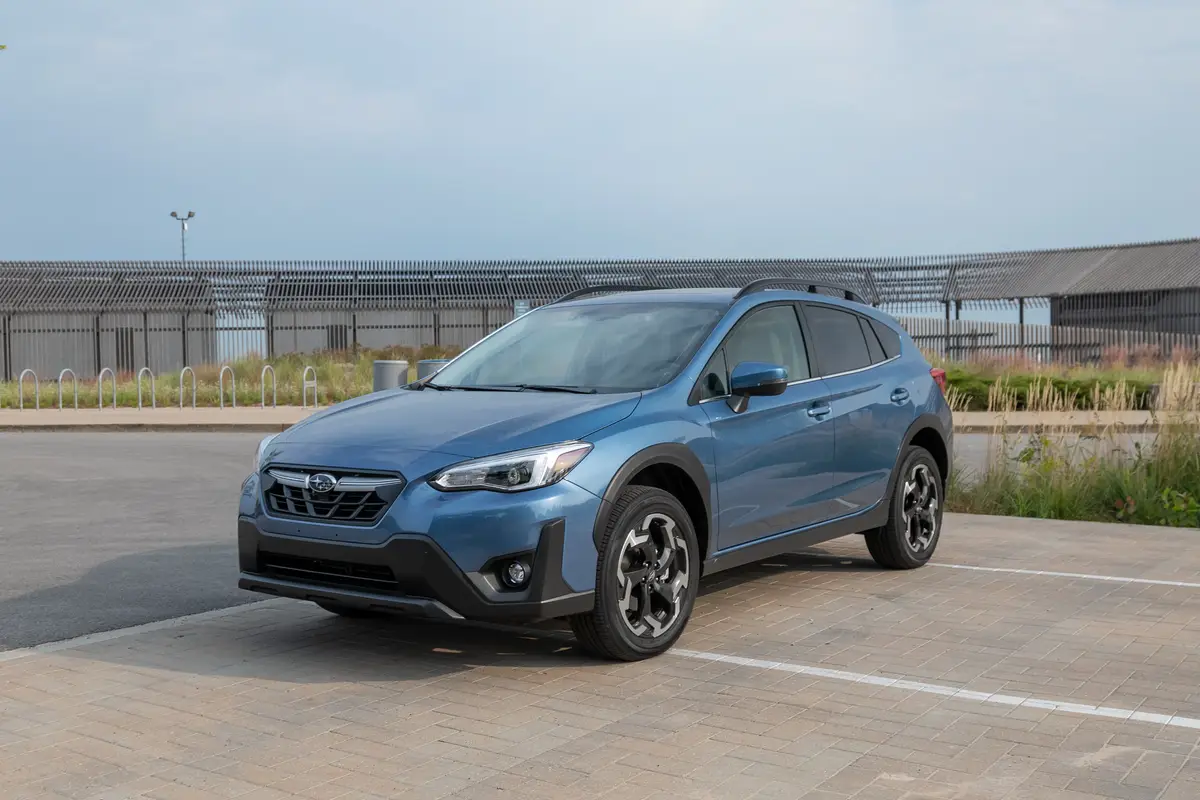 The verdict: Refreshed for 2021, the Subaru Crosstrek remains a practical choice. Though it lacks a few must-have technologies, it offers relatively generous ride comfort and seating space.
Versus the competition: The Crosstrek is a larger alternative to the entry-level SUVs it's priced against — a position that pays everyday dividends. The current generation first appeared back in early 2017, however; as such, certain features have become outdated.
Headlining the updates for 2021 is Subaru's newly available 2.5-liter four-cylinder engine, borrowed from the Legacy sedan and the Forester and Outback SUVs. It comes on the Crosstrek's Sport and Limited trim levels, which are the highest of four available trims. The other trims, Base and Premium, still have last year's 2.0-liter four-cylinder. Compare all four trim levels here.
Related: What's the Best Affordable Small SUV?
The Sport trim is new for 2021. Other changes include newly available lane-centering steering, revised suspension tuning and styling tweaks (mostly amounting to more front bumper cladding; it's hard to believe the Crosstrek once had much less). We evaluated a well-equipped Crosstrek Limited as part of a comparison between four entry-level SUVs. Visit the related link above for the full comparison test and here to compare the 2021 and 2020 Crosstrek.
New Engine, Old Transmission
Paired with a continuously variable automatic transmission that raises engine revs at a tepid pace, the Crosstrek's larger four-cylinder engine feels curiously unremarkable from a standing start. More power comes abruptly, however, if you stay on the gas, a clear indication that the bigger engine makes some 20% more power than its raspy counterpart. Subaru rates the 2.5-liter at 182 horsepower and 176 pounds-feet of torque versus 152 hp and 145 pounds-feet for the 2.0-liter; compare EPA mileage ratings here.
Given enough gas, the 2.5-liter Crosstrek gets out of its own way — but even then, it's not exactly quick, reaching 60 mph in a leisurely 8.7 seconds by our testing. The transmission's relaxed wind-up remains a weak link. CVTs a decade ago universally behaved this way, but today's best examples are Johnny-on-the-spot with engine revs. It seems Johnny Subaru hit the snooze button again.
Ride and Handling
Our other driving impressions run the gamut. Dynamics are improbably good: Subaru's all-wheel drive sends enough power to the rear to slide the tail a smidge if you stand on the accelerator mid-corner. I predict zero drivers will experience that, however, as the Crosstrek's moderate body roll and middling steering ratio don't invite aggressive maneuvers. It bears mentioning that Subaru offers a strut-tower brace as a Crosstrek accessory, which should shore up handling and might even help with body roll (our test car did not have it).
Ride quality has long demonstrated the advantage of a larger platform than you typically get from an entry-level SUV. Subaru altered spring and shock absorber tuning for 2021 to improve drivability, but the formula remains comfort-oriented. That's a welcome attribute in a class not known for it; rivals like the Ford EcoSport and Chevrolet Trailblazer are veritable bounce houses compared with the Crosstrek, which has a degree of shock absorption and high-speed isolation that's closer to the larger class of compact SUVs. Indeed, the current-generation Crosstrek ranked at or near the top of the field for ride quality in comparison tests against three rivals in 2018, then again versus three different rivals in our latest testing.
The Interior
In case its profile didn't tip you off, the Crosstrek isn't a particularly high-riding SUV. Though Subaru's claimed 8.7 inches of ground clearance ranks in the SUV big leagues, the Crosstrek tied for the lowest driving position among the four SUVs in Cars.com's comparison by our measuring tape. Modest height aside, occupant room is good. The front seats are reasonably large, if a bit unsupportive, and the backseat affords acceptable knee and head clearance for adults — never a given among entry-level SUVs. Ditto for visibility, where the Crosstrek's narrow roof pillars and large windows aid sight lines in all directions. 
Cargo space is less generous. We measured 13.0 cubic feet behind the Crosstrek's backseat, landing it last in measured volume among the four SUVs in our comparison. That's well short of the Kia Seltos' group-leading 16.2 cubic feet. (Note that these cargo volume figures stem from Cars.com's independent measurements, as we've found manufacturer-published cargo specs to be unreliable.)
Interior styling is too scattershot for my taste, but cabin quality rates well. Low-budget plastics are mostly hidden at eye level, and areas where your arms and elbows touch are dutifully padded. The dashboard and armrests have double-stitched accents, and the headliner sports a genuine woven material. Subaru dropped the ball with a few rickety controls, but it's nice to see the Crosstrek avoid most of the rampant cost-cutting we find inside most entry-level SUVs.
Tech Shortcomings
Despite some updates for 2021, the Crosstrek's roster of available technologies underscores that the current generation is entering its fourth model year while going up against a few newer rivals on the scene. Apple CarPlay and Android Auto are standard, but both require wired connections, not the wireless setup that's spreading in this class. Wireless smartphone charging is unavailable, and the Crosstrek's touchscreen lacks the instantaneous response, high-def resolution and plus-sized dimensions you'll get from a few rivals' displays. (A 6.5-inch display is standard, while higher trim levels like our test car get an 8-inch unit.)
Hands-on lane centering joins the Crosstrek's available EyeSight bundle of safety and driver-assist features for 2021. It works in conjunction with adaptive cruise control, and both systems can function from highway speeds down to a halt in stop-and-go traffic. That's a rare pairing for an affordable vehicle, but the adaptive cruise control won't automatically hold you at a stop for more than a few seconds before you have to step on the brake. Most adaptive cruise control systems do that now courtesy of an electric parking brake, but the Crosstrek retains an old-school mechanical handbrake.
Related Video:
Source: Read Full Article