2022 BMW M135i review
BMW has made a number of significant changes only a short time after the M135i's original launch, but are these enough to make it a top hot hatch?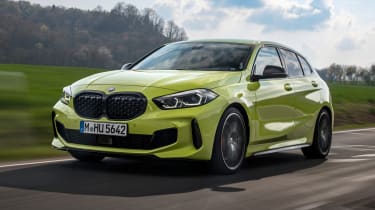 4.0 out of 5
Verdict
A raft of chassis changes and software tweaks have transformed the M135i into the car it probably should have been from the off. It's more fun and engaging than before, and very well built, but there are plenty of more thrilling options in this class.
There's nothing really wrong with the BMW M135i launched in 2019. In fact, it does a whole lot right. It's well made, capable and quick. It's just lacking the excitement and character of some of its rivals, and it has the added challenge of following up the unique rear-drive, straight-six powered 'F20' M140i. As a car using the much more familiar inline-four/four-wheel drive setup, it's always struggled to fill those shoes.
Happily, however, BMW has had a second go – curiously, quite early on in the M135i's life. This isn't part of a facelift or in BMW terminology a 'Life Cycle Impulse', something still quite far off for the 'F40' 1 Series. The German firm says it didn't want to wait that long before making changes.
BMW 1 Series review

They're fairly significant alterations, too, many of them taking inspiration from the development of the 128Ti. The negative camber of the front wheels has been increased by 25 per cent, which improves the tyre contact patch during hard cornering while also helping the front axle cope better with lateral forces.

More reviews

Car group tests

Abarth Punto vs Corsa SRi
Jaguar XE 300 Sport vs Alfa Romeo Giulia Veloce
Alpina XD3 Biturbo vs Porsche Macan S Diesel
BMW M2 CS vs Porsche 718 Cayman GTS vs Alpine A110 S
Audi TTS vs Alpine A110 vs Porsche 718 Cayman
Ariel Nomad
Aston Martin DB11 AMR vs Bentley Continental GT
Audi Q5 vs Volvo XC60 vs Hyundai Santa Fe: 2021 group test review
Aston Martin DBX vs Bentley Bentayga
Caterham 170R vs Mazda MX-5: 2022 group test review

In-depth reviews

Abarth 124 Spider review
Abarth Punto (2008-2015)
Alfa Romeo Stelvio review
Alfa Romeo Giulia review
Alfa Romeo 4C (2014-2019) review

Long-term tests

Citroen Ami: long-term test review
Cupra Formentor V1: long-term test review
Cupra Leon TSI 300: long-term test review
Fiat 500: long-term test review
Ford Puma ST-Line: long-term test review
Honda e: long-term test review
Polestar 2 Long Range Dual Motor: long-term test review
Renault Clio Iconic: long-term test review
SEAT Leon e-Hybrid: long-term test review
SEAT Mii electric: long-term test review

Road tests

New AC Cobra 378 Superblower 2021 review
New AC Cobra 378 review
New Alfa Romeo Giulia Estrema 2022 review
New Alfa Romeo Giulia GTAm 2021 review
New Alpine A110 S 2022 review
New Alpine A110 Legende GT 2021 review
New Aston Martin Vantage F1 Edition 2021 review
New Aston Martin Vantage Roadster 2020 review
New Callum Vanquish review
New Audi A8 60 TFSI e 2022 review

Used car tests

Used Alfa Romeo Giulia (Mk1, 2016-date) review
Used Bentley Continental GT (Mk2, 2010-2018) review
Used Bentley Bentayga review
Used BMW 5 Series (Mk7, 2017-date) review
Used DS 5 review
Ferrari 348: Buying guide and review (1989-1994)
Ferrari F40: Buying guide and review (1987-1992)
Ferrari Mondial: Buying guide and review (1980-1993)
Used Fiat 500 review
Used Fiat 124 Spider review

At the other end, BMW has redesigned the mounts for the suspension's trailing and control arms to increase stiffness, while all round there are recalibrated springs and dampers. The final chassis revision concerns tyres. On the standard 18-inch wheels, you now get Michelin Pilot Sport 4s, with the optional 19-inch rims wearing slightly wider PS4 S tyres.

In terms of software, the traction control has been tweaked, as have the torque steer compensation and the 'xDrive' four-wheel drive systems. On the latter front, the car powers all four wheels more of the time, we're told, although as before, it won't ever send more than 50 per cent of torque to the rear wheels.

The soundtrack has been improved on two fronts – the augmented engine noise piped into the speakers has been altered, while the exhaust itself now makes aggressive upshift pops plus some crackles when you lift off. Finally, just to make it easier to tell the newly fettled car apart from its predecessor, there are new colours available, including the M4's vibrant Sao Paulo Yellow – a worthwhile £595 option.

All cars at the M135i's launch in Germany were finished thusly, and in this hue, the hot hatch is certainly more eye-catching than ever before. The good news continues once we're up to temperature and pressing on in Sport mode – the soundtrack is indeed vastly improved.

The augmented engine noise is something we'd prefer turned down a touch, but it now sounds more realistic. The upshift pops from the exhaust meanwhile are more vocal than expected, providing additional drama during gear changes, while all the extra crackles at other times are a welcome inclusion.

The 2.0-litre inline-four up front is mechanically unchanged and as effective as ever. Peak power of 301bhp is available from as low as 4,500rpm, while 450Nm of torque is felt from 1,700-5,000rpm. As such, you never really need to rev it out, which is fine by us – it starts to feel and sound a tad weedy in its upper reaches. Keep to the punchy mid-range, and you'll have a much more enjoyable time. Eight ratios for the Aisin automatic gearbox means it's easy to keep the engine just where you want it, although its shifts could do with being a little brisker, and the shift paddles fancier.

Exactly how the M135i feels when you reach a corner is dictated by how you spec it. If the adaptive dampers are added, you miss out on a lot of the hardware changes levelled at the standard car. The team behind the updated car said they wanted to focus on the version bought by the most people, which is the M135i on 'M Sport' passive suspension.

That car is much more reactive to initial inputs, and the steering feels more natural, if still lacking in outright feedback. The M135i now laps up fast changes of direction with newfound enthusiasm, and it's a touch more stable-feeling than before in high-load cornering. What we're seeing here is the M135i coming out of its shell, revealing the potential its platform always had.

The same can't quite be said of the adaptive damper-equipped car. While it does feel more fun and engaging than the car it replaces, the difference is far less obvious – owing to all those missing hardware alterations the passive-damped M135i gets to enjoy. It doesn't feel as confident at speed as its more radically-overhauled sibling, and fails to inspire you to press on in the same way. Its limits are reached much sooner, although it still does take a decent level of commitment to run out of traction.

Plus, even with the option of a softer damping mode and a smaller set of wheels (the adaptive test cars had 18-inch wheels, the others were on 19s), it's not significantly more comfortable. The passive car's ride can be a little abrupt at times, but not unacceptably so. Our advice is to swerve the adaptive option, which overwhelmingly since the F40 M135i's launch, UK buyers have done anyway.

Inside, it's the same as before, and that's no bad thing. The M135i has a beautifully made and well-laid-out cabin, complete with the slick iDrive infotainment system. There are roomier C-segment hatchbacks out there, however – the switch to a transverse engine layout for this generation of 1 Series hasn't yielded quite the space improvements we'd have liked.

We can forgive the M135i for that when it feels more premium and expensive than rivals like the VW Golf R and Mercedes-AMG A35. For some, this will have been counterbalanced by the fact that it lacks the oversteering fun of the former, and the extra aggression of the latter. But with the handling gap now narrowed, BMW's hot hatch is suddenly a lot more tempting.

| | |
| --- | --- |
| Model: | BMW M135i |
| Price: | £38,470 |
| Engine: | 2.0-litre 4cyl petrol |
| Power/torque: | 301bhp/240Nm |
| Transmission: | Eight-speed automatic, four-wheel drive |
| 0-62mph: | 4.8sec |
| Top speed: | 155mph |
| Fuel economy: | 38.2mpg |
| CO2: | 168.2g/km |
| On sale: | Now |

Source: Read Full Article