Assetto Corsa Competizione Coming to PlayStation 5, Xbox Series X in 2021
Having recently passed an aggregate €100m in sales, the Assetto Corsa franchise is about to expand its offering once again. Assetto Corsa Competizione is set to land on "next-gen" console platforms later this year.
ACC, the official game of the GT World Challenge, first arrived on PC in May 2019, and replicated the 2018 season of what was then the Blancpain GT Series. Since then it's grown to include further seasons of the series, encompass other GT3 racing series — like the Intercontinental GT Challenge — and even expand to GT4 cars.
The game made the transition to consoles in 2020, with a port developed by D3T to PS4 and Xbox One platforms. While this kept hold of the game's core strength — the physics engine — it proved taxing for the then-seven-year old machines, and even the newer PS4 Pro and Xbox One X had some difficulties. Launch reviews were mixed, but the two teams of D3T and Kunos Simulazioni have kept working at it and refining it over the past few months, within the limitations of the machinery.
PlayStation 5 and Xbox Series X offer far more capability for the studios to create as close to a PC experience as possible on console. When we spoke to Marco Massarutto of Kunos last week, he suggested that a version of ACC for the new machines was in the works, but gave a time frame of one or two years to "see the true potential" of the consoles.
https://youtube.com/watch?v=KnMbkLgA9xY%3Ffeature%3Doembed
However it now seems that the game will arrive a good deal sooner than that, with an official press release stating that the game is "coming to next gen consoles later this year". Precisely when this will be is very much up in the air right now, though we'd expect it to be later rather than sooner.
Today also marks the launch of the new British GT Pack DLC for the PC version of ACC. The pack adds three new circuits — Donington Park, Oulton Park, and Snetterton — and 40 vehicle liveries for GT3 and GT4 cars as used in the 2019 season of the British GT Championship. It's priced at $14.99 (£11.99/€12.99) and is available now. The PS4 and XB1 version will arrive later in the spring.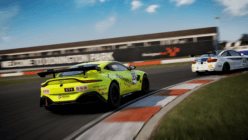 Source: Read Full Article