Assetto Corsa Competizione Intercontinental GT Pack DLC: WeatherTech Raceway Laguna Seca Previews
Kunos Simulazioni continues to tease the upcoming Intercontinental GT Pack DLC for Assetto Corsa Competizione. The pack, which features content from the 2019 season of the Intercontinental GT Challenge, will add four new circuits to the game.
So far we've seen Bathurst and, last week, Suzuka Circuit with several stunning in-game screenshots.
This week the team is back at it again, with some preview images of WeatherTech Raceway Laguna Seca. As has been the case thus far, the images shown off the renowned circuit from various angles in glorious detail. Like the other tracks, ACC looks to feature one of the best-looking virtual recreations of Laguna Seca to date.
The first image shows off the approach to Turn 3, coming out of the Turn 2 Andretti Hairpin. Further images reveal the circuit under clear conditions leading into Turn 5 and the run to Turn 6 and onto the Rahal Straight under sunset.
Finally, there's the iconic Turn 8 Corkscrew, also shown off in clear conditions. The overhead view gives a great look at the stark change in elevation while navigating the blind corner. It's very easy to overcook the brakes and wind up in the gravel trap — and just as easy to be a little too overzealous on corner entry and spin the car in the other direction.
There's no nighttime or wet weather scenery this time around, but we'd bet these aren't the only images of the track Kunos has up its sleeves. Based in Monterey County, the 2.2-mile (3.6km) circuit opened in 1957 and is host to numerous motorsport events, including the World Superbike Championship.
The Intercontinental GT Pack was originally announced at last year's Tokyo Game Show, and will add four new circuits to the sim. Joining Laguna Seca, Suzuka and Bathurst, the pack also includes the Kyalami circuit in South Africa, although we're yet to see any images of that.
Kunos remains tight-lipped on a release schedule and pricing for the IGTC Pack. We'll bring you more information as it's available so watch this space!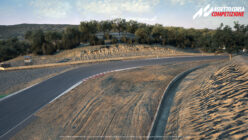 Source: Read Full Article