Bentley to break sales and profits record in 2022
After making record profits in 2021, Bentley looks set to do the same this year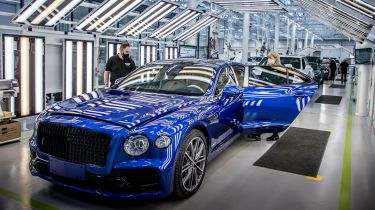 Bentley has revealed its half-year profits for 2022 and things are looking good for the British luxury car manufacturer. It revealed operating profits of £333.97 million, £7.56 million more than the entirety of last year where Bentley posted its previous record-breaking £326.41 million profit.
Adrian Hallmark, CEO of Bentley Motors, commented on the firm's finances: "Despite the continued global economic instability, it is promising to see Bentley is showing financial consistency as we reinvent the company in line with our Beyond100 strategy and form a basis to withstand further external shocks."
New driver-focused Bentley Flying Spur S revealed
Compared with this time last year, Bentley is up 124 per cent in terms of profits. Sales have been the driving force behind this success with a 33 per cent increase in Europe and 44 per cent increase in the UK. Globally, the year-to-date sales have increased three per cent to 7,398 sales for 2022 so far, despite a fall in sales of 25 per cent in China.
Revenue per car climbed from £156,000, to £178,000. Bentley says this is largely due to increased levels of personalisation. "Significant increase in demand and capitalisation of our Mulliner personalisation programme has driven record return on sales, and continued global interest in the freshest model line in the luxury sector has resulted in record high revenues," Said Hallmark.
The best-selling Bentley remains the Bentayga SUV, with 40 per cent of total sales. The Flying Spur accounts for 27 per cent and the Continental GT takes in 33 per cent.
Bentley says the new figures will help support its strategy to become a pure-electric brand. This includes a £2.5m investment at its Pyms Lane factory in Crewe.
Now check out our twin test between the new Range Rover and Bentley Bentayga…
Source: Read Full Article