Best cordless vacuum cleaners 2022
We find out which cordless vacuum cleaner is the best at making light work of filthy interiors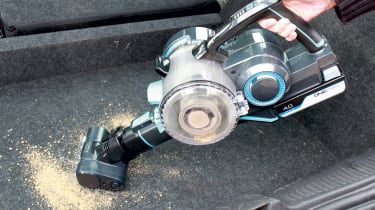 There's no doubt a clean car interior is a better place to be than one covered in grot and grime, but making sure you keep it that way will not only help preserve your car's residual value, but also make it easier to sell on when the time comes.
Dust, animal hair and food debris attack the seats and trim, while carpets can be worn out before their time under the regular onslaught from mud, grit and leaves.
Best car interior wipes 2022
The easiest way to keep your cabin grime-free, particularly if you don't have access to mains power where you clean your car, is to grab a cordless vacuum. There will be no wires trailing across the pavement, no bulky cylinders to lug around, and no dragging street dirt back into the house when you've finished.
But which is the one to make spring cleaning your car quick and pain-free? We charged up eight contenders to find out.
How we tested them
We ground a mix of salt, rice and fine, damp grit into a mat with thick luxury pile and then into another with flatter pile. Quick, efficient cleaning was the aim of our test. We used each machine for 15 minutes of car cleaning – getting down the sides of the seats, right up into the footwells and in the awkward areas of the boot. Points were given for accessories supplied, in-car versatility and domestic capability. Our final factor was price from makers and online sources.
Reviews
Gtech Multi MK2 K9 & Car Kit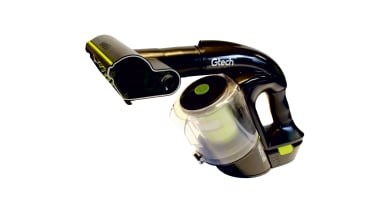 Price: £169.99 + £50
Max run time: 20 mins
Contact: gtech.co.uk
Rating: 4 stars
Gtech's K9 model remains great for in-car use, due to its reasonable 1.7kg weight and size that make it manoeuvrable in tight spaces. The 18V motor with its separate battery spun well, although unlike most units, it had no turbo or boost mode. But it did have an excellent small, powered brushbar, which was useful for footwells and the boot. Though a bit pricey, the car kit had lots of brushes and nozzles, and there was nothing we couldn't clean. We liked the twin LED lights and two-year warranty, yet its home ability is limited compared with some.
Buy now from Gtech
Vax ONEPWR Blade 4 Pet Cordless Vacuum Cleaner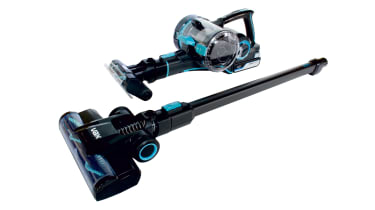 Price: around £260
Max run time: 45 mins
Contact: vax.co.uk
Rating: 5 stars
The latest Vax variant brings most things we like to the table, not least a powerful motor with an easy-to-change 18V battery and, importantly, a small powered brushbar that's ideal for car use. There are few standard accessories, but buying direct from Vax gets the £50 car kit, so there's nowhere in the cabin for dirt to hide. Power options are standard, boost and carpet, and with 4Ah on tap, it easily coped with all our tests. We'd like a light for the small brushbar and it was a touch heavy at 2.4kg but, overall, the Vax is a winner, with its success helped by a three-year warranty.
Buy now from Amazon
Hoover H-FREE 300 PETS HF322PT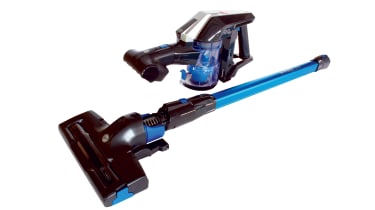 Price: around £150
Max run time: 40 mins
Contact: hoover.co.uk
Rating: 4.5 stars
This Hoover gave lots of grunt from its 22V motor. The 2Ah battery was down on some of the vacs here and didn't pose a problem during testing, but would obviously limit run time. The standard mode was steady and best for tackling surface dirt, but turbo gave lots more pulling power, especially with the 12cm brushbar. This, plus the crevice nozzle and pet hair removal brush, made it ideal for car work, where particles stick to fabric. Weighing just 1.8kg and being quite short, it was one of the easiest cleaners to manoeuvre, and very well priced.
PARTNERSHIP

Need to sell your car?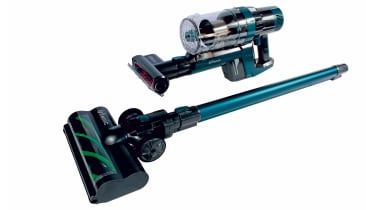 Price: around £200
Max run time: 55 mins
Contact: amazon.co.uk
Rating: 4.5 stars
The Ultenic boasts a powerful 34V motor with detachable battery, although we'd have liked more than 2Ah. It was slim and light, at around 1.9kg with the small brush bar, and spun impressively to plough through our test detritus.
The LED panel showed the mode selected from a choice of auto, normal and max, while the floor-mounted charging stand was a welcome extra that easily stored the vac and its four accessory brushes. Emptying and cleaning the filters on the detachable dust bin was easy.
A great performance from Ultenic, the only drawbacks being the lack of car-related accessories and a short 12-month warranty.
Buy now from Amazon
AutoBot VX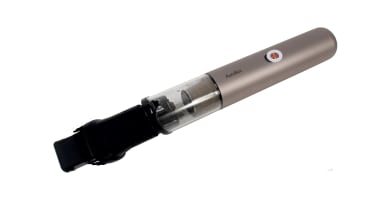 Price: around £100
Max run time: 20 mins
Contact: amazon.co.uk
Rating: 4 stars
The AutoBot is stylish, with a gold anodised finish. It matched the Gtech for noise, a key factor for working in-car, at around 46dB above ambient. Although light, at just over 500g, it was a little unwieldy sometimes, especially with the nozzle fitted, which gives it an overall length of 465mm. The nozzle features a slide-down soft brush that is useful for dash surfaces and air vents.
The power button toggles through normal and strong power modes, and the latter impressed us. The 120W motor is powered by a 2Ah li-ion battery that gives up to 20 minutes' run time in normal mode, but less in strong. The VX did very well on flat, fabric sections, although we couldn't get down the sides of the seats, which limits its appeal.
Buy now from Amazon
Bosch Unlimited Serie 6 BCS612GB ProHome Cordless Vacuum Cleaner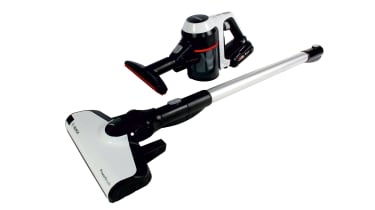 Price: around £270
Max run time: 30 mins
Contact: bosch-home.co.uk
Rating: 4 stars
The 612 echoed the quality finish and design of its more expensive brother. We liked the charging dock and two 2.5Ah batteries supplied, although to make best use of them, you'd need to go for the optional quick charger. It's a shame a powered brushbar wasn't included, just mattress and upholstery nozzles, plus a useful two-part flexible crevice tool. Oddly, there were no brushes, but the mattress accessory was good on tough car carpets. Performance was impressive in turbo mode, and the large brushbar makes it good for use around the home.
Buy now from Amazon
Dyson V8 Animal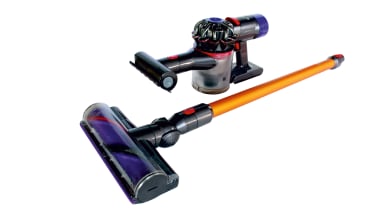 Price: around £250
Max run time: 40 mins
Contact: dyson.co.uk
Rating: 3.5 stars
Now only available in Animal format, the V8 is ideal for car work and remains a contender. At just 1.5kg, it was light to use and easier to move around than the longer V10 version (page 94). The 22V motor was powerful in both standard and turbo modes. We liked its small (14cm) powered brushbar, although a light would have been handy, and having to keep a finger on the trigger soon got tiresome. The V8 lost out on spec to the V10 (lower voltage, less run time) but pulled back points on price, even if, at £349, it's still rather expensive when faced with other vacuums here.
Buy now from Amazon
Dyson Cyclone V10 Animal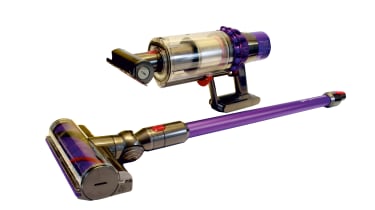 Price: around £400
Max run time: 60 mins
Contact: dyson.co.uk
Rating: 3.5 stars
Until recently this was Dyson's top dog. It's still a powerful unit, with a 25V motor offering a low-power run time of 60 minutes, and a real-world capability well within our car-cleaning test demands. Like other Dysons, it has a two-year warranty, but if you want an easy-swap battery, like much of the opposition, you'll have to spend another £100 for the otherwise-similar V11 model. Like the Vax, the V10 was rather weighty at 2.6kg and also quite long, which did not help it at times. It's the loudest vac on test – we were well aware of this once inside the car. As with the V8, its price drags it down the pecking order.
Buy now from Amazon
Proscenic S1 Mini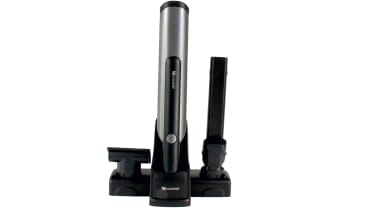 Price: around £80
Max run time: 30 mins
Contact: amazon.co.uk
Rating: 3.5 stars
The S1 slots into a neat dock with its upholstery/pet hair tool and combined nozzle/brush accessories either side. Charging via the mains-powered dock takes 2.5 hours to full or, with the USB-C cable supplied, 4.5 hours. We liked the spring-loaded plastic flap in the dust box, which stopped blow back, and the easily removable and washable HEPA filter.
The 2.2Ah battery was still supplying plenty of suction when we finished our tests, but there' no power indicator other than the flashing red 'battery low' LED. It needed the turbo mode to make any headway on the carpet grit, but the crevice nozzle was a mixed blessing – it could get right down the seat sides, but made the whole unit quite clumsy at 680mm long. A decent unit for a quick spruce-up, but you'd need help to get to all the dirt.
Buy now from Amazon
Simply Handheld Rechargeable Vacuum WWDH01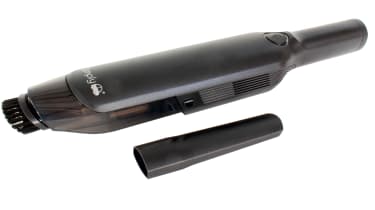 Price: around £40
Max run time: 30 mins
Contact: amazon.co.uk
Rating: 3 stars
The Simply resembled the Proscenic, but was around 60mm shorter and less powerful, at just 7.4V and 1.5Ah. It wasn't possible to remove the battery, and charging was only via the USB cable, but the battery had not reached flashing red at the end of our test. Performance was good on hard surfaces, but this well priced vac struggled on thick-pile carpets, while the dust box's rubber flap sometimes let grit fall out.
Buy now from Amazon
Bosch Unlimited BSC122GB Cordless Vacuum Cleaner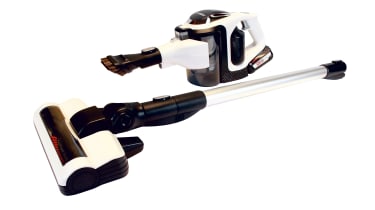 Price: around £400
Max run time: 60 mins
Contact: bosch-home.co.uk
Rating: 3 stars
From the start this Bosch gave a real feeling of top build quality, something emphasised by its fancy, shiny white finish. Uniquely here it came with two 3Ah li-ion batteries, which meant lots of run time. The powerful motor had two settings and was very quiet, even when using turbo mode. We liked the long, flexible crevice nozzle, which is ideal for cars, but bemoaned the lack of a small powered brushbar. Emptying the bin was easy enough, but having to extract the filter made it a bit dirty. Yet the biggest drawback was the price, which matched the Dyson V10.
Buy now from Amazon
Vacpower 6500pA Handheld Vacuum Cleaner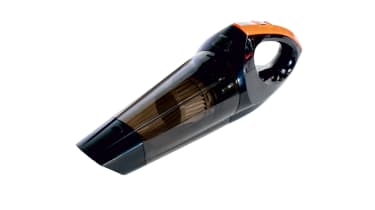 Price: around £30
Max run time: 30 mins
Contact: amazon.co.uk
Rating: 1 star
The Vacpower looked like it was from the seventies, given its old-style design, with the motor and handle one piece and the bin up front. There was just one power mode, which was okay for light dust, but baulked at our damp test materials. Dirt was sucked up via the shark nose front section of the bin, but with only a rubber flap-type non-return valve, it often filtered back out. It came with just a short crevice nozzle and a couple of brushes, although they had to be fitted to the nozzle. As useful as a dustpan and brush, but a lot more expensive.
Buy now from Amazon
Source: Read Full Article