Best in-car power banks 2021
We find out the best power banks to keep your electrical essentials charged up on the move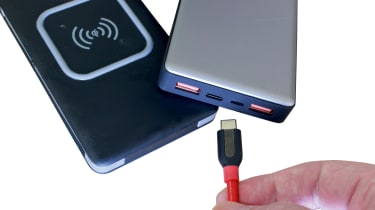 Those of us unable to work from home are spending ever more time in our cars, with commutes getting longer, meaning that we're using our phones more and increasing the risk of them going flat at a crucial time. Add to this the host of other portable power-hungry products crying out to be replenished (tablets, phones, games, videos etc.), and it's easy to see why a power bank is a good investment. 
You might well be tempted just to chose a large-capacity bank, but this frequently means more weight and a higher price, so consider your needs carefully. 
Best car headrest tablet holders 2021
We tested units spanning from 4.8Ah to 26.8Ah, so there's lots of choice. A typical smartphone battery is 2 to 3Ah, with some of the later tablets rated at 10Ah or more. Built-in cables are good, saving space and the need to carry extras. If you have a power bank and a device capable of fast-charging, the results can be up to three times quicker. 
How we tested them
We charged a 6Ah Android tablet and a 3.1Ah fast-charge phone – both with USB-C input sockets – from around 50 per cent for 30 minutes and logged the increase in charge. 
We assessed the power banks for capacity, build quality, accessories such as cables, plugs and a case, pass-through charging (while a device is in use), weight and price. 
The number and type of sockets (input and output) were important, not least because USB-C sockets enable suitable devices to be charged much more quickly. 
Verdict
The MSC QI bank combined good performance with versatility to keep it just ahead of the pack. The Goobay gave great results and plenty of capacity, while the multi-input Anker QI was equally impressive, if a touch expensive. 
MSC QI Wireless Charging & USB-C type Power Bank
Goobay Quick Charge 3.0 USB-C Power Bank
Anker Powercore III QI 10K
MSC QI Wireless Charging & USB-C type Power Bank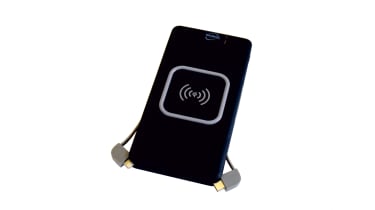 Price: £34.95 
Capacity: 10,000mAh
Contact: 01935 825914, www.mobilesolarchargers.co.uk
Rating: 5/5
BEST BUY Our last winner just manages to keep top spot against some serious opposition. One of its strongest points is the variety of connections: two 3.1-amp standard USB sockets, flying leads for Apple Lightning, USB-C, and QI wireless charging. 
Its 10Ah capacity strikes a balance between weight (204g) and practicality, and although it's not overly expensive, the addition of QI adds to the price compared with conventional power banks. Its performance was very good at 29 and 13 per cent for phone/tablet, although it was beaten by newer devices. 
Buy now from Amazon
Goobay Quick Charge 3.0 USB-C Power Bank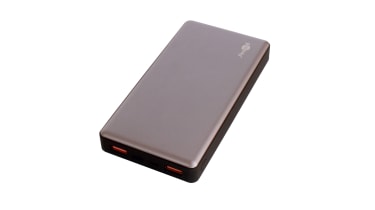 Price: £29.99 
Capacity: 15,000mAh
Contact: www.mobilefun.co.uk
Rating: 4.5/5
RECOMMENDED The Goobay provided the top phone result at 36 per cent, and an equal best 13 per cent on the tablet to claim the leading overall figure. Simultaneous reviving of multiple products was via twin USB sockets, providing fast-charging. The USB-C socket could handle up to 18W for newer, more demanding devices. 
The latter also enabled fast-charging of the power bank to reduce its downtime. We liked the stylish, aluminium finish, and the unit felt reassuringly solid. With 15Ah on tap, this would be an ideal product for multiple users. 
Buy now from Amazon
Anker Powercore III QI 10K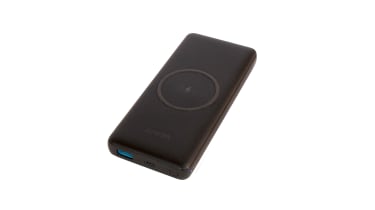 Price: £39.99 
Capacity: 10,000mAh
Contact: www.amazon.co.uk
Rating: 4.5/5
RECOMMENDED We've always been impressed by Anker's build quality, and this was no exception. We liked the slightly textured look and feel of the all-black casing. Coming with a soft, textile travel pouch and a USB-C to USB-C cable, it was one of only two to benefit from QI wireless capability, which produced a healthy phone result of 16 per cent, almost twice that of the MSC's 9 per cent. 
It also featured a USB and a USB-C port, both capable of fast-charging any device, and the latter able to be used for charging the bank. The price and lack of Lightning connector dropped it behind the MSC overall. 
Buy now from Amazon
Anker Powercore 26800 Portable Charger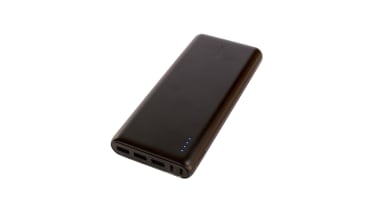 Price: £32.99 
Capacity: 26,800mAh
Contact: www.amazon.co.uk
Rating: 4/5
When it comes to capacity, there aren't many that can beat 26.8Ah. This huge figure would be enough to revive your phone many times over, although in truth, it's more likely to be bought by those with several devices to charge at the same time via its set of three USB sockets. 
Like its smaller QI sibling (above), it had an upmarket feel and came with a nice protective bag, plus an 18-month warranty. Unusually, two of the sockets could be used at once to fast- recharge it at 20W. Producing phone and tablet increases of 29 per cent and 12 per cent, the performance was good, if a shade off the best. 
Buy now from Amazon
MSC QC Type C Power Stick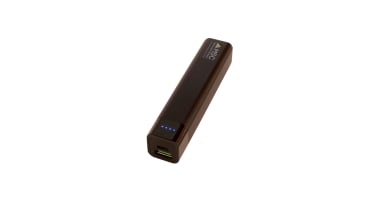 Price: £14.95 
Capacity: 48,000mAh
Contact: 01935 825914, www.mobilesolarchargers.co.uk
Rating: 4/5
From the largest capacity (above) to the smallest, 4.8Ah is still enough to fully charge most phones or provide many top-ups via its single USB-C socket. Our results were impressively quick at 35 per cent and 10 per cent for the phone and tablet. It was small (116 x 25 x 25 mm) and light, too, thanks to its aluminium case, weighing just 119g. 
We thought it was well built and, although some of the bigger devices worked out better value on a price-per-Ah basis, if you didn't want the capacity or bulk, this would be ideal for occasional use. 
Buy now from Mobile Solar Chargers
Ttec PowerCard Universal Power Bank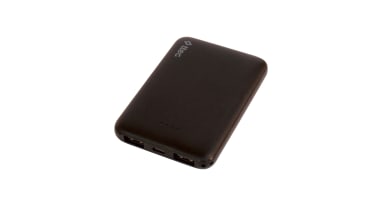 Price: £19.99 
Capacity: 5,000mAh
Contact: www.mobilefun.co.uk
Rating: 3.5/5
Another pocket-sized bank that could be held in the palm of a hand and with slightly higher capacity than the MSC QC, at 5Ah. But this unit had twin USB sockets, although reasonably fast-charging was still available, with the output rated at 2A/10W. 
Its phone result of 23 per cent was well off the MSC's, but it pulled back three per cent on the tablet. Price could be a drawback, though – £4 per Ah was the joint highest on test, although the convenience factor was important, especially its low weight, being the lightest on test, at 101g.
Buy now from Mobile Fun
Veho Pebble P1 10,400mAh Portable Power Bank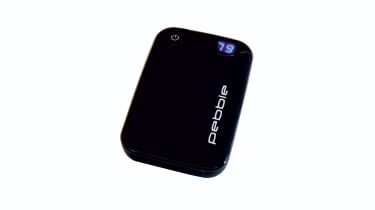 Price: £29.99 
Capacity: 10,400mAh
Contact: 01935 825914, www.mobilefun.co.uk
Rating: 3.5/5
The Pebble P1 did well in our last test and there's still much to commend it, not least the neat neoprene pouch and digital charge-state display. This makes it easier to assess when a recharge is due. The Pebble's design also appealed, although at 260g, it was quite weighty, even compared with power banks that have a similar capacity. 
Most of the units tested were quite new, so the Pebble's charge performance looked dowdy in comparison, scoring 23 per cent and 10 per cent on the phone and tablet. Those aren't bad results, but they show how quickly technology moves on. 
Buy now from Amazon
Elefull 10000mAh Power bank with flashlight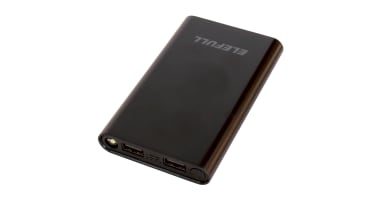 Price: £8.99 
Capacity: 10,000mAh
Contact: www.amazon.co.uk
Rating: 2.5/5
There's no escaping it, this is cheap, especially given that 10Ah equates to just 90p per Ah, against a highest of £4. But price isn't everything and we found that the light weight – only 200g – translated into lightweight build quality. 
The plastic casing felt low-rent and we think corners had been cut inside the twin-USB socket device because it charged slowly, boosting the phone by just 15 per cent and the tablet by 8 per cent. If money's a problem, it could get you out of a jam, but investing a little more would get a better product that would probably last longer. 
Buy now from Amazon
Source: Read Full Article