Best luxury SUVs 2021
We list the best big, posh SUVs currently on the UK market. Which one comes out on top?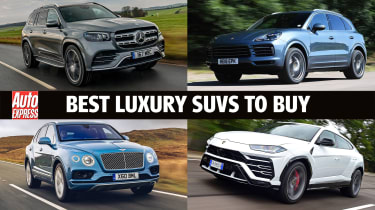 For decades the luxury SUV market was considered niche here in Britain. The Range Rover long stood out as the only real luxury off-roader you could buy. The North American market was the go-to place for cars capable of tackling the rough stuff while maintaining limo-like luxury for those inside. 
A lot has changed over the years though – particularly in the 2010s – with the arrival or more and more large luxury SUVs designed for European tastes. Nearly every single high-brow badge in Europe now offers a large off-roader with red-carpet kudos, and the list seems to grow longer by the month.
Best SUVs to buy 2021
Because car manufacturers now spend so much time developing SUVs not just for off-road driving, but for on-road use too, many of these vehicles boast refinement and ride quality that you'd previously only expect in long-standing luxury car lynchpins like the Mercedes S-Class and Bentley Flying Spur. These luxury SUVs also come with the added advantage of being able to venture just about anywhere and in total comfort, should that take your fancy. 
It's a very broad marketplace. Large, 'luxury' SUVs from major manufacturers start from around £60,000 in their most basic forms these days, extending right up to hyper-opulent cars costing over a quarter of a million, from only the most exclusive marques. 
Below we've ranked the ten best posh SUVs on sale in Britain today, taking in a broad selection of this now surprisingly diverse and increasingly popular market. 
The top 10 best luxury SUVs on sale
Range Rover
Porsche Cayenne
Bentley Bentayga
BMW X7
Volvo XC90
Audi Q7
Mercedes GLS
Lamborghini Urus
Tesla Model X
Rolls-Royce Cullinan
1. Range Rover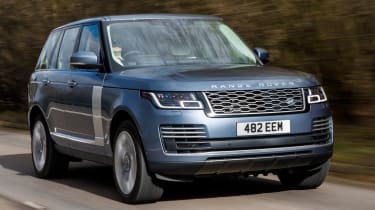 Nothing quite captures what a top-end SUV should be quite like the Range Rover. It's the original posh off-roader and still one of the most desirable luxury cars out there with an air of obtainability. 
The current Range Rover is due to be replaced in 2022, but despite being older than many other cars on this list, it's still a hugely convincing proposition. Few off-roaders are more capable when the going gets tough, while on-road, the Range Rover's refinement and ride leave little to be desired, thanks to extensive insulation and standard air suspension. 
Perhaps what matters most to buyers in this market is the amount of choice afforded. The Range Rover line-up is expansive, with several models to choose from. Although the base Vogue model is luxuriously appointed, even including a digital TV receiver, several loftier equipment lines are offered plus is a sporty SVAutobiography Dynamic version. 
Engines range from a 3.0-litre six-cylinder diesel with 296bhp, to a 557bhp supercharged 5.0-litre V8, while in-between you'll find a 345bhp diesel, a 394bhp six-cylinder petrol, another supercharged V8 model with 518bhp and now a plug-in hybrid version too. 
2. Porsche Cayenne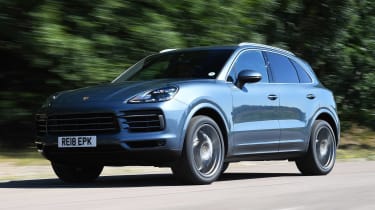 For buyers after a large luxury SUV with some sporting pedigree, Porsche has the answer with the Cayenne. Controversially introduced in 2002 it has quickly established itself as one of the brand's most popular models across three generations, and the current model is the best yet.
It's difficult to really call a car as large and as heavy as the Cayenne – especially in plug-in hybrid guise – sporty. But, in a class of cars with no real dynamism the Porsche is the closest thing you'll get to a large luxury SUV that's fun to hustle at speed, Lamborghini Urus excluded. 
The range-topping Cayenne Turbo S E-Hybrid packs 671bhp and is capable of 0-62mph in 3.8 seconds. That's true supercar baiting territory, but even the entry-level 335bhp Cayenne still manages the benchmark sprint in 6.2 seconds and a top speed of 152mph. What's more, the Cayenne is a lesson in luxury inside, tastefully applying some 911 inspired touches in a spacious, well made environment. 
3. Bentley Bentayga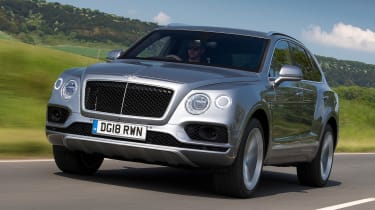 The Bentayga has been a huge success for Bentley and in a very short timeframe has become the Brit brand's best selling car. In fact, it accounts for nearly half of all Bentleys leaving showrooms around the world these days. 
Sharing the same basic underpinnings as the Porsche Cayenne, the finished product is very different in the metal. The Bentayga features the sort of interior craftsmanship you'd expect in the brand's Flying Spur limousine and Continental GT, and buyers can opt for bespoke personalisation through Bentley's Mulliner division – something you can't do with a Range Rover. 
Power comes from three different sources. The range-topping Bentayga Speed uses a 6.0-litre W12 engine developing 626bhp and 900Nm of torque, although we'd opt for the 542bhp V8 model.
4. BMW X7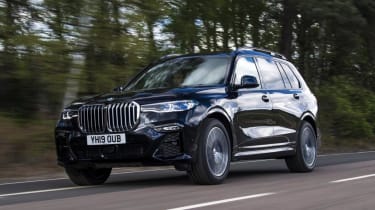 Though BMW's SUV line-up is now one of the biggest in the business the X7 marks totally new territory. This is the Bavarian brand's first Range Rover sized SUV, and it's an affordable entry into this list all things considered. 
With prices starting at just over £70,000 for the 335bhp six-cylinder X7 xDrive 40i model, it's around £10,000 less than the basic asking price of a Range Rover Vogue, while you get a very similar level of cabin technology and space for the money. 
It skimps on quality a little to achieve this, with the X7's cabin feeling more closely related to its smaller and saloon bodied siblings. And it won't venture off-road as far as the Range Rover either. 
But, on-road it's good to drive for a car of its size, and crucially it's a seven-seater. As a result, it's good to think of the X7 as being an alternative for prospective Porsche Cayenne buyers who need space for more than five. 
5. Volvo XC90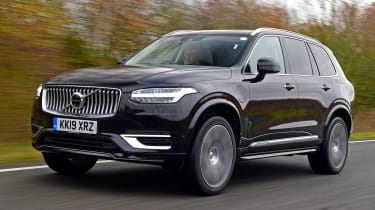 It's been around for a few years now, but the Volvo XC90 still stands out as a brilliant luxury SUV, and it's a relatively affordable one too, compared with rivals. 
That's because the XC90 starts from just over £54,000, with the range topping 385bhp plug-in hybrid T8 Twin Engine Inscription Pro model still priced from less than the basic cost of a BMW X7. 
The entire XC90 line-up uses four-cylinder engines, so buyers looking for a bit of presence under the bonnet will have to look elsewhere. It's far from the sharpest SUV to drive, but it is one of the most comfortable and will be more affordable to run than most of its rivals. It's still one of the most modern feeling options too, with a cool, scandinavian influence to the cabin design. 
For company car buyers, the availability of plug-in hybrid power over a broad cross section of XC90 models will entice, with low benefit in kind rates of 16 per cent. 
6. Audi Q7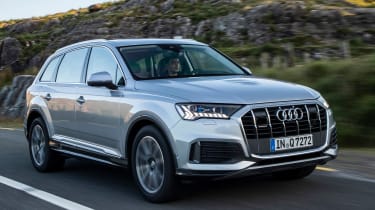 The Audi Q7 has been a hit in Britain since launching in 2007, and the current version – heavily facelifted last year – retains plenty of what has made this car such a success story for the Audi brand. 
It's priced similarly to the Volvo XC90, but while the Volvo majors on comfort, the Audi is pitched as being a sportier affair, and that tells not just in the way it looks inside and out, but also in the way this seven-seat SUV drives. 
It's strong on tech, and for infotainment lovers the Audi is a top choice. Touchscreen everything isn't for all, but there's little denying that the Q7's new dual-screen setup with haptic feedback, combined with the ever impressive virtual cockpit display isn't one of the sharpest looking and slickest infotainment setups out there. 
A huge line-up consisting of four trim lines, compares with a combustion engine range that's strictly 3.0-litres and six-cylinders, with two diesel options and a single petrol unit. A 3.0-litre petrol plug-in hybrid is available with either 376bhp or 456bhp, while there's also the 4.0-litre V8 powered SQ7 with 500bhp to satisfy performance enthusiasts.
7. Mercedes GLS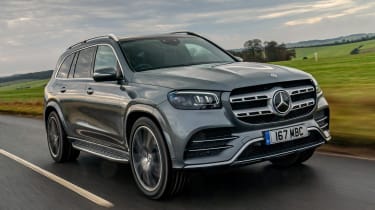 If size matters, the Mercedes GLS is the place to look. Exclude the £250,000-plus Rolls-Royce Cullinan, and you're looking at the largest SUV on the market. 
The new flagship Mercedes SUV is simply enormous. Seven adults can travel in it comfortably – and they will do, thanks not just to the sheer amount of space on offer in the cabin but also to standard air suspension across the line-up.
Mercedes has aimed to make the new GLS the 'S-Class of SUVs', and while it's not the poster-boy of the luxury SUV market as the S-Class is in the limousine segment, there's a clear likeness, based simply on how refined the GLS is on the move. Few SUVs are better suited to long-distance cruising, while the GLS is also adept off-road too, when fitted with an optional off-road package. 
Alongside the supreme refinement offered up by the silky smooth GLS 400d 3.0-litre, six-cylinder diesel model, sits a full fat, 603bhp GLS 63 AMG S version, while the Mercedes-Maybach GLS 600 takes the levels of luxury onto a different level.
8. Lamborghini Urus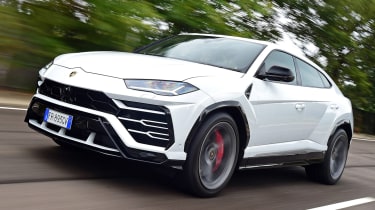 The Urus isn't the first Lamborghini SUV, but it's the most important car the brand has launched in years, designed to inject the sort of cash-flow into the company that Porsche has seen since introducing the Cayenne. 
With Lamborghini part of the VW Group, the Urus is based on the same platform as its Porsche developed sibling. It uses an engine found in the Cayenne and Bentley Bentayga too – a turbocharged 4.0-litre V8, developing a whopping 641bhp.
It means that the Urus is one of the fastest SUVs in the world, capable of reeling off the sprint to 62mph from standstill in just 3.6 seconds, while top speed comes in at 190mph. And this supercar worrying performance comes with a bit of off-road ability too.
Space is limited to room for five, with the sporty rear end clipping away a bit of headroom. But this really is an SUV aimed more at the drag-strip than green-lanes and family outings in comfort and convenience. 
9. Tesla Model X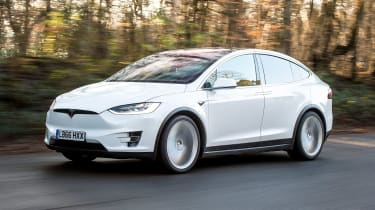 Electric SUVs are gaining popularity, but the most convincing one out there is still the original – the Tesla Model X. 
It's not the most glamorous or exotic looking thing, but technologically it's hugely impressive, and Tesla remains the benchmark all others must aim for when it comes to electric cars. 
The Model X boasts trademark instant off-the-line electric performance that will have the Lamborghini Urus worried, all while remaining deathly quiet thanks to the lack of a combustion engine. The powertrain layout means it's practical too, squeezing in up to seven seats in a footprint the size of the upcoming Aston Martin DBX – an SUV that'll no doubt be on this list soon. 
Tesla's Autopilot feature remains one of the most in-depth and widely used semi-autonomous driving assistants out there, while the enormous 17-inch central touchscreen display will be a big hit with tech fans. It's not the best luxury SUV out there to drive, however, and the interior is beginning to feel a bit dated in places too. 
Still, it'll be the easiest electric SUV to own. Tesla claims an impressive range of up to 348 miles on a single charge, while the Supercharger network of rapid-charger stations is now fairly extensive across the UK. 
10. Rolls-Royce Cullinan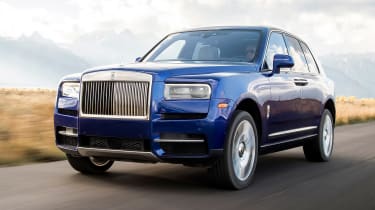 Put simply, the Rolls-Royce Cullinan is the most luxurious SUV money can buy, but you'll need a lot of cash to get hold of one. Prices start from over £250,000, making it head and shoulders the most expensive car in this top ten list. 
For the money, buyers get trademark contemporary Rolls' opulence in a huge, high-riding package. Not only is it the most lavishly appointed SUV you can buy in Britain, it's the biggest too, sizing up noticeably larger than even the Mercedes GLS. 
Under the bonnet sits a 6.75-litre twin-turbocharged V12 engine producing 563bhp and 950Nm torque. It lives an unstressed life, and contributes to the immensely refined and serene environment the Cullinan is on the move. 
The firm's first SUV is aimed more towards people who will climb behind the wheel rather than the chauffeur market. To that end, it's good to drive too, while Rolls has worked hard to ensure that the Cullinan is not just a leviathan for the road – it's immensely capable off-road too. Throw in trademark Rolls' personalisation, and it's clear that the Cullinan is an SUV worthy of its prestigious badge.
Did your favourite luxury SUV make the list? Let us know in the comments below…
Source: Read Full Article