Best snow cars 2021
Don't get stranded in a blizzard – these are the best new and used cars to deal with snow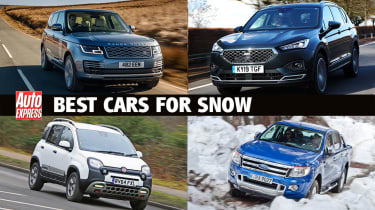 Snow is relatively rare in the UK, and getting rarer. Data from the Met Office suggests that on average there are only 15.6 days a year when there is snow on the ground, although obviously there are some parts of the country – such as northern Scotland – which are more adversely affected than others.
So buying a car specially equipped to deal with snow seems a bit of an extravagance, not least because a good set of winter tyres would be a wiser, and more affordable, investment.
Extreme snow cars – the world's ultimate cold weather vehicles
But if you're determined to own a car that can cope with snow – whether that's occasional flurries, more serious falls in mountainous regions or for regular skiing trips to the continent – there are some models that are better suited than others.
Four-wheel drive or all-wheel drive, for improved grip, is a definite advantage, although bear in mind it will add weight and increase the purchase price. Some buyers will place an emphasis on a car that handles well, given the tricky road conditions. And a raised seating position is useful for improved visibility.
Here are 10 models – five new buys, and five used – that are worth looking at if you're considering buying a car that can cope with the very worst winter can throw at it.
New
Dacia Duster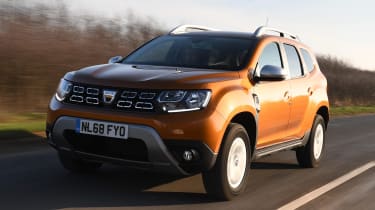 If you want a relatively affordable new car that's capable in the snow, look no further than the Duster family SUV from Renault's budget arm, Romanian brand Dacia. Plenty of ground clearance and the availability of four-wheel drive make it a sensible choice when the weather turns nasty. Four-wheel drive is only available with the 113bhp Blue dCi 115 diesel engine, and in two of the Duster's pricier trims, Comfort (starting from £19,095) and Prestige (from £20,295). But the diesel is a reasonable performer, particularly at higher revs. And while the driving experience isn't especially sophisticated, proven Renault mechanicals should mean decent reliability.
Jeep Renegade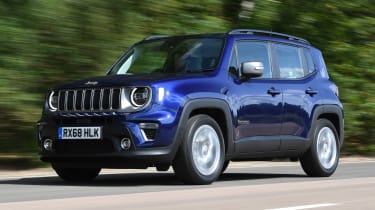 There's a host of stylish small SUVs on the market at the moment, but many of them are two-wheel-drive 'soft-roaders' that look the part but will struggle in snow. If you want one with real four-wheel-drive pedigree, check out the Renegade. Legendary US manufacturer Jeep has earned its reputation producing rugged, go-anywhere machines and the Renegade carries on the tradition. Four-wheel drive is only available on the pricey £32,695 Trailhawk version fitted with the 168bhp 2.0-litre diesel engine, but with Selec-Terrain tech and Hill Descent Control, the Renegade will be sure-footed when snow starts to gather on the ground. Distinctive squared-off looks add to the feeling of authority, too. 
SEAT Tarraco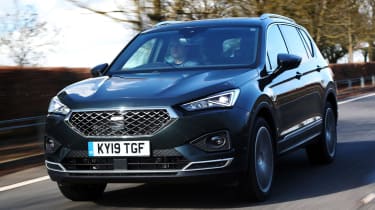 Want something bigger than the Renegade? The Tarraco might fit the bill. The SEAT is a seven-seater that impressed Auto Express sufficiently to be named Best Large SUV in our 2020 New Car Awards. Four-wheel drive is available with the 187bhp 2.0-litre TSI petrol and 197bhp 2.0-litre TDI diesel, both cars coming with the DSG automatic gearbox. There's also a dedicated rotary controller that allows you to select off-road mode or snow mode, depending on the conditions. And if you really want some comfort in the cold, the racy FR Sport trim comes with a Winter Pack which adds heated washer jets and heated front and rear seats.
Subaru Outback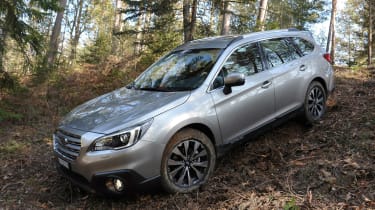 Fully fledged SUVs are not everyone's cup of tea, so why not consider the Outback, which is more of a crossover-cum-estate? It has higher than average ground clearance (200mm) than most conventional estates, and comes with the Japanese company's acclaimed Symmetrical All-Wheel Drive set-up, which constantly sends power to the wheels with the most traction to deliver maximum grip whatever the conditions. A relatively low centre of gravity, compared to that of conventional SUVs, ensures composed handling. The 2.5-litre boxer petrol engine provides more than enough power, and with the brand voted number one for safety features in Auto Express's Driver Power owner survey, you're sure to feel secure in the Outback.
Range Rover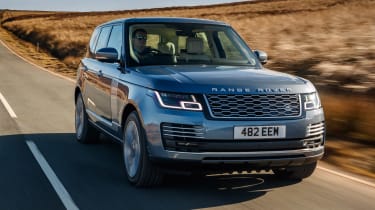 There's a fair chance if you're in the market to buy a car specifically to deal with snow you may have a decent budget at your disposal. So why not splash out on the king of upscale off-roaders, the Range Rover? If you want to be as comfortable as possible when winter comes, there are few better options. Four-wheel drive and adjustable driving modes ensure the car will cope whether you're on a muddy path with a light smattering of the white stuff, an A-road with compacted snow or in a blizzard on a wet motorway. And engine options including a V6 and V8s mean you'll never be short of power. But best of all, you'll be protected from the elements in a beautiful cabin that's on a par with those of the finest luxury cars. With standard wheelbase models starting from £83,465 it's not cheap, but you get what you pay for.
Used
Fiat Panda Cross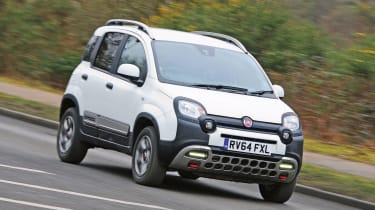 The diminutive Panda Cross makes a great choice for anyone intimidated by the prospect of driving in snow, and looking for a small, light model to manoeuvre, or for those after a second – or third – cheap model for occasional snow use. Fiat's little adventurer comes with a 85bhp 0.9-litre Twinair petrol engine and 4×4 technology to deliver excellent grip and traction whatever the surface, and a driving mode selector function that includes Off-Road and Hill Descent Control, which should ensure you feel secure whatever the conditions underfoot. It'll also take you places other city cars can't when the weather is good. Around £5,000 should be sufficient to find one with a sensible mileage.
Skoda Yeti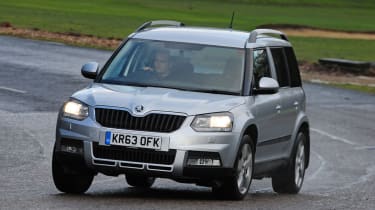 With the name Yeti, you'd expect this tough-as-old-boots Skoda to excel in the snow. And it does. Its chunky styling makes it an unmistakable presence, but of more significance is what's under the skin. It's available with both petrol and diesel engines, but only the latter came with four-wheel drive, so that's the route you should probably go down if snow driving is your priority. The 2.0-litre TDI engine was available with various power outputs, and you can pick up decent early examples from the early 2010s with respectable mileage for around £5,000. Reliability shouldn't be an issue as the Yeti is a former winner of the Auto Express owner satisfaction survey.
Toyota Land Cruiser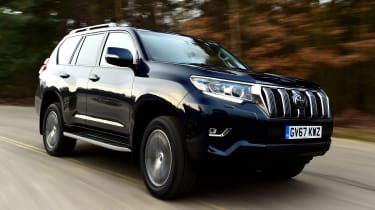 Watch any TV news coverage or travel show footage of inhospitable, snowy mountain ranges such as the Himalayas and there's one thing guaranteed: a Toyota Land Cruiser will pop up at some point. That's because the locals place a value on the big off-roader's ability to conquer the very worst terrain and conditions. Hi-tech features such as a Drive Mode Select System, Multi Terrain Select and crawl control will ensure you can negotiate the most forbidding snow-covered routes, and you'll do so in comfort courtesy of the spacious five, seven or eight-seat cabin. Toyota's famed reliability means buying used is nothing to be afraid of; top-spec diesel-powered Land Cruiser Invincibles are widely available on small ads sites with prices to suit every budget depending on age and mileage.
Porsche Macan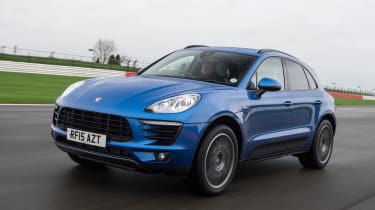 Some people place a priority on a car that handles well in the snow; treacherous road conditions mean confidence in a car's ability becomes ever more important. If this is key for you, then the smaller of Porsche's two SUVs should be on your radar. With standard four-wheel drive, tremendous grip and superb dynamic abilities, it's both reassuring and fun to drive. Plus, there's plenty of choice when it comes to power, with 2.0-litre turbo and V6 engines on offer. Inside, you'll find a cabin that's very comfortable – worth bearing in mind for continental skiing trips. The Macan isn't cheap, though; expect to pay around £30k for a five-year-old 2.0-litre Turbo with around 60,000 miles on the clock.
Ford Ranger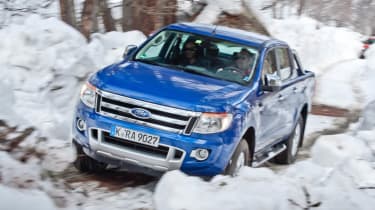 Considered a pick-up for snow driving? If not, why not? They're a common sight in some of the most snowbound US states in winter, and with good reason – four-wheel drive, go-anywhere ability and excellent practicality make them an excellent solution for driving in the snow. There's less choice of models here than in the US, but one option that's widely available as used is the Ford Ranger, with prices starting at just under £2,000 for a 16-year-old double-cab model. You can use the load bed to store all manner of gear – from muddy boots to emergency snow chains – and the functional cabin will stand up to plenty of slushy mess and abuse.
Source: Read Full Article