Best supercars 2021
The 10 best supercars on sale today offer performance, thrills and outstanding style
Introduction
1. McLaren 720S
2. Ferrari 488 GTB
3. Lamborghini Huracan Performante
4. Ferrari 812 Superfast
5. Porsche 911 GT2 RS
6. Audi R8 V10 Plus
7. Ford GT
8. Aston Martin DBS Superleggera
9. Lamborghini Aventador S
10. Honda NSX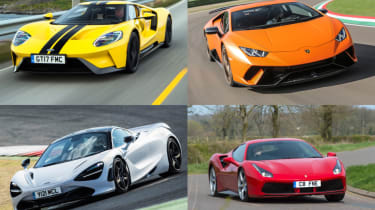 If you're desperately keen to show the world that you're doing very well for yourself, one way of doing it is having a supercar on your driveway. However, owning a truly great supercar also shows petrolheads you have an excellent taste. These cars could never be described as cheap or affordable, but in return for your hard earned money, they offer you exceptional performance, luxurious finish and the power to turn heads wherever you go.
Supercars come from all kinds of manufacturers. Established brands like Ferrari, Porsche, McLaren and Lamborghini have been producing supercars for years, but nowadays they face challenges from the likes of the Lexus LFA and BMW i8.
• Best hypercars on sale
Whoever makes them, all supercars have fearsome price tags and typically cost a fortune to run. But the trade-off is scintillating performance and the capacity to get the adrenaline flowing: it's not unusual for a supercar to top 200mph these days, and 0-62mph times of under three seconds are becoming commonplace.
• Best used sports cars
Experiencing that level of acceleration is a thrill that never fades for a supercar's owner, but the enjoyment that supercars create for those who can't afford them is plain to see, too. That's because we can all enjoy their outlandish and beautiful bodywork and spine-tingling exhaust notes on the occasions they drive past. In fact, there's not much that stirs the soul of a petrolhead more than seeing and hearing a Ferrari, Lamborghini or McLaren rocketing past.
Our top 10 features supercars that really do tick all of the boxes – they are powerful, packed with tech, stunning to look at and, importantly, still great to live with day-to-day. We think the car that manages this best is the superb McLaren 720S. However, Porsche, Lamborghini, Aston Martin and Ferrari are also storied names in the supercar world, and their cars play a major part in this list…
Top 10 best supercars 2020
To read about each car, you can click on the links below, or navigate using the buttons on the top left of this page.
McLaren 720S
Ferrari 488 GTB
Lamborghini Huracan Performante
Ferrari 812 Superfast
Porsche 911 GT2 RS
Audi R8 V10 Plus
Ford GT
Aston Martin DBS Superleggera
Lamborghini Aventador S
Honda NSX
Continue Reading
1Introduction – currently readingThe 10 best supercars on sale today offer performance, thrills and outstanding style
21. McLaren 720SThe UK's answer to the Ferrari 488, only with more power, more performance and a drop more practicality
32. Ferrari 488 GTBAdding turbos may have the enraged the purists, but the 488 GTB is a massive leap forward from the 458
43. Lamborghini Huracan PerformanteThe Huracan Performante is nearly twice the price of the Porsche 911 GT3, but it delivers a sense of occasion like no other
54. Ferrari 812 SuperfastDoes the Ferrari 812 live up to the legacy left by the F12? You bet it does…
65. Porsche 911 GT2 RSThe Porsche 911 GT2 RS carries a massive premium over the GT3, but few buyers will care with such extraordinary performance
76. Audi R8 V10 PlusThe Audi R8 has long been one of the best 'everyday' supercars, and this hasn't changed despite losing the V8 option
87. Ford GTBorn on the racetrack and modified to meet road regulations, the new Ford GT is one of the most exhilarating cars on the road
98. Aston Martin DBS SuperleggeraThe Aston Martin DBS Superleggera slots into the space between the DB11 and the Vantage
109. Lamborghini Aventador SThe Aventador S is a beast. It snarls, spits and cracks its way down the road at incredible speed, making it a truly brilliant supercar
1110. Honda NSXThe second generation Honda NSX is here, ready to take on the world again with a baffling array of tech
Source: Read Full Article