Best toolboxes to buy 2023
Which storage solution best organises tools of all shapes and sizes?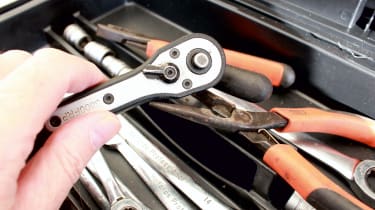 To do a good DIY job you need the right tools, but these are only useful if they're in good condition and you know where they are, so a toolbox is essential.
Some prefer steel boxes, but modern plastic (typically polypropylene) is just as strong, while being lighter and without sharp edges to damage you or your car. And the material won't rust, either.
Best torque wrenches
How we tested them
We gathered a set of hand tools, which included pliers, spanners, a few loose sockets with a ratchet, and a set of screwdrivers. We checked on how much of that kit could be loaded into the tote tray. We then attempted to fit a number of larger items (hacksaw, adjustable wrench, can of WD-40, torque wrench, etc) in the space beneath. For smaller items (fuses, electrical connectors, nuts and bolts), a selection of organisers is always useful.
We logged the specification of each box, including weight, size, build quality and cost per litre, based on the best prices from the Internet.
Verdict
A perennial favourite, the Stanley 24in has finally made it to the top, following a huge price increase on the Von Haus. Draper's smart 28050 is also impressive, as is the feature-packed Sealey AP580LH.
Stanley 24in Toolbox
Draper Pro Toolbox with Tote Tray 28050
Sealey Toolbox with Locking Carry Handle AP580LH
Reviews
Stanley 24in Toolbox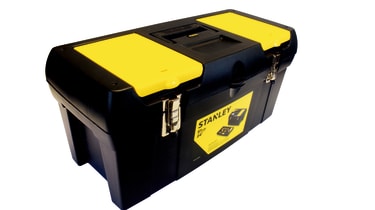 Price: Around £27
Size (mm): 290x610x270
Rating: 4.5 stars
Contact: argos.co.uk 
Unmistakeable in Stanley's black and yellow, the 24in has been around a while, but is no worse for that. We like the strong, steel latches securing the lid, which is designed to stay upright when open to prevent it tipping the box over. Twin, non-removable three-section organisers are fitted to the lid and, at 50mm deep, the tote tray easily handled all our smaller tools. 
With around 50 litres of total storage, it had no problem holding the larger tools, either. And only a slight price rise compared with rivals means its value takes it to the top.
Buy now from Argos
Draper 20in Pro Toolbox with Tote Tray 28050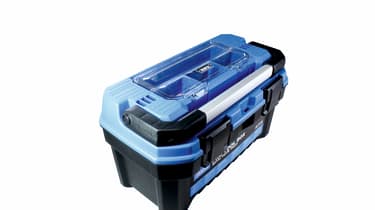 Price: Around £32  
Size (mm): 490x267x271
Rating: 5 stars
Contact: drapertools.com
The new Draper is an attractive box – its bright-blue finish contrasts with the groovy, full-width aluminium handle, which gave lots of confidence when lifting it fully loaded. On the lid is a transparent, shatterproof cover, which flicks open to reveal four usefully sized organisers. 
The tote is pretty standard, while 20mm deep central ridges mean nothing escapes when lifted. The small tools fitted well and it was long enough to handle larger tools beneath. Calculating space per pound positioned it in the mid-range.
Buy now from Drapertools.com
Sealey Toolbox with Locking Carry Handle AP580LH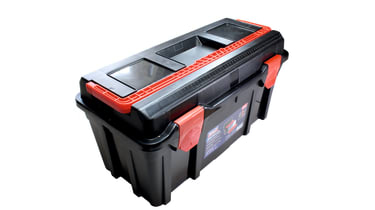 Price: Around £43  
Size (mm): 580x285x290
Rating: 4 stars
Contact: sealey.co.uk
This box looked pretty average until we opened it to find a huge removable organiser container, which sits directly on top of the tote. With 20 compartments and a transparent lid, it was a welcome surprise, although tools in the tote have to be flat to allow easy fitment. 
We also liked the handle mechanism, which locked the box even if the twin catches weren't engaged. The 35mm tote interior walls helped stop smaller tools dropping, and with 48 litres of overall storage, the box coped with both large and small items.
Buy now from Amazon
Draper Large Tool Box With Tote Tray 53887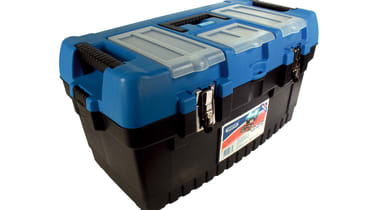 Price: Around £35  
Size (mm): 564x310x310
Rating: 4 stars 
Contact: drapertools.com
It's only rated at 36 litres, but the Draper's appeal is its strength because it's clearly designed to cope with hard work. Along with twin metal latches on the front there is a strong plastic catch at each end. In a similar way, the conventional central folding handle is backed up by a fixed one at each end. 
There are three fitted accessory boxes in the lid, with transparent flaps, but only one compartment in each. The tote worked well, taking all of the tools, and its deep gully was ideal for smaller tools and sockets.
Buy now from Drapertools.com
VonHaus Roller Tool Box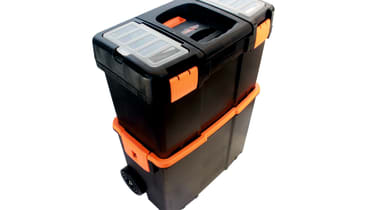 Price: Around £50 
Size (mm): 455x260x295 and 463x260x340
Rating: 4 stars
Contact: vonhaus.com
Our previous winner remains a great box, or rather, two because a fairly conventional version with tote sits on top of a second open design (which offers a further 35 litres). The pair clip neatly into a wheeled frame, making them easy to move around. 
Unclipping the two is the work of seconds and with 75 litres in total, there's little that can't be included. We like the twin flip-lid organisers on the lid of the top box, too. However, the current price is £18 more than our last test a couple of years ago, which drops this product down the pecking order.
Buy now from Vonhaus.com
Facom Tool Box BP.C19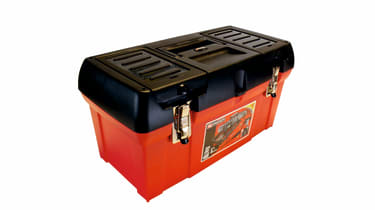 Price: Around £26  
Size (mm): 490x260x250
Rating: 3 stars
Contact: facom.com
Another smart box, bright in its red livery, although the design is pretty standard. At 31 litres it's a reasonable size and not badly priced, despite a rise of £6 since the last test. We liked the strong twin latches at the front, and the really deep (50mm) tote tray coped with all the smaller tools with ease. We weren't so impressed with the twin organiser lids, which feel a bit low rent. 
Underneath, we got all the larger tools installed but as with some others, longer tools such as the torque wrench needed to be turned to fit.
Buy now from Amazon
Silverline Toolbox 250294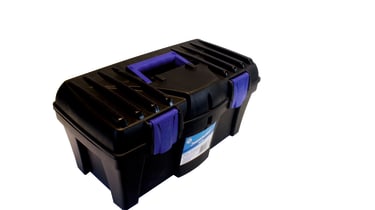 Price: Around £15   
Size (mm): 460x240x225
Rating: 3 stars
Contact: silverlinetools.com
The basic-looking Silverline was the second cheapest per litre, although it only offers 24 litres and doesn't feature organisers. As the lightest on test, at around 1kg, it was easy to handle and we managed to squeeze all our tools in the tote, albeit after a bit of thought. 
The task wasn't helped by the low internal lip, which meant that smaller items could sometimes drop into the lower section. Below the tote we struggled to get everything in, but only managed to do so with some judicious angling of the longer products.
Buy now from Amazon
Silverline Toolbox 386076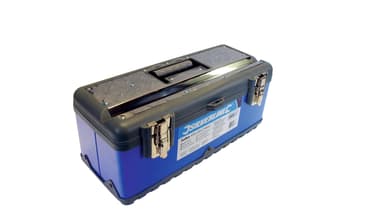 Price: Around £20  
Size (mm): 470x190x210
Rating: 2.5 stars
Contact: silverlinetools.com
This Silverline had some unwanted highs and lows, notably the lowest capacity, at around 18 litres, while coming in at the highest price per litre, at £1.10. It certainly looks good, with polypropylene mixed with powder-coated steel construction. 
The latter is along the lid and offers some protection, but at the same time it rules out the inclusion of organisers. It was the narrowest box we tried, so stowing the larger tools was tricky and required much thought. But the deep, long tote tray made short work of our smaller selection.
Buy now from Amazon
Source: Read Full Article