Best winter tyres 2022
Six rivals go head to head in battle to be Britain's top winter tyre

1Introduction – currently reading
2Continental WinterContact TS 870
3Bridgestone Blizzak LM005
4Hankook i*cept RS3
5Pirelli Cinturato Winter 2
6Vredestein Wintrac
7Michelin Alpin 6
8Results by category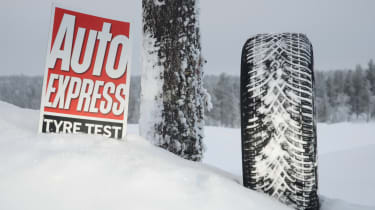 Following record-breaking temperatures and extreme weather warnings this year, evaluating winter tyres now may seem a little odd, but this is the time for drivers to plan for similar extremes during the colder months.
Swapping tyres for the seasons is the ultimate solution to ensure you have the best performance to suit whatever the weather throws at you.
Tyre reviews: best car tyres to buy now 2022
We return to the big-selling 205/55R16 size we last tested under restricted circumstances, due to Covid, in 2020, when Bridgestone took its first win in our tests with the Blizzak LM005. It also saw a top performance from the Continental WinterContact TS 870, which was not included in the final results because its launch was delayed by a year.
Michelin is also back with its Alpin 6. Hankook has its new winter i*cept, the RS3, while Pirelli has the latest version of the Cinturato Winter, the 2, and Vredestein returns with its Wintrac tyre.
Problems with stock levels and imminent new designs prevented other tyre-test regulars taking part this time, including our host, Goodyear, which has delayed the launch of its latest UltraGrip.
What we tested
We put no limit on speed and weight ratings. For the supplied Hankooks and Pirellis, we compared them in wet braking with tyres we bought post-testing to ensure they were the same. We had T and H speed-rated tyres (up to 118 and 130mph) plus 91 and 94 weight ratings. The EU tyre label ratings are listed (right), with A the best for fuel economy and wet grip; the lower the number the better for pass-by noise, which is rated in decibels.
| | |
| --- | --- |
| Bridgestone Blizzak LM005 | 91 H, RR: C, WG: A, N: 71dB |
| Continental WinterContact TS 87 | 91 H, RR: C, WG: B, N: 70dB |
| Hankook i*cept RS3 | 91 H, RR: C, WG: B, N: 72dB |
| Michelin Alpin 6 | 91 T, RR: C, WG: B, N: 69dB |
| Pirelli Cinturato Winter 2 | 91 H, RR: C, WG: B, N: 67dB |
| Vredestein Wintrac | 94 H, RR: C, WG: B, N: 70dB |
How we tested
For the first time in two years we were able to return to our usual test routine, unaffected by travel restrictions. This year's testing started in northern Finland at Goodyear's Arctic Center in Saariselka near Ivalo. Here we assessed snow performance in braking, traction, handling and cornering.
The first two tests were performed by an Auto Express driver measuring the distance taken to accelerate from 8-30kph (5-19mph) and then stopping from 50-5kph (31-3mph).
The cornering test focused on lap times around a snow-covered circle, accelerating to the point where the line could just be maintained. The handling result was based on lap times, too, but around a track that includes big elevation change, with hairpins, long sweeps and tricky combinations of turns to fully reveal a tyre's handling balance
We headed a bit further south for the wet tests, but still north of many European test tracks, in a bid to get the sub-seven degrees centigrade temperature winter tyres are designed to work in. Temperature plays a role in wet handling, cornering and braking, and below that point, winter tyres should have the advantage, while summer designs work best above it.
Sadly, the weather at Continental's Contidrom near Hanover, Germany, didn't oblige and temperatures were higher than we'd ideally like.
For braking we measured the distance taken to stop from 80kph (50mph) using the rail system, which ensures the same piece of tarmac is used each time. Lap times were recorded for the handling and circle tests.
The rail system was also used for straight aquaplaning, but with one wheel in water. The speed when the wheel in water spun 15 per cent faster than the other was recorded. Curved aquaplaning measured the grip loss as the car is driven at ever-higher speeds through a flooded section on a tarmac circle.
Dry
Dry braking measured the distance taken to stop from 100kph (62mph), while we used times from a section of the track to get a result in the handling test. The proving ground tests were performed multiple times, with outlier results removed and an average taken to get the result.
Cabin noise
Unlike the label rating, our test is tailored to driver's concerns. We measured cabin noise, coasting down from 50mph on three surfaces.
Fuel economy
This measures the power required to turn each loaded tyre. The more easily a design rolls, the less fuel it uses. For a one per cent improvement in consumption, you need about a five per cent change in rolling resistance.
Price
This plays a small role in our results. The figures come from our online tyre retailer test winner Black Circles and are for fully fitted tyres at the time of writing.
How we chose a winner
With the results all converted to percentages to accurately reflect performance gaps, we essentially add them together. Snow performance accounts for 20 per cent of the overall result, wet 50 per cent, and the rest take the remainder. Within the wet and snow results we put the emphasis on handling, braking and traction.
In this review
1Introduction – currently readingSix rivals go head to head in battle to be Britain's top winter tyre
2Continental WinterContact TS 870A strong showing on snow put the Continental into a lead over arch rival Bridgestone that it never lost
3Bridgestone Blizzak LM005The Blizzak won our wet handling and wet braking tests, and was close to taking top spot overall
4Hankook i*cept RS3The Hankook was fourth in both aquaplaning tests, but closer to the best in a straight line
5Pirelli Cinturato Winter 2Winter 2 was good in snow, taking two second places here, and top for cabin noise
6Vredestein WintracWintrac was half a second off the best around the handling track in dry, but slowest in the wet
7Michelin Alpin 6Dry conditions reveal where Michelin's tyre pays the price for its strong snow showing
8Results by categoryWhich winter tyre performed well in which area? Our tables reveal all

Source: Read Full Article