BMW to continue with current design direction despite criticism
BMW design bosses aware of "brutal" criticism but will continue to make cars stand out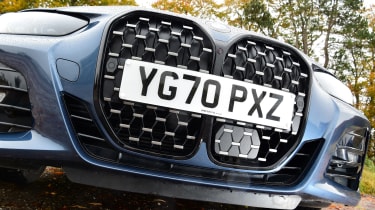 BMW will continue with its bold and divisive new car designs despite criticism often being "brutal", the company's design chief has told Auto Express. 
The launch of the new 4 Series coupe last year brought with it a flurry of negative online reception, aimed largely at the design of the front kidney grilles. The coupe ushered in a new controversial design language that has ignited an ongoing debate about the direction of BMW's design language.
"BMW has mastered the art of provoking a reaction"
"For some customers, if you want to reach them, you have to stand out," Head of BMW design Domagoj Dukec told us. "But you can't make a design that pleases everyone.
"If you are in this business you know how it is in design. Everyday you talk to people inside and outside of the company and everyone has an opinion – and a different taste. If you want to create something that really stands out it must be distinguished and it has to be different."
Dukec added that he was "not surprised" by the criticism levelled at BMW design, but rather than ignore the reaction BMW listens to what fans and customers have to say and factors it into the design department's evaluation and analysis process.
"Social media, we love and hate it for the same reasons, because it's instant and fast, but it can be brutal," Adrian van Hooydonk, BMW's senior vice president of design explained. "We deal with it in the same way as customer clinics – we have them built into the design process.
"I never go to clinics because comments can be brutal and not enjoyable. I wait for the final global evaluation on feedback – and we do it with social media. We look and analyse the data, where does it come from? Is it loved? Which market did it come from? Social media is analysed as well, but we don't know if there are real customers behind those comments but we know they are real voices so we listen."
Despite the recent wave of criticism, bosses explained that there has been no rethink on the direction of the company's design. Duke added: "We will showcase BMW as a progressive and pioneering brand that will always try to combine some sort of paradigm – such as sportiness and elegance."
"In the future it's something different, maybe luxury and sustainability. There is not one solution or recipe but we always want to make the car desirable and stand out, because if it doesn't make a difference there is no need to make the car for BMW because BMW deserves characterful and distinguished cars."
What do you think of BMW's recent designs? Let us know in the comments below…
Source: Read Full Article