"BritishVolt's collapse is a disaster for the UK's car industry"
Andy Palmer believes this could be the beginning of the end for Britain's car industry unless some significant changes are made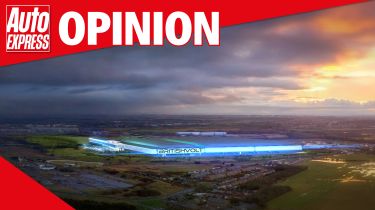 It's been an incredibly difficult week for the UK auto industry. The collapse of BritishVolt is the opening note of the death knell for Britain's auto industry. 
Simply put, BritishVolt was unable to survive because the environment in the UK for battery manufacturing is far from attractive. The lack of government support, and therefore a lack of investor confidence in the sector, has made it near impossible for companies like BritishVolt to gain a foothold on the UK market. 
Britishvolt electric car battery project enters administration
Without a battery manufacturing base on UK shores the wider auto industry will collapse. BritishVolt's demise has highlighted the UK is nowhere near to establishing the domestic battery manufacturing industry it so desperately needs. The country currently imports almost all of the batteries used in EVs (other than the small factory near Nissan in Sunderland), which makes us heavily dependent on foreign powers for a crucial component of the EV supply chain.
The absence of a domestic battery manufacturing industry also means that the UK is missing out on the economic benefits that come with having a strong EV industry. Battery manufacturing is a high-value, high-skilled industry that can create jobs and stimulate economic growth – something we desperately need. 
The collapse of BritishVolt also has implications for the UK's ambitious target to phase out the sale of new petrol and diesel cars by 2030. Without a domestic battery manufacturing industry and a lack of investment in EV technology, the UK will struggle to meet this target and could fall behind other countries in the race to transition to EVs. 
"The Government must give the car industry more support this year" – 2023 wish list
Without a proper strategy to back-up the transition to EVs, the targets and lofty ambitions of politicians are not worth the House of Commons-headed paper they are written on. 
Ultimately, the collapse of BritishVolt is a major setback for the UK automotive industry and highlights the urgent need for the government to provide more support and investment in the EV sector. Without a domestic battery manufacturing industry and a lack of investment in battery technology, the UK's proud and long history in the automotive sector risks becoming just that… history.
It's not all bad news, now read about Britain's car industry successes…
Source: Read Full Article