CSI: Car Smell Investigation, 2020 Hyundai Palisade Edition … No. 2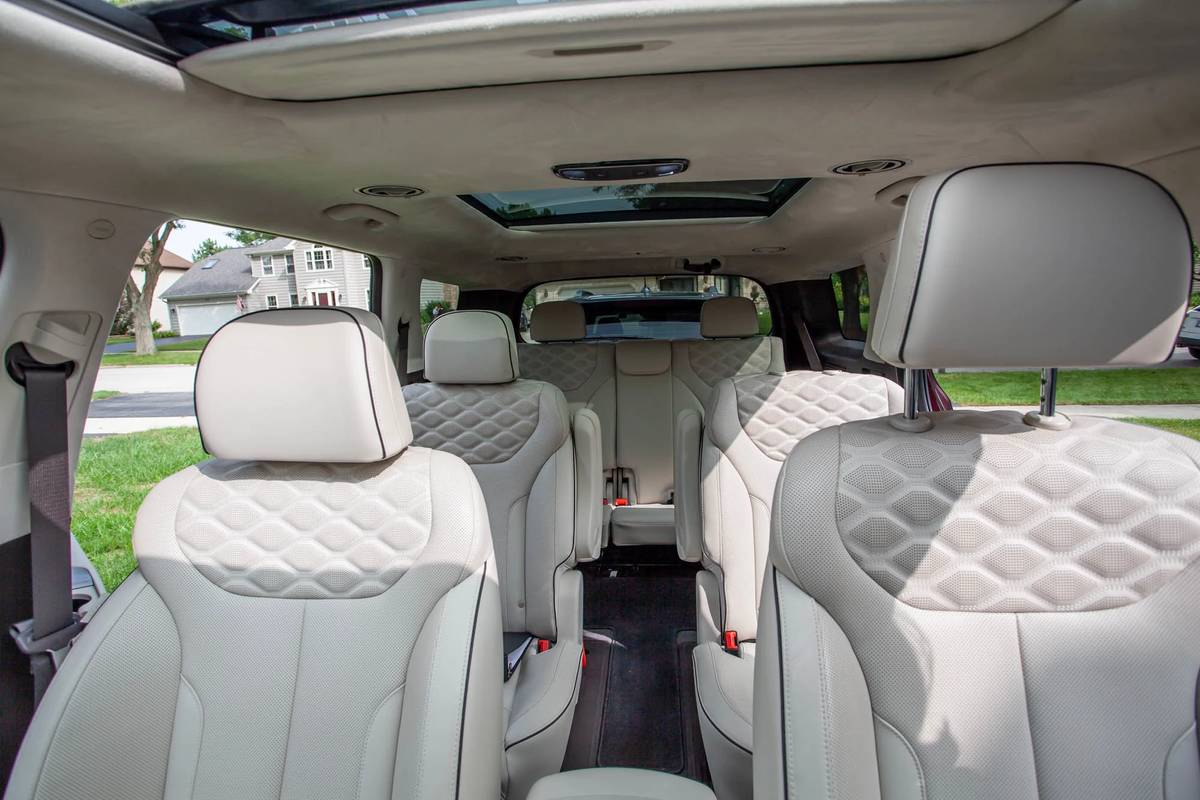 After six months and some 8,000 miles on the odometer, we noticed an unusual odor in our 2020 Hyundai Palisade Limited long-term test vehicle that left a bunch of us scratching our heads — and plugging our noses. When we last left off, our Palisade was awaiting the dealership's response to the decidedly not-new-car smell. Since that report, most of the activity has been in our email inbox, where we've heard from many owners of Palisades — and a few other Hyundai and Genesis models, as well — reporting similar problems. There has been less progress with our Palisade itself, though Hyundai is currently investigating affected Palisade Limiteds.
"Hyundai is taking this issue seriously," Hyundai spokesman Miles Johnson said. "When we first learned of this problem, we immediately began an investigation into what could be causing the odor noticed by some drivers and passengers of the Palisade Limited. That investigation continues and when we have a remedy, we will share it with Cars.com." 
Related: CSI: Car Smell Investigation, 2020 Hyundai Palisade Edition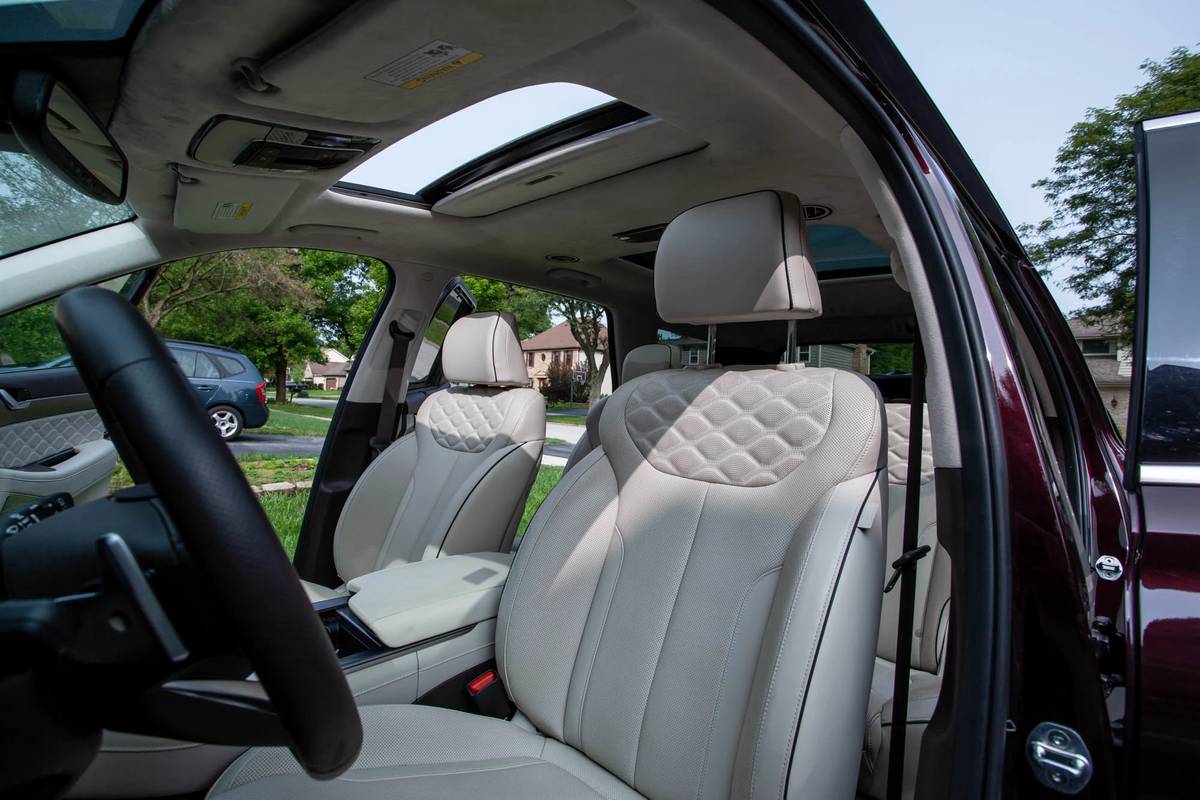 What's Happening Now …
An official Hyundai technical service bulletin that gives dealerships a roadmap to a remedy isn't available because a fix hasn't been identified, but Hyundai has instructed dealerships how to mitigate misery inside owners' smelly Palisades in the interim. 
The current proposed remedy involves replacing the head restraints with new ones, but before they're installed, the dealership is instructed to remove each head restraint's  covering to apply a scentless Febreze product. That particular product seems to be in short supply: We've been waiting two weeks for the followup treatment even though we had the new head restraints installed. 
What's not great is that the new head restraints without the treatment emit the same odor. To verify, I immediately put one of them in a sealed plastic bin presuming that the odor, if present, would be more quickly noticeable in a small enclosed bin in my garage compared with the large cabin of an already malodorous three-row SUV. (This was more about isolating the component and comparing the odor's flavor with the original scent than about its intensity.) Two weeks later, our SUV smells the same, so new head restraints by themselves clearly weren't a fix for our Palisade.
What's That Smell?  
What's typically identified as "new car smell" is the slow release (off-gassing) of molecules from interior materials, glues and solvents that fill the car and give it a unique aroma. Our Palisade's odor is much sharper — and to our noses, much less agreeable than that of most new cars — but perhaps more peculiar is that it got more intense over time versus slowly dissipating like usual.
While we initially observed online complaints about primarily beige-colored interiors like ours being affected, Hyundai confirmed that it's received reports from owners experiencing an unusual odor with both black and beige interiors of Palisade Limiteds with the Nappa leather seating surfaces, as have we via email from readers. 
Not all Cars.com Editorial staffers experienced the same odor intensity. How long the car sits, where it sits, and variables like sun and heat exposure all seem to factor in, as does each individual occupant's sense of smell. At the worst I experienced, our Palisade was sitting outside in 90-degree weather for more than a day with the windows up. Even in cooler weather, prolonged time sitting and sun exposure seem to exacerbate the problem.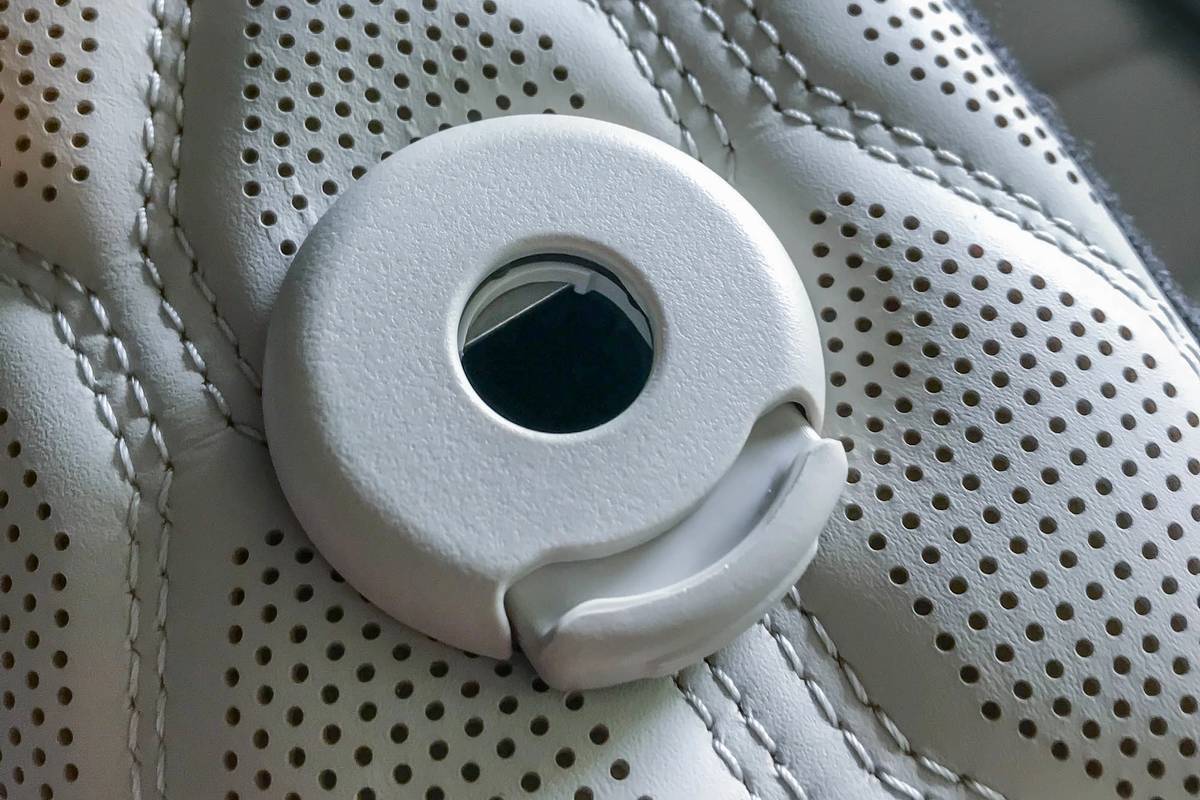 What's Next 
We plan to have the odor treatment applied to our car's head restraints, the closest piece of upholstery to occupants' noses — but we remain skeptical. The odor permeates the cabin, and I've observed it coming in concentrated form from the head-restraint post holes, suggesting it's also inside the seats. So, we're all ears on what the automaker's investigation turns up. We've given Hyundai the green light to investigate our Palisade, if needed, because it's been a persistent smell for the past few months.
If you've experienced any unusual odors in your Palisade or other Hyundai, please drop us a line at [email protected].
Related video:
More From Cars.com:
2020 Hyundai Palisade Vs. 2020 Toyota Highlander: Family SUVs Duke It Out
Cars.com's 2020 Hyundai Palisade: Here's What Our First Service Visit Cost
We Drove Cars.com's 2020 Hyundai Palisade Within a Mile of Bone-Dry … or Did We?
Coronavirus Car Care: We Had to Get Our Hyundai Palisade Fixed During Shelter-in-Place
Best of 2020 Winner: 2020 Hyundai Palisade
Cars.com's Editorial department is your source for automotive news and reviews. In line with Cars.com's long-standing ethics policy, editors and reviewers don't accept gifts or free trips from automakers. The Editorial department is independent of Cars.com's advertising, sales and sponsored content departments.
Source: Read Full Article