Ferrari Entices Employees To Buy A Slice Of The Company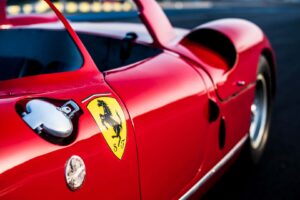 Working for Ferrari would be a dream come true for most of us, and it's about to get even better for those on Maranello's payroll. Currently, the Prancing Horse has over 5,000 employees. To be launched early next year, the "broad-based share ownership plan" will allow workers to become shareholders by purchasing a one-off grant of shares. These will be worth up to €2,065, which works out to about $2,250 at current exchange rates.
If the shares are kept for at least three years, the Italian exotic automaker will unlock the possibility of buying additional shares but no more than 15 percent of the first purchase's value. While most employees are based in Italy, the program will be available to those working abroad. Buying a share won't incur additional charges, and actually, the exotic automaker will cover the costs involved in managing the plan.
If you're wondering who owns Ferrari, Dutch holding company Exor N.V. has a 24.44 percent stake, followed by the Trust Piero Ferrari with 10.39 percent. As a refresher, Piero Ferrari is the second and only living son of Enzo Ferrari. Up next are investment firms BlackRock with 5.69 percent and T. Rowe Price Associates with 4.48 percent. The remaining 55 percent are other public shareholders. Ferrari became a publicly traded company back in 2015 after FCA decided to spin it off into a separate unit.
Ferrari plans to hire 250 people in the first half of 2024 to prepare for the exciting times ahead. It already has enough orders to keep busy until 2026 but demand is expected to grow following the release of its first-ever EV in the fourth quarter of 2025. In the meantime, it will inaugurate a new factory in Maranello in June 2024 where hybrid and electric vehicles will be built. Speaking of electrification, hybrids outsold ICE cars in Q3 2023 for the first time ever.
Love it or loathe it, the future is inevitably electric. Ferrari expects hybrids to account for 40 percent of annual deliveries by the end of the decade. EVs are also projected to have a 40 percent share by 2030, leaving only 20 percent for vehicles powered exclusively by combustion engines. Not all hope is lost for purists as CEO Benedetto Vigna said "ICE still has a lot to do." He was referring to how synthetic fuels could save the gasoline engine.
Source: Read Full Article