Forza Horizon 4 Season Change: 356 Things to Do in Summer
The seasonal wheels keep turning on Forza Horizon 4 this week, as another Summer season is officially underway. It's also the kickoff for Series 34, bringing the first week of new and updated content.
A rare Porsche 356 joins the Festival this week, along with more returning favorites in the Playlist for 50% and 80% completion. Strap in as we look under the skin of Summer's new offerings.
356 Gets Serious
The big debut this week for seasonal completion prizes comes in the form of another Porsche 356. This latest version of the classic Porsche is the 356 RSR by Emory Motorsports.Emory are the same restomodders that brought the 356C Cabriolet to the Festival.
Underneath the RSR is actually the chassis from a 964-generation 911 with an aggressive new widebody on top. The engine is Emory's custom-built 2.4-liter flat-four with the addition of twin turbochargers — resulting in over 400hp. That gives this revived 356 very modern performance, and it RSR may just be the ultimate version of the car that started the Porsche brand.
Those after classic style with a more British flavor can look to the Rover SD1 Vitesse. Rover's big sedan is said to have styling inspired by grand tourers such as the Ferrari Daytona. Despite the modern looks, the SD1 features an old-school 3.5-liter V8 packing 191hp, allowing for a brisk but beefy driving experience.
Festival Playlist prizes feature a new Horizon Backstage Pass as well as the return of the Toyota AE86.
The first Photo Challenge of Series 34 combines two polar opposites: gas guzzling hypercars and clean renewable energy. #DriveLikeTheWind wants you to snap any hypercar in your arsenal at the Moorhead Wind Farm. Seasonal championship prizes this week feature the Volkswagen Type 3 Notchback and the 2011 Ford F-150 Raptor.
This week's main highlight is the 2011 HSV GTS. Known in the UK as the Vauxhall VXR8, this big Aussie sedan comes with an old fashioned approach to tackling the BMW M3. As well as being docile, the 6.2-liter V8 is more than capable of turning all 437hp into tire smoke should the need arise. To get the HSV, you'll need to win the "Down Under" championship.
Summer has a returning Showcase Remix as well. "Quaint Village Rush" looks to bring back memories of Forza Horizon 3 by putting you against a Delta Wing aircraft in a Lamborghini Centenario.
A new monthly Rivals event will give you an opportunity to test drive the 1968 Pontiac Firebird before it arrives during the Spring season.
The first Super7 challenges of Series 34 are now available to attempt. If you complete all seven random cards, you'll receive the mighty Shelby 1000.
Summer's events are down below:
Down Under
Series: Dirt Racing Series
Cars: Australian cars
Restrictions: A Class, 800 PI
Prizes: 15,000 CR, 25,000 CR, 2011 HSV GTS
Cult Following
Series: Road Racing Series
Cars: Cult Cars
Restrictions: D Class, 500 PI
Prizes: 15,000 CR, 25,000 CR, Volkswagen Type 3 Notchback
Bring Me a Dream
Series: Street Scene
Cars: Vans and Utility
Restrictions: D Class, 500 PI
Prizes: 15,000 CR, 25,000 CR, 2011 Ford SVT Raptor
The Trial: Get Hyper (Co-Op Championship)
Series: Road Racing Series
Cars: Hypercars
Restrictions: S2 Class, 998 PI
Prizes: Rabbit Outfit
Spring Games – Series 34
Series: Playground Games
Cars: GT Cars
Restrictions: A Class, 800 PI
Prizes: Bentley Continental GT Forza Edition
Super7 – Summer
Completion Prize: 2012 Shelby 1000
Lower Fell Speed Trap
Season Objective: 210 mph
Hilltop Vista Danger Sign
Season Objective: 620.1 ft
Glen Rannoch Speed Zone
Forzathon Events
Get big and get trucking, as Forzathon shines the spotlight on the Mercedes Tankpool24 Racing Truck. Climb into this behemoth to get rolling.
Next, hit the streets and fire your way to the front by taking 3 victories in Street Scene events. Afterwards, put your foot down and earn 3 stars from any Speed Trap you can find.
Finally, show the traffic who rules the road by earning 10 Trading Paint skills to bring this week's challenges to a close.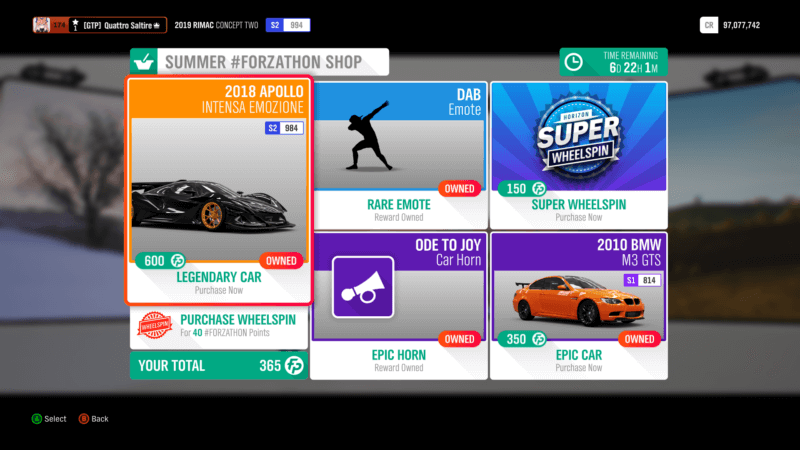 Forzathon Shop
Rare and exclusive machines line the shop this week. Taking the main stage is the 2018 Apollo Intensa Emozione.
This wild track machine draws its inspiration from the the glory days of GT1 racing. Under the slashes and angles sits a 6.3-liter V12 that develops 780hp. Combined with racing car levels of downforce and the Apollo will decimate a fast road.
Costing 600 Forzathon Points will make your wallet significantly lighter, but in return you'll get a car that can rival Lamborghinis in terms of shock and awe.
On the less extreme end is the 2010 BMW M3 GTS. Succeeding the iconic M3 CSL is a huge ask, but the GTS is just as hardcore. Trimming weight by 165lb, the GTS also gets a larger, 4.4-liter V8 making 444hp. Numerous changes to the handling mean that the GTS will tackle winding roads even better than a standard M3.
At 350 FP, the GTS is much cheaper than the Apollo, but will also still give you wild thrills when you open up its full potential.
Novelty items on the cards this week include the "Dab" emote and the "Ode To Joy horn".
Source: Read Full Article