Gridserve announces raft of new motorway electric car charging hubs
Gridserve planning a total of 20 Electric Hubs and six Electric Forecourts, with 13 sites already under construction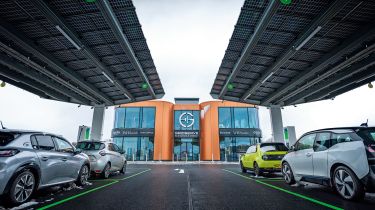 Plans have been announced for a series of new electric car charging hubs in what has been described as the UK's biggest-ever motorway charging network upgrade.
Gridserve, which bought Ecotricity and took over the Electric Highway network of motorway EV chargers in June, has already started construction on 11 new Electric Hubs, with a further nine planned.
Gridserve Electric Forecourt: we try the UK's first bespoke EV charging location
Each Hub will feature between six and 10 350kW chargers – capable of adding 100 miles of range to the latest electric cars in just 10 minutes. The Hubs will be located at motorway service stations across the country and will begin opening in March.
Gridserve also detailed plans for more Electric Forecourts, following the success of its first in Braintree. Construction has begun at Gatwick Airport, where 36 new 350kW chargers will be installed. When the site opens in Autumn 2022, it will offer a café and waiting lounge, with superfast Wi-Fi, a supermarket, a children's play area and an EV information centre.
Another Forecourt is under construction in Norwich, while four further sites have been granted planning permission in Uckfield, Gateshead, Plymouth and Bromborough.
Toddington Harper, CEO of Gridserve, said: "Our mission is to deliver sustainable energy and move the needle on climate change, and that is exactly what we are doing – delivering.
"Getting people into electric vehicles is a big part of our vision, but to do that, charging has to be simple and free of anxiety, which is why we've designed our network entirely around the needs of drivers, listening to our customers' needs and providing the best possible level of customer service to deliver the confidence people need to make the switch to electric transport today, eight years ahead of the 2030 ban on [new, conventionally powered] petrol and diesel cars."
Click here for our list of the best electric cars on sale right now…
Source: Read Full Article