GT Sport Daily Races: Park Life
A new week means a new round of Gran Turismo Sport Daily Races appears for players to get to grips with, and it's all about big wings this week.
That all starts in Race A, where you'll be driving a car that looks like it should be a race car — and even has "touring car" in the name — but sits in the game's road car "N" class. The NA-generation Mazda Roadster Touring Car is the star, for an eight-lap race around the very short Kyoto Driving Park Miyabi circuit.
Race B almost runs to the opposite end of the spectrum, thrusting you into the Gr.3-class cars for a four-lap race of the complicated Autodrome Lago Maggiore circuit's full GP layout. This car class is roughly equivalent to real-world GT3 (and even contains some GT3 cars), with 600hp+, rear-wheel drive racing machines barely related to their road-going parents; just pick your favorite and go racing.
The endurance-type race this week almost splits the difference between the two. Your venue, for a 13-lap race, is the GP circuit at Brands Hatch, and you'll be racing in the Gr.4 cars. That's a category similar to the real GT4 class, albeit with front- and four-wheel drive cars in the mix.
Usually it's those front-wheel drive cars that dominate this category, but only in races without tire wear. Race C always brings tire wear — at a multiplier of 6x this week — so you may want to look elsewhere for your race machine.
Just to add a further layer of complexity, both the Racing Medium and Racing Soft tires are available and mandatory; failure to use both sets of tires in the race will attract a one minute post-race time penalty.
These three races will run through to Monday, June 6, when another new set of three will replace them.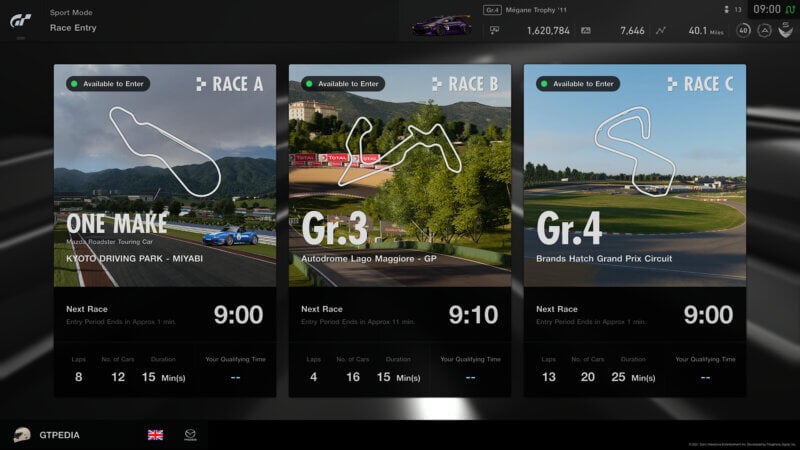 Race A
Track: Kyoto Driving Park – Miyabi, 8 laps
Car: Mazda Roadster Touring Car – Provided Car
Tires: Sports Medium
Start Type: Grid Start
Fuel use: Off
Tire use: Off
Race B
Track: Autodrome Lago Maggiore – GP, 4 laps
Car: Gr.3 – Garage Car
Tires: Racing Medium
Start Type: Rolling Start
Fuel use: Off
Tire use: Off
Race C
Track: Brands Hatch – Grand Prix Circuit, 13 laps
Car: Gr.4 – Garage Car
Tires: Racing Medium*, Racing Soft*
Start Type: Rolling Start
Fuel use: 2x
Tire use: 6x
* denotes mandatory tire
Source: Read Full Article