'Highways England handles ice-covered roads just as badly as it always has'
Mike Rutherford thinks Britain should be better prepared for snowy roads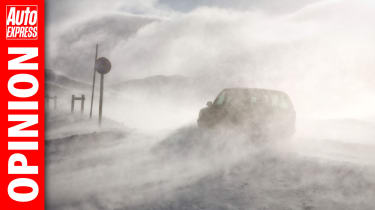 Most things car, driver, tech and safety-related have improved beyond recognition and expectation in recent years. Generally, progress has been ridiculously impressive. 
But, some things – lethargy at Highways England, a need for more proactive communication at the DfT, and car-loathing at some councils – never change. 
Best 4x4s to buy 2021
These and other state organisations with 'authority' seem to handle the problem of snow and ice-covered roads (and pavements) as badly today as they did in years past – or worse. Citroen UK agrees. It has taken the unusual step of revealing that from 2017/18 to 2019/20 there was a 29 per cent drop in the average number of days councils spent gritting roads.   
Far too many 'professionals' who are paid to protect and serve our frozen highways and byways seem invisible, silent and inactive when temperatures drop below zero. Recently, they plummeted to minus 25C, the lowest for 25 years. Yet the sickening sight and sound of spinning car tyres, plus vehicles dangerously bumping into each other on ignored and ungritted roads seemed as common last week as back in 1995. Progress? What progress? 
Britain sits in Northern Europe. Snow, ice, slush and other arctic-like conditions are guaranteed. So why are we so lousy at dealing with winter weather?
We motorists can do our bit by investing in winter driving courses. Money permitting, a 4×4 workhorse is another wise investment. As are cost effective winter or all-season tyres.  
As for the state-funded authorities whose job it is to run the winter road show in the UK, they can't keep telling us to leave our cars at home and then complain their grit isn't working due to the lack of tyres pounding the stuff into the road surfaces! What a fiasco. 
Besides, isn't it time for traditional, archaic, glass-like grit or rock salt to be replaced by a less damaging, easier to spread, non-freeze liquid alternative?
Thank the gods that brave police officers and ambulance personnel aren't afraid to get stuck in when snow or ice hits and accidents, injuries and deaths rise. But why is there not more support from the Fire and Rescue Service, the Environment Agency, plus our armed forces on, around or above those dangerous winter roads and pavements where civilians may be stranded, injured or worse? The personnel, 4x4s and other specialist vehicles and kit exist; we use them when fields, towns and residential areas are flooded. So let's do the same when roads and pavements are clad in snow, or treacherously icy.
Final thing – I recently had a few top-up lessons from a highly skilled police driver turned skid-pan instructor. At the end of the programme, he quietly agreed with my conclusion that went a bit like this: the easiest, most effective, safest, least stressful way to cope with UK roads and pavements blanketed in snow and ice is to keep well away from them. Hang up your car keys and walking shoes for a few days. 
Also, remind yourself that 1 March is just around the corner. That marks the start of what should be nine months of Spring, Summer and Autumn, free of snow and ice. Enjoy.
Don't get stranded in the snow and ice – these are the best snow cars you can buy….
Source: Read Full Article