Hyundai Kona vs Tucson | The Car Connection
Hyundai Kona vs. Tucson: On paper the matchup seems unusual, since both vehicles come from the same South Korean automaker. But with lots of standard equipment, a great warranty, and fuel-efficient and high-performance editions, it's easy to see the attraction to both the Tucson and the Kona.
While the smaller Kona has a city-friendly size and comes in an Electric edition and a spicy N model, the Tucson offers Hybrid and Plug-In Hybrid models to go with its roomy interior and plentiful safety features. 
The rivalries are tough for both. The latest Hyundai Tucson competes with the Honda CR-V and Nissan Rogue, the Kona more directly with the Kia Sportage and Honda HR-V. Even with each other, it's a tight race—but if you're settled on a Hyundai crossover and need to keep it inexpensive and compact, here's what we would recommend.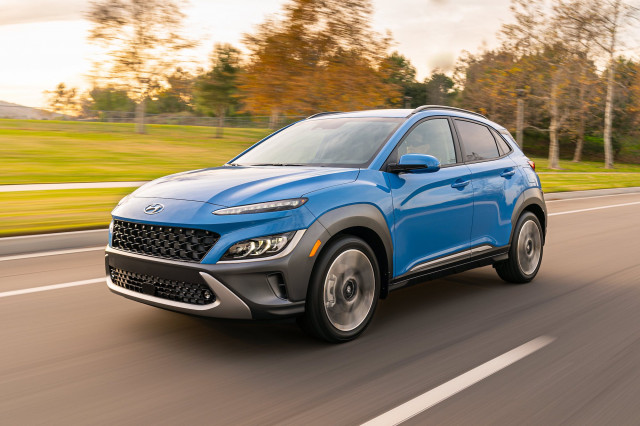 2023 Hyundai Kona
Hyundai Kona vs. Tucson prices and features
The Kona starts from the mid-$20,000s; the Kona N hits the mid-$30,000s

The Tucson starts in the high $20,000s and can rise to the mid-$40,000s

Best picks: Kona SEL, Tucson SEL Hybrid with the Convenience package
What is a Hyundai Kona comparable to? How much is a Kona?
You may be shopping for a Honda HR-V or a Mazda CX-30—but if you're looking for a small crossover with a low price, the 2023 Kona may hit the mark. It costs as little as $23,475, and that doesn't leave many blank spots on its dash. It comes with automatic emergency braking, cruise control, alloy wheels, power features, and an 8.0-inch touchscreen with Android Auto and wireless Apple CarPlay. Every Hyundai comes with a 5-year/60,000-mile warranty as well as 3 years or 36,000 miles of free scheduled service, too. We recommend the midrange Kona SEL, which adds keyless start and blind-spot monitors. We'd add the $1,700 Convenience package for heated front seats, a sunroof, and wireless smartphone charging. There's more power in the turbocharged $29,185 Kona N-Line and $30,285 Kona Limited, which gets leather and adaptive cruise control; for the ultimate in power, the Kona N gets all the performance upgrades for about $36,000. 
What is a Hyundai Tucson comparable to? How much is a Tucson?
The Tucson carries a higher price, but also more standard equipment as well as a longer list of options. The warranty's the same as that of the Kona, which makes the Tucson another great value. Base Tucson SE crossovers cost $28,035 and have cloth seats, power features, and the same 8.0-inch touchscreen with wireless Apple CarPlay and wired Android Auto. The $29,365 Tucson SEL with the Convenience package adds in wireless smartphone charging, a 10.3-inch digital gauge cluster, a power sunroof, a power tailgate, and synthetic leather upholstery. By adding the hybrid powertrain with standard all-wheel drive, this Tucson remains the best value, at a price of about $35,000. The Tucson also comes in XRT, N-Line, and Limited grades, as well as a Plug-In Hybrid model which caps the lineup at more than $45,000.
Where is the Hyundai Kona made? Where is the Tucson made?
Konas are built in South Korea, and some Tucsons are as well, but most gas-powered Tucsons now come from Montgomery, Alabama.
Advantage: Hyundai Kona, which offers excellent value at a lower price.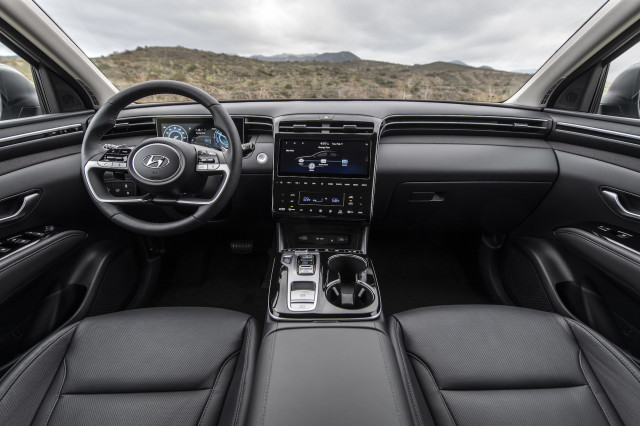 2023 Hyundai Tucson Plug-In Hybrid
Hyundai Tucson vs. Kona size, seating capacity, and cargo space
The Kona's a size small; the Tucson's at least a medium

The Tucson's roomier interior has a plain cockpit

The Tucson's second-row and cargo space rule
Is the Tucson or the Kona bigger?
The Tucson, by a good margin. The Kona's a small SUV, one with a comfortable interior for four adults—but there's no denying its smaller footprint. The Kona has supportive front and back seats that get more bolstering in the N-Line and N editions, too. But with 35.2 inches of rear-seat legroom and a slim body, it's best suited for two medium-sized passengers in back. The Kona has as much as 46 cubic feet of cargo space behind the front seats, when the seatbacks are folded away; it's 19.2 cubic feet when the rear seatbacks are raised.
How big is the Hyundai Tucson?
It's a compact crossover but the rear seats open up to mid-size space. The Tucson gained 3.4 inches in wheelbase when it was redesigned in 2022, and it now has 108.5 inches of wheelbase—the span that dictates interior room, by and large. It's also 182.3 inches long overall, which means it's grown to be the size of the Toyota RAV4 and Honda CR-V. 
All that space is on display inside, where the Tucson gets supportive front seats that get synthetic leather upholstery and power adjustments at the SEL trim level. In back, the Tucson's 41.3 inches of legroom beats some of Hyundai's sedans and it's broader than the Kona by far, though three people across the back bench still will be snug. 
The Tucson sports 38.7 cubic feet of storage room behind the back seat, and 74.8 cubic feet when those rear seatbacks get folded down. 
Advantage: The Tucson has much more space, especially in back.
2023 Hyundai Kona
Hyundai Kona vs. Tucson safety
Crash-test scores are mixed with the Tucson

Both have automatic emergency braking

Both have the latest in high-tech accident avoidance features
How safe is the Hyundai Kona?
The NHTSA gives it five stars overall, but the IIHS hasn't updated its score since the Kona was restyled recently. (A new Kona is due in 2024.) All Konas get automatic emergency braking and active lane control, and more expensive models can add blind-spot monitors and adaptive cruise control.
2023 Hyundai Tucson Plug-In Hybrid
How safe is the Hyundai Tucson?
It's a Top Safety Pick+ awardee as far as the IIHS is concerned, but the NHTSA scored it at four stars overall. Still, the Tucson comes with standard automatic emergency braking, active lane control, and rear occupant alerts. At the SEL trim level the Tucson piles on blind-spot monitors and adaptive cruise control, while Limited Tucsons have blind-spot cameras, rear automatic emergency braking, front and rear parking sensors, and a surround-view camera system. 
Advantage: The Kona, despite the Tucson's newer design.
2023 Hyundai Kona
Hyundai Tucson vs. Kona fuel economy
The Tucson's best economy comes in plug-in form

Kona gas mileage isn't as strong as we'd hoped…

…But there's a Kona Electric to consider
The Hyundai Kona doesn't score the best in fuel economy in its class, but it does come in a Kona Electric edition that's good for more than 250 miles of plug-in range. Aside from that version, the best economy of the lineup comes in base front-wheel-drive spec, with its EPA ratings of 30 mpg city, 35 highway, 32 combined. Turbo versions get nearly the same, with 29/35/32-mpg ratings with front-wheel drive and with all-wheel drive, 27/32/29 mpg. The Kona N is the worst of the lineup at 20/27/23 mpg. 
The Tucson gets OK fuel economy when it's not a hybrid. The EPA pegs the base versions at 26 mpg city, 33 mpg highway, 29 mpg in FWD, and 24/29/26 mpg with AWD. The hybrids score excellent ratings of 38/38/38 mpg in Blue trim and 37/36/37 mpg in SEL Convenience and Limited spec. With the plug-in hybrid powertrain, the Tucson provides 33 miles of electric driving and 35 mpg combined after it uses up that battery. 
Advantage: The Kona Electric for purists, the Tucson Hybrid for the rest of us. 
2023 Hyundai Tucson Plug-In Hybrid
Hyundai Kona vs. Tucson performance
The Kona N has scorching power and great handling

Tucsons put ride quality to the top of the to-do list

AWD can be had on either
Performance isn't left off the menu here, especially with the Kona. A scorching Kona N caps a lineup that starts with just adequate power and with a midrange turbo model that's more than enough for most drivers. 
The Kona SE and SEL have 147 hp that comes from a 2.0-liter inline-4 linked to a CVT. It's light on thrills, but the cure is the 195-hp turbo-4 in N-Line and Limited versions. They're better at acceleration, even when their fussy 7-speed dual-clutch automatic gets confused by low-speed requests for power. Best of all is the 275-hp Kona N, with its turbo-4 and 8-speed dual-clutch; while other models shy away from slipping through tight corners, the Kona N revels in them, though it can feel too firm for some everyday driving.
As for the Tucson, its base 187-hp 2.5-liter inline-4 comes with an 8-speed automatic transmission and either front- or all-wheel drive. It's slow to engage and doesn't have much grunt for highway passing. The 226-hp Hybrid version sports a 1.6-liter turbo-4 matched with a battery pack and a motor that's much more capable of launching and needling through low-speed traffic, thanks to more torque and a smooth 6-speed automatic. Plug-in Tucsons get a bigger battery pack and handle differently as a result: all versions ride fairly smoothly and have light steering without much feeling, but the Plug-In's considerable battery weight helps to smooth out some of the low-speed lumps in the Tucson's ride quality. Put any of them in Sport powertrain mode and the driving mood brightens considerably. 
How much ground clearance do the Hyundai Tucson and Kona have?
The Kona's ground clearance measures 6.7 inches, while the Tucson's settles in at 8.3 inches.
Advantage: The Kona N's raucous and track-ready; the Tucson Hybrid's set for interstate cruising.

2023 Hyundai Kona
Hyundai Tucson vs. Kona exterior and interior styling
The Tucson has an edgy body, but a bland interior 

The Kona's body has an almost frantic number of lines

Both crossovers could stand some refinement
Hyundai gets kudos for pushing the styling envelope with both its crossovers, but sometimes a manila folder would do.
The Kona has the older shape here—it's been on the road since 2018 and gets redesigned in 2024. It can seem chaotic at times, with all its flares, lines, cuts, creases, and especially, with its high-mounted LED running lights. Kona N-Line and Kona N versions get red trim that calls even more attention to it, which might be exactly what you're looking for. The interior's less than thrilling, with lots of gray and black plastic, but Hyundai fits a big infotainment screen on every version.
The Tucson's edgy shape fares much better. It's canted forward, with deep origami folds into its sides, and diamond-shaped details liven up its corners along with its faired-in LED running lights. Inside it's a letdown: a big infotainment screen sits in a gloss-black obelisk between the front seats, where it's ready to grab all the fingerprints it can. With its very subdued strips of metallic trim and air vents, the Tucson cabin looks like it lost all the attention to its body.
Advantage: The Tucson's shapes work more in concert with each other. We think.
2023 Hyundai Tucson Plug-In Hybrid
Which car is better: Hyundai Kona or Tucson?
Overall, the 2023 Kona earns a TCC Rating of 6.2 out of 10, though we'd give more points to versions with the turbo engines, if we split them out. Those cars can be highly entertaining—but day in and day out, we'd trade the Kona N's frenetic energy for the spacious, sublime Tucson Hybrid and its TCC rating of 6.7 out of 10.
Winner: The Hyundai Tucson, especially in Hybrid form.
Summary
Styling
Performance
Comfort & Quality
Safety
Features
Fuel Economy
MSRP
Invoice
Fuel Economy – Combined City and Highway
Engine
Drivetrain
Compare Free Dealer Price Quote

Source: Read Full Article