Is a Nissan Kicks SR Worth Paying $3,350 More Than a Hyundai Venue Denim?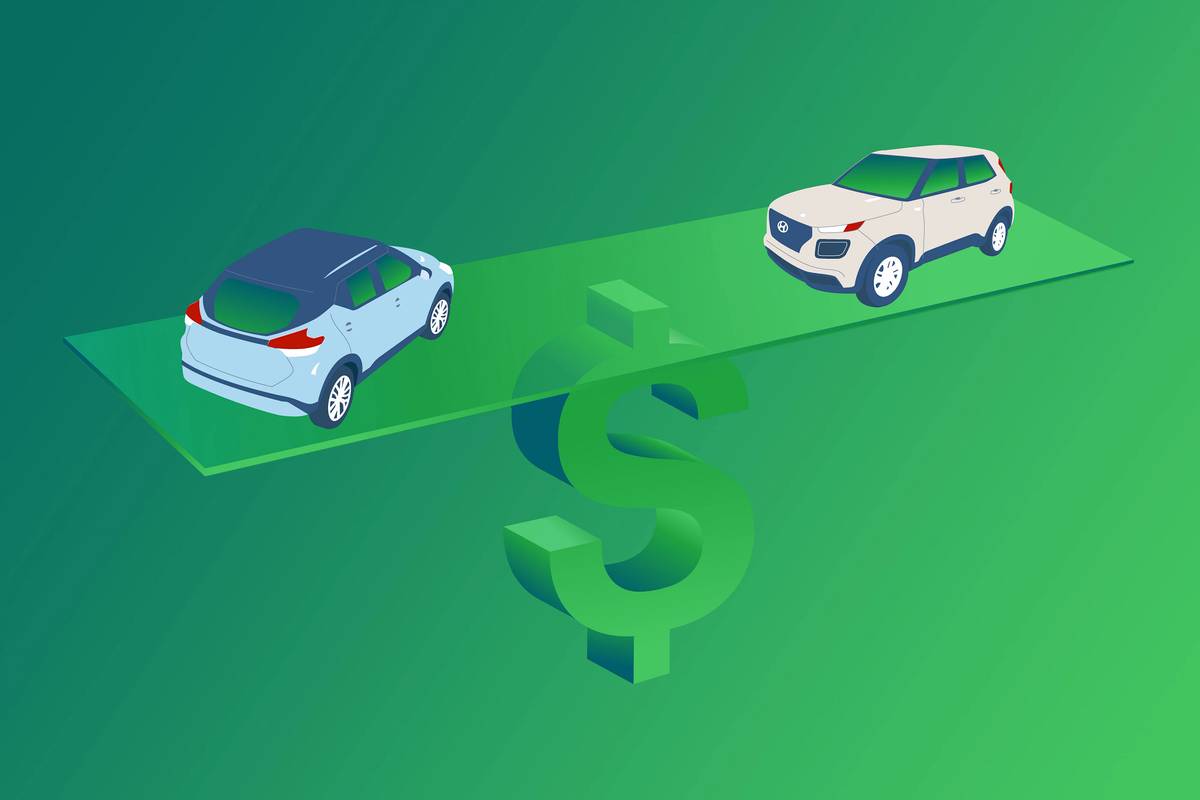 Faux SUVs — essentially slightly lifted hatchbacks marketed as SUVs that lack all-wheel drive — are an increasingly popular class of entry-level vehicle. Being an imitation doesn't preclude them from excelling at what they do: The 2021 Hyundai Venue was our inaugural Best Value award winner. Given the thirst for SUVs in the U.S., it's also unlikely that popularity will wane in the immediate future. I recently tested a 2021 Hyundai Venue Denim and 2021 Nissan Kicks SR — both top trim levels — but the Nissan had a sticker price $3,350 more than the Hyundai, which begs the question, is it worth it?
Related: Best Value of 2021
This isn't a true, multi-judge comparison like we did recently with the Honda CR-V Hybrid and Toyota RAV4 Hybrid, but it seemed worth examining whether those extra thousands made the Kicks significantly better, particularly when both vehicles are meant to be affordable choices for shoppers. Even at the highest trim level, the Venue's as-tested price was $23,380, while the Kicks' was $26,730. It's also worth noting that most of the Kicks' price difference can be chalked up to aesthetic options — black wheels, roof crossbars, two-tone paint and the like. None of those options change how the car functions, but looks are certainly a factor for many buyers.
With that, let's see how these faux SUVs stack up in three important categories: driving experience, interior and advanced safety tech.
Driving Experience
The tale of the tape under the hood is remarkably similar for both. Each have 1.6-liter four-cylinder engines, continuously variable automatic transmissions and are exclusively front-wheel drive. The Nissan has 122 horsepower, while the Hyundai has 121 hp.
At highway speeds, the Kicks feels slightly more composed, but that's a fairly low bar. Both small cars are easily unsettled by road imperfections and start to feel jittery north of 65 mph. The Venue, however, has better steering feel and selectable drive modes with Sport mode that noticeably improves throttle response. A slightly sportier feeling does come with reduced fuel economy ratings, however: The Venue is rated at 30/33/31 mpg city/highway/combined, while the Kicks is rated at 31/36/33 mpg. Using regular gas, the EPA calculates the Kicks will cost $100 less to fuel each year.
If I had to choose one as my daily driver based on the driving experience alone, I'd go with the Venue. If I were serious about sticking to a budget, saving $100 per year on fuel might make the Kicks more appealing.
Interior
Roominess in vehicles this size is a luxury. Both have backseats spacious enough for adults on shorter trips, though lengthier journeys might necessitate a few "stretch your legs" stops. Smaller backseats also led to poor results in our Car Seat Checks, with the Kicks earning two D grades and the Venue one. Both vehicles also have adequately sized cargo areas, but neither is notably large or remarkably utilitarian. And, at this price range, there are a lot of hard plastic surfaces and low-cost materials throughout both cabins. Entertainment technology is also a draw as both vehicles are equipped with Apple CarPlay and Android Auto on 8-inch touchscreens. The Kicks did include an optional premium Bose stereo, but my ears couldn't discern much of a difference.
Where the cars differ in interior quality is in approach. The Kicks takes a faux-premium tactic using multicolored gray and black upholstery with orange stitching that looks — but doesn't feel — higher end. The Venue, in this vehicle's Denim trim level, leans into that name with a two-tone blue-and-white interior matching the exterior color scheme. It's less about looking nice and more about looking fun. Interior aesthetics are a personal choice but, for my money, I like the Venue's approach. And, even though the upholstery in the Venue is denim look and not actual denim, I like the idea of referring to the seats as "jeats." I found the front jeats in the Venue more comfortable than the Kicks' front seats.
One positive in the Kicks' interior is a center console with reconfigurable cupholders that can hold remarkably large beverages. In the right configuration, it can even hold one of these oddly shaped 42-oz bottles of iced tea. (It could possibly hold two at once, but I don't stay that hydrated.)
Comfort and aesthetics trumps trick cupholders, however, and the Venue is again my choice.
Advanced Safety Tech
Both the Kicks and Venue come standard with advanced safety tech that's impressive for the money, including forward collision warning with automatic emergency braking and pedestrian detection, blind spot warning and more.
Where the Kicks differentiated itself from the Venue was with its adaptive cruise control — standard on both the mid-level SV and this range-topping SR — and the Intelligent Around View 360-degree camera system included on the SR. Rear parking sensors are also standard across the Kicks lineup. The Venue, meanwhile, had non-adaptive cruise control and the mandated-by-law backup camera alone.
The Venue Denim does add cyclist detection to its forward collision warning system, something the Kicks does not have, but overall, the Kicks has more advanced tech features.
More From Cars.com:
2020 Hyundai Venue: 6 Pros and 4 Cons
2020 Hyundai Venue Review: A Pleasant Place to Be
2021 Nissan Kicks: 7 Things We Like (and 3 Not So Much)
2021 Nissan Kicks Review: Same Value, More Friendly
Here's Every Car That Earned an IIHS Top Safety Award for 2021
Is It Worth the Premium?
If you ignore all the appearance options our Kicks SR had, the price difference between the two vehicles is $910 for adaptive cruise control, advanced camera systems and rear parking sensors. At this price level, however, $910 is still a significant outlay. In terms of driving experience, interior comfort and aesthetics, I prefer the Venue. Throw the aesthetic options for the Kicks back in and the gulf widens to the point the Venue feels like that much better of a choice. But at no point in this comparison does the Kicks feel like a bad choice and, with its better fuel economy, the gas savings may narrow the gap in fairly short order.
Related Video: 2020 Hyundai Venue: Review
Cars.com's Editorial department is your source for automotive news and reviews. In line with Cars.com's long-standing ethics policy, editors and reviewers don't accept gifts or free trips from automakers. The Editorial department is independent of Cars.com's advertising, sales and sponsored content departments.
Source: Read Full Article