Lotus is Getting Ready to Launch Its First New Car in Over a Decade
When it comes to car companies with a turbulent past, there's nothing quite like Lotus.
It's been dead more times than we care to remember and revived just as often. There's been more false starts than a jittery sprinter and the brand has practically had more owners than it's made cars. For such an iconic marque, with such incredible highs, it's almost baffling that it's been so troubled.
Since China's Zhejiang Geely Holding took control of the brand in 2017, Lotus has had a period of much-needed stability. With that, it's finally been able to look to the future and, in just six weeks time, it will unveil its first new car since the Evora in 2008.
Lotus currently refers to the car as the "Type 130", and it'll be what it describes as the first British, all-electric hypercar.
We've already seen a very brief glimpse of the Type 130 at the Shanghai Motor Show in April, but Lotus has revealed a little more. And we do mean "a little": in a short new teaser video, Lotus shows off the car's charging port. This appears to be rear-mounted, beneath the brand's name picked out in LEDs. It also looks to be a carbon-fiber moulding, which strongly suggests what Lotus will use to make the car.
Carbon-fiber would seem to be a natural material for Lotus. The brand philosophy — simplify, then add lightness — centers on lightweight construction. Electric cars are not well known for being light, so many brands making cars of this type will rely heavily on exotic materials to compensate.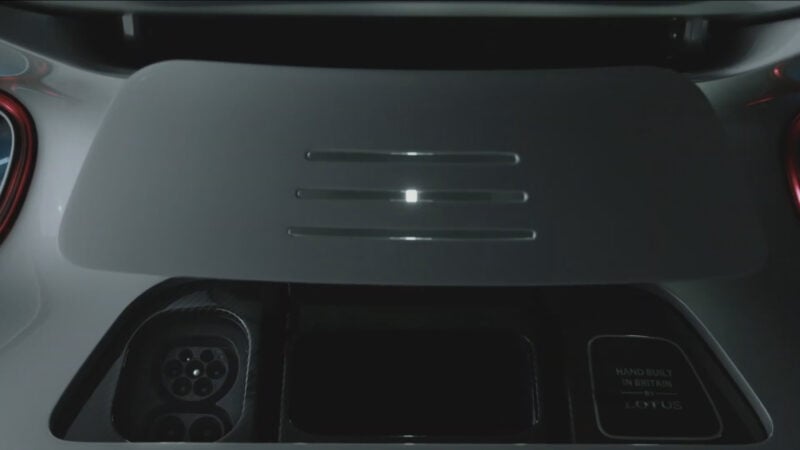 Lotus is a little light on other details right now. It's confirmed that it will build the car at its HQ in Hethel, Norfolk, making the Type 130 a British car. We also know that Lotus will only make 130 examples of the car.
For power, Lotus is likely going to rely on expertise found elsewhere in the Geely family. Geely brands Polestar and Lynk & Co both use electrified powertrains, although to suit the Lotus "hypercar" designation, the Type 130 is probably going to need something a bit more potent. Odds are it'll involve something with a four-digit power output.
As for the name, that's likely just a placeholder. Lotus has referred to all of its cars — both race cars and road cars — since Colin Chapman's very first trials car by a sequential "type" number. The original Elan was the Type 26, the Esprit Turbo was a Type 82, and the first Elise was the Type 111. Given the brand's fondness for "E" names and the Type 130's battery power, we'd wager its real name will start "Ev".
Lotus will unveil the car in full at a special event in London on July 16.
https://youtube.com/watch?v=XJ-zYTBoue0%3Ffeature%3Doembed
Source: Read Full Article