Mercedes-Benz Accused Of Using Defeat Devices, Faced Recalls In Germany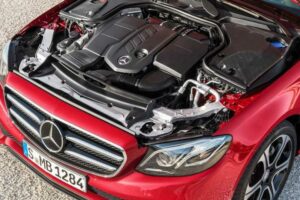 Government agencies around the world continue to scrutinize automakers in the wake of the 2015 Dieselgate scandal. According to a leaked letter from the German Federal Motor Transport Authority, Mercedes-Benz was in the agency's crosshairs earlier this summer, accused of using defeat devices to bypass the latest Euro 6 emissions standards.
The memo [in German], dated July 7, 2023, detailed three software-based defeat devices found on the OM642 diesel engine used in the Mercedes-Benz E350 BlueTec. Two of the devices altered engine operation based on certain temperature parameters. The agency told the automaker in the letter that it had to fix the issues, or the cars would be banned from operating and recalled.
The German environmental consumer protection group Deutsche Umwelthilfe (DUH) published the leaked letter on Friday, which it received from an unnamed whistleblower. 
Mercedes, which is cooperating with the agency, told Reuters it believes that it has already developed and deployed the proper software updates needed to address the issues. The additional scrutiny arrived after the European Court of Justice ruled in July 2022 that software-based defeat devices were illegal. The agency had given the company until July 27 to comply, but Reuters reports that it had received an extension.
This isn't the first time Deutsche Umwelthilfe has scrutinized Mercedes. In November 2021, the organization issued a public report that accused the company of using eight defeat devices in its E-Class vehicles equipped with its Euro 6-compliant diesel engine – the OM642 power plant. DUH deemed the devices illegal. According to the report, the devices reduced the amount of AdBlue injected that is needed to neutralize harmful nitrogen oxides.
Mercedes isn't the only automaker still facing the consequences of the Dieselgate scandal eight years after it broke. This summer, a court fined former Audi CEO Rupert Stadler 1.1-million euros ($1.17 at today's exchange rate) for his involvement in the scandal. He confessed to avoid receiving a prison sentence. The auto components supplier Bosh paid $25 million in fines last year.
In 2020, Mercedes's parent, Daimler, had to pay $2.8 billion to settle claims against the company in the United States. The automaker faced cases from the US Environmental Protection Agency, the California Air Resources Board, the US Department of Justice, and a class-action lawsuit. More than half of the nearly $3 billion went to various government agencies, while $700 million went to settle the lawsuit.
Source: Read Full Article