Naran Automotive unveils its first hypercar: the Naran
The Naran Automotive Naran is a 1,034bhp road-legal hypercar rival for the Aston Martin Vulcan and McLaren Speedtail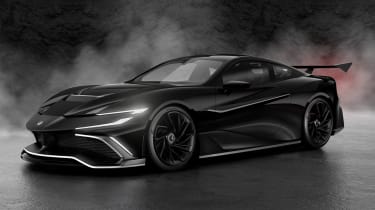 Naran Automotive has pulled the wraps off its first car, the Naran. It's a front-engined, GT3-inspired hypercar, which has been designed to rival the likes of the McLaren Speedtail and Aston Martin Vulcan.
Production will be limited to just 49 units, with first deliveries expected to arrive in July 2021. Naran Automotive is also targeting a starting price of €1 million (roughly £890,000) – although buyers can easily inflate this figure with a quick browse through the brand's extensive list of customisation options.
Best hypercars 2020
Unlike most hypercars, the Naran's engine is mounted up front rather than over the rear axle – however, it's a front-mid setup, meaning the engine sits behind the front axle rather than directly above it. This should improve the car's weight distribution.
The engine is a twin-turbocharged 5.0-litre V8, which was developed in tandem with the German engineering company, Racing Dynamics. It develops 1,034bhp and 1,036Nm of torque, which Naran Automotive says is enough for a 0–60mph time of 2.3 seconds, a 0–100mph time of 4.5 seconds and a top speed of 230mph.
Power goes to all-four wheels in standard running conditions. However, like the latest BMW M3 and Mercedes-AMG E 63 sports saloons, the Naran also comes with a setting which can send 100 per cent of the engine's power to the rear wheels, for what the company calls a "more challenging driving experience."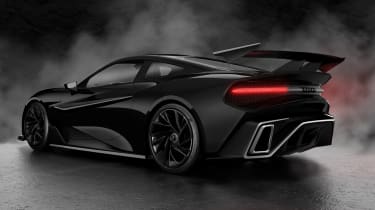 To cope with the engine's power, the Naran's chassis features plenty of motorsport-derived hardware, such as lightweight 22-inch hybrid-carbon wheels, double wishbone suspension, adjustable Ohlins dampers, enormous carbon ceramic brakes and a beefy race-grade steering rack. There's even manual adjustment for the car's anti-roll bars and camber arms.
Other than the unusual location of the engine, the Naran's design follows the traditional hypercar rulebook, sporting a low nose, flared haunches and an enormous rear wing. The company also says that much of the car's body is made from a blend of carbon fibre and natural flax – which help to keep its kerb-weight below 1,500kg.
Naran Automotive also says that the car's wings and aero appendages are more than just for show – at speed, the Naran will generate a claimed 1,377kg of downforce, which is more than what a GT3 racer can muster.
The Naran really gets into its stride when it comes to customisation. The company's options list is exhaustive, stretching to bespoke paint finishes, a choice of exterior trim and a broad range of upholstery finishes for the cabin.
If they've got the money, buyers can even have personalised engravings on the underside of the engine's pistons – and Naran Automotive will allow its customers to give their cars their own unique model name, drawing on a convention normally reserved for luxury yachts.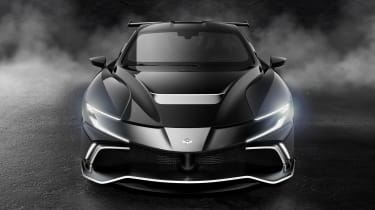 Naran Automotive is backed by the Indian-Zimbabwean businessman Ahmeer Naran. He's supported by former Jaguar Land Rover engineer Steve Pegg, as well as automotive designer Jowyn Wong – who is best known for his work on the Apollo IE.
Naran Automotive: electrification and future plans
Naran Automotive is set on its approach to electrification. In a recent interview, Steve Pegg said: "We're not necessarily against EVs, but we as a brand celebrate the combustion engine. None of our customers are asking for an EV from us – so until either that happens or emissions restrictions become more difficult, we don't have plans to build one."
Despite this, the company didn't rule out the use of sustainable fuels in the future. Ameerh Naran said: "The environment is important to us – and we are researching alternative fuels like hydrogen. However, we're a purist brand and I don't feel that an EV is a solution for a purist, because of the weight the batteries bring.
"Also, electric cars are sort of like your mobile phone or your computer. It's still early days and the technology is advancing very quickly – and we're trying to create something that someone keeps for a lifetime – so producing anything electric now will be impossible, because it will become obsolete very quickly.
"Once there's an alternative energy solution that really is sustainable long-term, then we'll go down that route, but from our planned point of view, we really want something that will stand the test of time."
Naran Automotive has also confirmed that, once its first 49 hardtop models have been built and shipped, it'll build a further 25 convertible variants. After that, the firm will produce a further two models based on the same underpinnings, in production numbers of 25 and nine – both of which will be powered by a turbocharged V12 engine.
What do you make of Naran Automotive's new hypercar? Let us know in the comments section below…
Source: Read Full Article