New 2021 Fiat e-Ducato on sale now priced from £59,699
Pure-electric Fiat e-Ducato panel van has a maximum range of 230 miles and a carrying capacity of between 10 and 17 cubic metres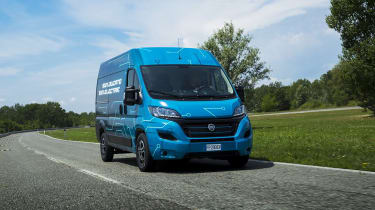 The all-electric Fiat e-Ducato van is available to order now. Prices start from £59,699 including VAT, although that figure does include the Government's £8,000 plug-in van grant. First deliveries will arrive in May.
The e-Ducato is Fiat's first attempt at a zero-emissions commercial vehicle and it will wade into an increasingly populated marketplace, currently occupied by the Vauxhall Vivaro-e, Mercedes e-Vito and Citroen e-Dispatch, as well as newcomers such as the Arrival Van.
Best electric vans 2021
To remain competitive, Fiat has tried to offer the e-Ducato in as many configurations as possible. Buyers have their choice of three lengths, wheelbases and heights, as well as a chassis cab and a passenger variant, the latter of which can carry either five or nine people.
There two trim levels to choose from. The standard model comes with heated door mirrors, automatic climate control, a multifunction steering wheel, a tablet mount and a five-inch touchscreen. There's also a brace of safety technology, which includes lane departure warning, traffic sign recognition and autonomous emergency braking.
Like the diesel van, the e-Ducato also features 270-degree opening rear doors, a sliding side door, a dual passenger seat, a handful of anchor points for the cargo area and a fixed full width steel partition between the rear and the cabin.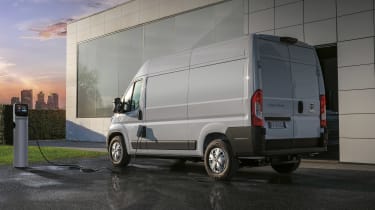 Fiat's more lavishly equipped eTecnico model is priced from £63,299 and adds front fog lamps, LED daytime running lights, a rear parking camera, rear parking sensors and electrically folding door mirrors. Inside, there's also a leather steering wheel and a seven-inch infotainment system with support for Apple CarPlay and Android Auto.
Every buyer also gets a 12 month subscription to FCA's Mopar Connect service. It comes with a smartphone application which can track the position of the vehicle and immobilise the van's powertrain in the event of a theft, while also giving drivers 24-hour access to the company's crash assistance service.
New 2021 Fiat e-Ducato: motor and battery packs
The e-Ducato's electric motor is mounted on the front axle and serves up 121bhp and 280Nm of torque, which is a similar level of performance to the van's entry-level 2.0-litre diesel engine. The motor allows the e-Ducato to haul a payload of up to 1,885kg, although Fiat has limited its top speed to just 62mph to maximise the vehicle's range.
Buyers can choose from either a 47kWh or 79kWh battery pack, which provide maximum ranges of 113 and 230 miles respectively. The smaller battery comes with a 7kW on-board charger as standard, which can brim the cells in around two-and-a-half hours.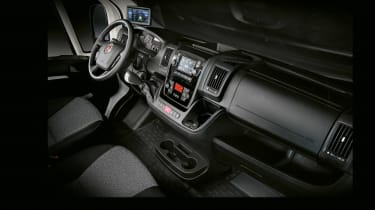 The larger 79kWh battery pack adds an extra £15,000 to the e-Ducato's starting price, although it does come as standard with an 11kW on-board charger, which can fully recharge the battery in four hours. Both vans also offer support for 50kW DC rapid charging, which can add 62 miles of range in less than 30 minutes.
The e-Ducato's electric powertrain also comes with four drive modes. "Normal" provides a balance between performance and efficiency, "Eco" limits the motor's output and deactivates the air conditioning system to maximise range, while "Power" mode provides the maximum amount of performance for full-load journeys.
Finally, "Turtle Mode" is activated when the van's battery level is depleted to near empty. The vehicle alerts the driver of the lack of charge and strongly limits the amount of performance and preserves as much battery life as possible.
New 2021 Fiat e-Ducato: styling and body styles
The e-Ducato looks near-enough identical to the diesel model, and Fiat assures us that it has the same carrying capacity as its combustion-engined cousin, as the battery pack is mounted under the floor and the electric motor occupies the same space as the standard Ducato's combustion engine. 
The EV's load volume is also identical to the diesel van's, with between 10 and 17 cubic metres of space on offer, depending on the selected body style. The largest e-Ducato XL can carry items measuring 4,070mm long and 2,172mm tall, while every van can accommodate items measuring 1,870mm wide.
However, Fiat has updated the e-Ducato's interior to match its electric powertrain. In place of the standard van's rev-counter there's a new charge indicator – and Fiat has tweaked the van's infotainment system with some unique graphics. There's also a new control unit mounted to the driver's A-pillar, which can be used to set the van's daily charging schedule.
Now read our review of the Fiat e-Ducato's main rival, the Mercedes e-Vito…
Source: Read Full Article