New 2021 Vauxhall Astra to offer plug-in hybrid power
The new Vauxhall Astra will get a plug-in hybrid powertrain and a more premium image – here's how it could look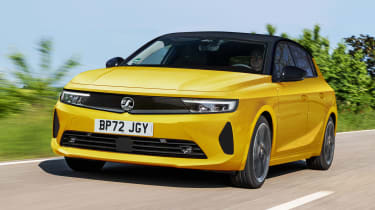 Vauxhall has confirmed that the new Astra will be the first generation of the car to be electrified, and our exclusive image shows how the forthcoming Ford Focus rival could look.
The firm has already teased a portion of the car's new-look front end, which makes use of the brand's 'Vizor' design, as already seen on the Mokka SUV. We expect the rest of the car to adopt elements of the latest Corsa, with similar front vents, a strong shoulder line crease and distinctive body-coloured C-pillars. It's certainly a bold look, and a radical departure from the more rounded styling of the previous car.
New Vauxhall Astra prototype review
The new Astra will also receive the brand's Pure Panel twin-screen infotainment set-up, with Android Auto and Apple CarPlay as standard. Pure Panel combines either a seven or 10-inch touchscreen infotainment display with a 10 or 12-inch digital dash panel, depending on specification.
As a result, the fascia has been simplified over the outgoing Astra, with only the core functions now operated by physical buttons, which Vauxhall calls "finely crafted keys." These combine with a new steering wheel design featuring smarter controls on the wheel's spokes, including those for the car's new semi-autonomous adaptive cruise control. 
This is part of Vauxhall's bid to take the Astra upmarket, with the firm claiming that "the high quality of the interior experience is emphasised by the shape, textures and materials used in the newly-designed steering wheel and the ergonomic front seats."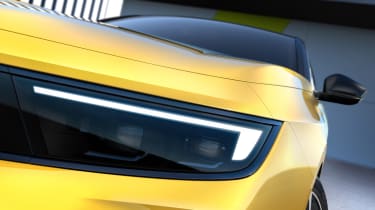 The forthcoming Astra will also be the first model in the nameplate's history to feature a plug-in hybrid powertrain, made possible by the use of the Stellantis EMP2 platform that underpins the latest Peugeot 308. 
A 1.6-litre turbocharged four-cylinder petrol engine combines with a 108bhp electric motor to give 178bhp, with a 222bhp variant arriving later. Around 31 miles of pure electric range is expected, and both will use an eight-speed automatic gearbox.
Conventional engines are also available, in the form of a 1.2-litre three-cylinder turbocharged petrol unit and a 1.5-litre diesel. The 1.2-litre petrol can be had with either 108bhp or 128bhp, with the sole diesel option also giving 128bhp. All are available with a six-speed manual gearbox, or an eight-speed automatic.
The new car will also be available in Sports Tourer estate form alongside the conventional five-door hatchback, offering buyers even more practicality. Full details on the new Astra will be revealed in the coming months.
What will the new Vauxhall Astra have to beat? These are the best hatchbacks on sale right now…
Source: Read Full Article