New 2022 Smart electric SUV to rival Peugeot e-2008
The new Smart SUV will use an electric platform developed by Geely and our exclusive images preview how it could look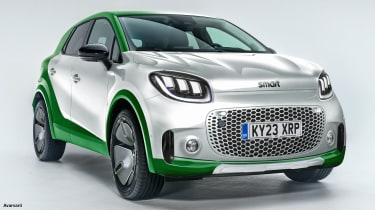 Small-car maker Smart has confirmed that it will launch its first SUV in 2022. It will use a new modular electric platform developed by Chinese giant Geely.
It's the first major Smart product announcement since Mercedes parent company Daimler established a new global joint venture with Volvo owner Geely for the Smart brand in early 2020.
Best electric cars to buy 2021
Smart has never made an SUV, but it has flirted with the idea in the past. In 2005 it was due to reveal a compact SUV concept called the ForMore at the Frankfurt Motor Show, but the idea was canned before a prototype was finished. Motor-show specials such as 2012's ForUs and ForStars duo have also been revealed, but without any serious production intent behind them.
According to a blog post on networking site Linkedin from Smart Vice President of Global Sales, Daniel Lescow, the new model won't see the firm abandon its compact principles. It will be "instantly recognisable" as a Smart, with "super-compact" exterior dimensions and clever use of interior space.
Mercedes will design the car, with engineering and development work taken care of by Geely, since it will be built in China. But Lescow promises that the car will also come to Europe, and five-star Euro NCAP safety scores are targeted.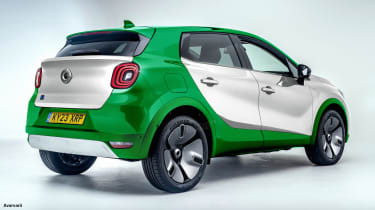 While the Smart SUV will be a compact vehicle, it's likely to move up in size from the current range of city cars, becoming the company's first supermini-sized vehicle since the original ForFour of 2004. Last January, Smart confirmed that it would look to move into this sector with a focus on "premium electric vehicles". As such, the new SUV should shape up as a rival for the Peugeot e-2008 and DS 3 Crossback E-Tense.
The Smart SUV will be built on Geely's new Sustainable Experience Architecture (SEA), which will underpin every next-generation Smart, as well as numerous models from Geely's eight other brands. SEA shares elements of its design with the CMA platform that underpins the Volvo XC40 and Polestar 2, and it's a platform Volvo boss Håkan Samuelsson has already confirmed will be found under new compact Volvos.
Geely describes SEA as being highly scalable and claims that it's suitable for vehicles ranging from city cars to large saloons. A light commercial vehicle variant of the platform with four-wheel drive is also being developed.
Key specifications have yet to be revealed, but in its largest form the SEA platform will support electric cars capable of 435 miles on a single charge, while over-the-air updates and next-generation autonomous driver-assistance technologies are promised.
Given the likely footprint of the Smart SUV, battery capacity will be limited, so a range of 435 miles seems unlikely. Instead expect something around the 200-mile mark to ensure it's competitive with its main rival from Peugeot. If Smart targeted the technical capability of the Hyundai Kona Electric, a range nearer 300 miles would be necessary.
It's too early to get a sense of accurate pricing, but Smart won't be abandoning its premium ambitions. A starting price of around £29,000 after the Government grant would make it a competitive player in a segment that's growing in popularity.
Check out the best small SUVs you can buy now…
Source: Read Full Article