New 2023 MG Cyberster: performance, pricing, and release date
The new all-electric MG Cyberster returns the brand to its roadster roots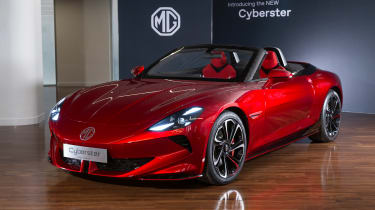 It's been almost 30 years since MG last revealed an all-new two-seat convertible and 60 years since the MGB roadster was unveiled. You could say that a new MG sports car has been a long time coming – say hello to the MG Cyberster. 
The big news, of course, is that the MG Cyberster is all-electric, which means it doesn't have any real rivals – until the Tesla Roadster, Porsche Boxster EV or even the Fisker Ronin come to market. The famous British brand, now owned by China's SAIC, has beaten them all to the electric roadster punch, and will undercut the competition substantially with prices starting from around £50,000. 
Top 10 best sports cars 2023
The MG Cyberster will go down as one of the worst-kept secrets of the last few years thanks to a series of major leaks but now we can see it in all its official glory. The Cyberster project was first previewed by the Cyberster concept car in 2021 but there's been a significant jump to this more conservative production version, with extensive input from the London-based SAIC advanced design studio headed by Carl Gotham. 
While certainly less extreme than the concept, the production Cyberster still features all the hallmarks of a traditional two-seater roadster, only with a very modern powertrain underneath. 
MG Cyberster design
The proportional norms of a traditional roadster have certainly been adhered to, with a long bonnet, a relatively short tail and a two-seater cabin in between. The electrically-folding fabric roof has been designed not only to provide a secure interior environment, but also to keep the MG Cyberster's silhouette clean, flowing gently into the rear deck. A unique and very clever touch is the use of black plastic elements around that rear deck. These trick the eye, giving the impression that the car has more extreme rear haunches than it actually does.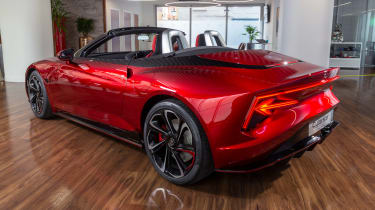 The nose takes inspiration from MG's former models, with sleek headlights and an illuminated badge that sit alongside some muscular surfacing. The rear end and its controversial tail lights, meanwhile, is inspired by a graphic representation of the Union Jack flag. Some of the more eccentric design elements from the concept, such as the LED strip on the car's flank, have been excluded from the production model, but one element that has been successfully transferred is the eye-catching scissor doors. 
MG Design Director Carl Gotham, showed Auto Express a model of the Cyberster, which apparently is 95 per cent consistent with the final production car. "We've not had to compromise much in terms of design to make the production car. It's obviously a bit more friendly, a bit more approachable design language which we want to move the brand into." That doesn't mean all MGs will look like the Cyberster, or even like each other. "It's a halo car so it has to stand on its own ground, but MG is creating products that are right for the market at that particular time so they shouldn't just all look like each other", he adds. 
"This is a return to form," says Carl, "It's more sophisticated, refined and elegant. It looks expensive and it feels expensive". There's perhaps scope for a hard top version of the Cyberster too, with Carl stating it's easier to create a coupe from a convertible than the other way around, however a Cyberster coupe is still "unconfirmed". 
Powertrain and performance
The MG Cyberster's all-electric powertrain is due to be available in both single- and twin-motor guises and it has done much to dictate the new model's overall proportions. This creates a roadster that's larger than any MG roadster has been before, with leaked patent filings confirming the car will measure 4,535mm long, 1,913mm wide and 1,329mm high – similar numbers to a modern BMW Z4. Standard wheels will be 19-inches, with high-spec versions carrying the 20-inch set as seen in these images. 
The patent leaks also provided some information about the Cyberster's mechanical specifications. An entry-level single motor version will come with 309bhp, with a second dual-motor model topping the range with 536bhp. These very impressive power figures are tempered by the additional weight that's always associated with battery electric vehicles, as single-motor Cybersters are expected to weigh 1,850kg (about the same as a BMW M3 Touring) while the dual-motor will top out at 1,985kg. Top speed should stand at around 124mph.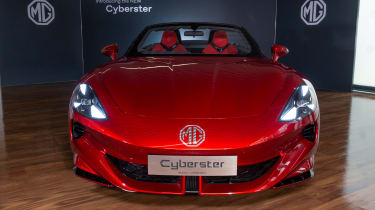 No specific details about the battery pack have been mentioned, but MG claimed the Cyberster concept could do 500 miles on a single charge and accelerate from 0-62mph in less than three seconds. With well over 500bhp on tap, the production dual-motor car might offer similar numbers, but we suspect a range of more like 300 miles to be realistic taking into consideration contemporary battery technology. 
Interior and technology 
It's expected that Chinese-market MG Cyberster models will be available with a Tesla-style yoke steering wheel as an option, but standard cars will instead feature a traditional round wheel inside a very high-tech and screen-heavy interior. A rear-view camera will also feature. 
The overall cabin design borrows from many existing sports cars, but contains no less than four digital displays. Three of those will form a sort of wraparound digital dial pack, with a fourth touchscreen set into the dash to control functions like the air-conditioning and media. 
MG Cyberster availability and pricing
The new MG Cyberster is due for a European release in the summer of 2024, with prices and overall specifications still to be firmed. It'll join a rapidly expanding range of Chinese-built EVs from MG and other manufacturers that are quickly becoming more and more competitive against Korean, Japanese and European rivals. 
Guy Pigounakis, Commercial Director for MG said at the unveiling "we'd target a price tag of £50,000 for the single-motor and £60,000 for the dual-motor if it went on sale today. We won't aggressively sell the Cyberster, we'll sell however many are needed." He also spoke on the Cyberster's role within MG's range. "The MG brand is powerful and generates emotion, but for a younger audience there's no negative or positives surrounding it, the Cyberster will help with this." 
If it arrives with the kind of value proposition we're becoming used to from Chinese manufacturers generally, and the MG brand itself, the Cyberster might just prove to be as innovative and groundbreaking as its famous British sports car predecessors.
For an alternative view, see our sister site DrivingElectric.com's coverage of the MG Cyberster…
Source: Read Full Article