New 2023 MINI Countryman spied for the first time
The next generation of MINI Countryman will be larger and offered with electric power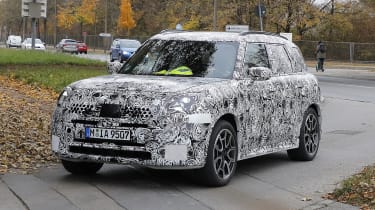 The new MINI Countryman will arrive with big changes in 2023 with a full EV option and a growth in size. And our spies have caught the high-performance S model on camera for the first time. 
A heavy camouflage conceals most of the Countryman's design, but it's clear that the next Countryman will continue to meld classic MINI styling cues with an SUV bodystyle. The front end is more rounded than before, with smoother surfacing than the bluff nose of the outgoing Countryman. 
MINI's bold future to include small MPV based on Urbanaut concept
The MINI's familiar oblong grille appears to remain, with deep lower bumper vents for this sporty S version. However, one area where the new Countryman will depart from the MINI hatchback is the headlights. This pre-production car looks to adopt a set of angular, squared-off LED headlights, distinguishing it as the brand's SUV. 
The side profile is more in line with other MINIs, with a high shoulder line, a narrow glasshouse and minimal bodylines. This S model wears a set of two-tone diamond-cut alloy wheels and extended side skirts for a more aggressive stance.
The Countryman continues to feature a 'floating' roof design, which will be available in a selection of contrast colours. The roof ends in a sloping roof spoiler over a slim rear window, with a deeply scalloped rear bumper housing a set of quad-tailpipes – a first for a MINI.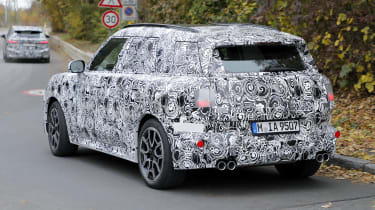 The upcoming Countryman will be larger than any other MINI in the brand's history, thanks to a new BMW architecture. 
MINI's SUV will be built at BMW's Leipzig plant in Germany, on the same FAAR platform as the BMW X1. This will mean a fairly significant size increase over the current car when it lands in 2023. Speaking to Auto Express last year, Head of MINI Bernd Körber said: "I would say in terms of dimensions, we talk half a segment increase for the Countryman, so in the direction of [BMW] X1 size but with the MINI proportions."
Under the bonnet, the Countryman will be offered with a selection of petrol and diesel engines, which will likely be shared with its BMW relative. A pure-electric model is also in the pipeline, although there will no longer be a plug-in hybrid variant. On the subject of PHEVs, Bernd Körber told us: 
"Once you get EVs to a range above 400km (250 miles), I don't see where there is a use case [for plug-in hybrids]. We see with the MINI Electric. The first data that we have, it's 40 or 50km (around 30 miles) maximum drives per day with very few exceptions. I think once you get the EVs to a certain range, for the MINI use case, I don't see a big market for PHEV."
The new Countryman will form part of a three-pronged model line-up that will include a smaller electric-only crossover and a new MINI hatch. The Convertible and Clubman will be dropped as the marque moves towards an all-electric era.
Check out the latest on the 2023 MINI hatch here…
Source: Read Full Article