New 2023 Tesla Cybertruck: release date, pricing, technology
Tesla's long-awaited Cybertruck has been spotted testing out on the road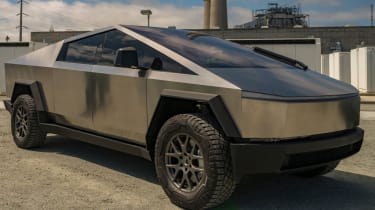 Elon Musk has announced the new Tesla Cybertruck will be with customers this year and now we've seen the first test cars hitting the public road. After years of delays, the eye-catching electric pick-up was also spotted on a US highway with Mr Musk at the helm. 
In a shareholder meeting towards the end of last year, Musk said Tesla is hoping to start deliveries this year so we could see customers getting their Cybertrucks by the summer. Musk admitted troubles with the Cybertruck's production, tweeting it is a "very hard car to build, as it is unlike any other, but, as stated publicly, Cybertruck production starts this year". 
New Tesla Cybertruck ride review
Tesla Owners Silicon Valley posted a video of a Cybertruck undergoing testing from the rear – showing off the truck's rear light design. The full-width rear light bar isn't lit up with small square brake units, although Musk himself has commented on the design, saying "Production will have a red light bar" in a tweet. 
A new set of triangular wing mirrors have also appeared, although we expect some digital cameras to be offered as an option to help reduce drag (and for aesthetic purposes). Another social media post by TOC (Tesla owners club) San Joaquin Valley shows the roof-mounted light bar accompanies the standard light bar on the front bumper.
A prototype version of the long-awaited Tesla Cybertruck was seen in California in June 2022. It was present during a grand opening ceremony of the Elkhorn Battery storage facility in Moss Landing, with some notable changes over previous iterations of the vehicle.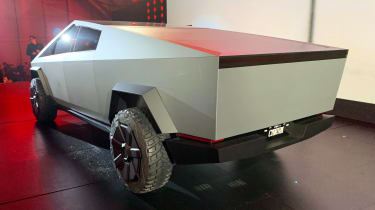 While the design remains shockingly minimalist and angular, a few more real-word touches appeared. Pictures taken by Tesla employee Nattanan Sirivadhanabhakdi show a new windscreen wiper situated vertically and door mirrors. The wheels have also lost the bizarre covering, with much more conventional alloy wheels with a six-stud pattern. 
Inside, there's a new driver's display which appears to have been taken from the Model X and the central front seat has been replaced by a centre console. There's also the yoke steering wheel – a feature first seen on the Model S Plaid. But while it's gained some more conventional equipment, the Cybertruck is clearly still far from being finalised. 
Musk has said that once Cybertruck production starts, he hopes to produce a quarter-million Cybertrucks annually but achieving this will take time because the tech is yet to be improved and it is still very costly at this stage.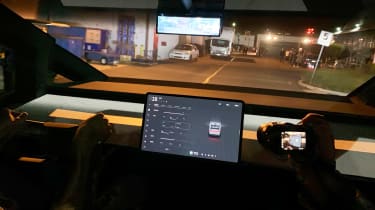 "I worry more about things like how do we make the Cybertruck affordable despite having awesome technology."
The Tesla Cybertruck was revealed in 2019 and has been delayed every year since. Since then, other manufacturers have entered the electric pickup truck space, including Ford with the F-150 Lightning, Rivian with the R1T, GMC with the Hummer EV, and Chevrolet with the Silverado EV, to name a few. 
​​Tesla Cybertruck: prices, specs and release date
When the Cybertruck concept was introduced, it shocked the automotive space with its angular, stainless-steel-bodied utility vehicle with bulletproof glass and a claimed maximum towing capacity in excess of six tonnes. 
Tesla is keen to have the Cybertruck on the market in 2023, but it has struggled to stick to these timelines in the past.
Following the pick-up's 2019 reveal, Musk announced on Twitter that more than 250,000 customers had placed orders for the new model – all of whom haven't received one yet. Then he released a video showing the Tesla Cybertruck pulling a Ford F150, America's best-selling pick-up truck, that's caused some controversy online.
New baby Tesla electric car to target VW ID.3
Elon Musk claimed that it can carry a payload of up to 1,587kg and tow up to 6,350kg. It also comes with a lockable, 2,832-litre load bed which can carry items up to 1,981mm long.
Musk promises the pick-up will be handy off-road, too. It has 406mm of ground clearance, an approach angle of 35 degrees and a departure angle of 28 degrees – which is better than a Ford F-150. A range of new traction control settings, designed to simulate mechanical locking differentials, is also promised. 
Tesla Cybertruck: performance and range
Back in 2019, Tesla claimed the range-topping Tesla Cybertruck will be priced from £69,900 in the US (around £54,000), and will feature a tri-motor, all-wheel-drive powertrain and a large battery pack adapted from the Model X SUV. Tesla says it'll have enough power for a 0–60mph time of 2.9 seconds and a top speed of 130mph, while its maximum range will stand at 500 miles.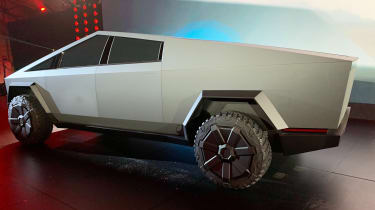 Entry-level, Single Motor, rear-wheel-drive Cybertrucks will be priced from $39,900 (roughly £31,000), undercutting the all-electric Ford F-150 Lightning's starting price of $51,974.  The single-motor Cybertruck will have a claimed 0–60mph time of 6.5 seconds and a top speed of 110mph. However, they'll be fitted with smaller battery packs than the flagship model, meaning they'll only be able to cover 250 miles between charges and tow up to 3,402kg.
Sitting between the two extremes will be a Dual Motor, all-wheel-drive model that's priced from $49,900 (around £39,000). It will offer a claimed range of "more than 300 miles," a 0–60mph time of 4.5 seconds and a maximum towing capacity of 4,536kg.
Since the original launch of the Cybertruck in 2019, Musk has since been quoted saying the pricing and specs "will be different". 
​​Tesla Cybertruck: chassis, platform and toughness
Like the Tesla Model X, the Cybertruck rides on air suspension which allows the rear of the pick-up to be lowered to make loading and unloading easier. The truck is also fitted with a retractable ramp, which was demonstrated with a rebadged and rebodied Yamaha all-terrain vehicle driving across the stage and into the bed.
Best electric cars to buy 2023
There's still a considerable amount of conjecture over the Cybertruck's angular design, with many publications remaining doubtful over whether it will pass the pedestrian safety aspect of US crash regulations.
However, Musk claims the Cybertruck will be the toughest pick-up on the market, thanks to a body made of ultra-hard 30X cold-rolled stainless steel. Tesla's design boss, Franz von Holzhausen, demonstrated the strength of the pick-up's body by attempting to dent one of its doors with a sledgehammer.
The Cybertruck will also be fitted with Tesla Armour Glass – an ultra-strong polymer-layered composite, which Elon Musk described as "transparent metal." Its on-stage demonstration didn't go as smoothly as the bodywork's though as, when Holzhausen threw a heavy metal ball at the pick-up's front and rear door glass, both windows cracked. Musk admitted to the crowd that there was "room for improvement."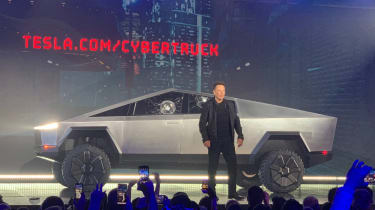 And, as with all US-market pick-ups, the Tesla Cybertruck is big. It measures 5,885mm in length, 2,027mm wide and 1905mm high, which makes it around the same size as the Supercab version of North America's current best-seller, the Ford F-150.
Tesla Cybertruck: interior design
Inside, there are two rows of three seats, with the centre-front seat folding flat to make an armrest. We've also seen a new centre console replace the front middle seat and it's not clear if they'll both be available. As is usual for Tesla models, the dash features just a single 17-inch landscape touchscreen, which sits on top of a marble-effect panel stretching the entire width of the truck, with no other visible controls.
In place of a steering wheel in the Cybertruck is a Yoke, also seen on the forthcoming Tesla Roadster, and the current Tesla Model S Plaid. The truck's rear-view mirror is a screen, rather than a conventional glass unit, which uses a feed from a high-definition camera in the tailgate, while the glass roof extends back over the rear passengers, who get a view of the steel-clad load bed.
Do you like the Tesla Cybertruck? Let us know in the comments section…
Source: Read Full Article