New BMW X3 xDrive30e 2020 review
The BMW X3 xDrive30e plug-in petrol SUV offers plenty of financial benefits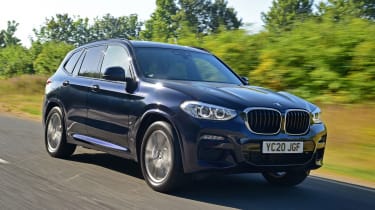 4.0 out of 5
Verdict
Many plug-in hybrids fall down compared with their combustion-powered alternatives on price, but the BMW X3 xDrive30e makes sense for both private buyers and company car users. It's within a couple of hundred quid of the similarly-performing 3.0-litre diesel, and although the hybrid's practicality is compromised, the savings in running costs are potentially huge. All the while it maintains the typical X3 strengths of comfort, build quality and tech.
BMW is expanding its range of electrified vehicles at a rapid rate, and this is the latest, the X3 xDrive30e. When the fully electric iX3 arrives in the UK in 2021, the X3 will be the first BMW – and the first mid-size SUV – to come with petrol, diesel, plug-in and electric powertrains.
Until the iX3 arrives, the xDrive30e is the model that registers the lowest CO2 emissions of the X3 range, at 48g/km. Under the skin, a 181bhp 2.0-litre petrol engine is connected to a 108bhp electric motor for a combined total of 288bhp.
Drive is sent to all four wheels through an eight speed automatic gearbox. There's a 12kWh lithium-ion battery, which allows the X3 to cover 29 miles on a charge, while a 50-litre fuel tank adds a few hundred miles extra on longer trips. 
Best plug-in hybrids 2020

With enough charge in the battery, the 30e will start on electric power. There are three drive modes to choose from: 'Auto eDrive' leaves the car to manage energy flow and 'Battery Control' holds the pack's current charge at a preset level – ideal if a journey starts with motorway driving, but ends in a low-emission zone. The final mode is 'Max eDrive'; this forces the car to stay in full EV mode unless you floor the accelerator. 

In this mode, the silence is almost eerie. The regular X3 tops the class when it comes to refinement, and the xDrive30e is no different, because the harshest bumps are so well insulated from the cabin that they only register as a distant thump. Smaller bumps are shrugged off altogether, while wind and road noise are well insulated, too. It's incredibly relaxing.

More reviews for X3 SUV

Car group tests

Land Rover Discovery Sport vs BMW X3 vs Volvo XC60
BMW X3 vs Mercedes GLC
BMW X3 M vs Alfa Romeo Stelvio Quadrifoglio

In-depth reviews

Road tests

New BMW iX3 2020 review
New BMW X3 M 2019 review
New BMW X3 M40i 2018 review

Used car tests

Unfortunately, the peace is disturbed somewhat when the combustion engine kicks into life. The four-cylinder unit isn't obnoxiously noisy, but it does make a tone-deaf drone when called upon.

The X3 plug-in feels every bit as quick as the 6.1-second 0-62mph time suggests, and the integration between petrol and electric power, plus the excellent eight-speed automatic gearbox means that it's rarely left floundering. Even in full electric mode, the X3 feels more than nippy enough around town.

There's a distinct feeling when driving the X3 that's it's solid and sturdy, and that feeling of security never really wears off; that includes during cornering. 

Best luxury SUVs 2020/2021

There is a downside to the plug-in set-up, and that's practicality. The need to accommodate the battery and fuel tank has caused the boot space to shrink to 450 litres, which is 100 litres down on the conventional combustion-powered variants. It manifests itself in the form of a clumsy step in the boot floor, too, and there's no extra storage space for the charging cables.

Elsewhere, the rest of the PHEV's cabin remains exactly the same as every other X3's. That's to say it's smart, well built and fitted with class-leading infotainment. 

So this car isn't quite as good to drive as the diesel model – it's more refined around town, but less so on long journeys – and it sacrifices a little practicality, but there's little to choose when it comes to price. Starting from £48,505 in SE trim, the plug-in model is only £390 more than the xDrive30d. But it more than fights back when it comes to running costs. 

Thanks to that 48g/km CO2 figure and its 29-mile EV range, the X3 slots into the 12-per-cent Benefit-in-Kind band. By contrast, that six-cylinder diesel is in the top 37 per cent band. That means a company user earning £50,000 per year will save almost £5,000 annually by taking the PHEV option.

| | |
| --- | --- |
| Model: | BMW X3 xDrive30e M Sport |
| Price: | £51,155 |
| Engine: | 2.0-litre 4cyl petrol/electric |
| Power/torque: | 288bhp/420Nm |
| Transmission: | Eight-speed automatic, four-wheel drive |
| 0-62mph: | 6.1 secs |
| Top speed: | 131mph |
| Economy/CO2: | 134.5mpg/48g/km |
| On sale: | Now |

Next Steps

Source: Read Full Article