New car sales drop 29.4% in 2020 but EV sales up by 186%
SMMT figures set to show that new car sales dropped to their lowest level since 1992, with just 1.63 million registrations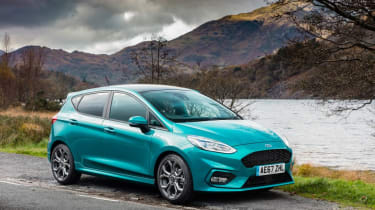 Ford Fiesta
New car registrations in 2020 dropped to their lowest annual level since 1992, in figures released by the SMMT (Society of Motor Manufacturers and Traders).
A total of 1.63 million new cars were registered last year, down 680,076 vehicles, or 29.4 per cent, on 2019. That represents the biggest decline since 1943, when car plants switched over to munitions manufacturing during the Second World War.
Best-selling cars in the UK 2020
However, the number of electrified vehicles sold last year has jumped significantly with the sale of Battery Electric Vehicles (BEVs) up 185.9 per cent on 2019 and the number of Plug-In Hybrids (PHEVs) up 91.2 per cent.
Market share for BEVs now sits at 6.6 per cent, thanks to sales last year of 108,205 EVs. PHEVs hold a 4.1 per cent market share, with 66,877 registered. That means more than one in ten new cars sold is charged via a plug, helped, no doubt, by the success of the Tesla Model 3; this was the best-selling car in December alone, with its maker's well-established online sales model likely to have played a part in its success. 
Petrol-powered cars remain the dominant market force, however, making up 55.4 per cent of registrations, with 903,961 such cars finding homes last year. Diesel cars suffered a dramatic decline, with 262,772 registrations in 2020, down 55 per cent from 581,774 in 2019.
The Ford Fiesta was the UK's best-selling car in 2020, followed by the Vauxhall Corsa, Volkswagen Golf and Ford Focus. Combined, those four cars made up over 10 per cent of all new cars last year. 
As well as new car registrations dropping, the sale of Commercial Vehicles (CVs) also fell – but by a smaller amount at 20 per cent.
New car showrooms shut in March last year during the first national lockdown, with SMMT Chief Executive Mike Hawes saying, "We lost half a million units due to lockdown and we didn't get them back."
The SMMT estimates that the drop in sales meant a £20 billion loss to the UK Automotive Industry, with a £1.9 billion loss in VAT receipts to the Treasury.
In spite of 2021 starting with another national lockdown, the SMMT is expecting a better year for new car registrations. "Our forecast was for two million, but it's highly unlikely that will be delivered.
"We suspect it will be less than two million."
Commenting on the 2021 lockdown, Hawes said, "The industry is better prepared than it was last March. Everyone expected lockdown and there was a sigh of relief that click and collect has been allowed."
However, Hawes was critical of the fact that car showrooms must again be closed under lockdown restrictions, while outlets such as garden centres can remain open.
Hawes used the announcement of the 2020 registration figures to provide some good news to consumers, saying, "There really has never been a better time to buy a car. The stock is here and dealers are ready."
Hawes also praised the work that negotiators had done in getting a last-gasp Brexit deal over the line just before the end of the year. "In the end the UK Government was successful in getting a better deal [for the automotive industry] than was on the table two to three weeks previously.
"The agreement provides hope and a platform to limit damage."
However, there were words of caution: "There's more admin and red tape to be done. Feedback so far is that it's working okay, although some plants are still on shutdown. And new models will have to go through type approval for the UK market and the EU market, which will add cost."
Hawes also said that the UK needs to work hard to attract investment to grow the number of electric vehicles sold. "One of the big challenges is to attract investment to see battery manufacturing grow in the UK to compete globally.
"We need to go from 10% [market share] to 100% in nine years – it's a global challenge that the UK needs to take a lead on.
"We also need to be competitive in attracting new electric models into the UK – our incentives are not as good as elsewhere in Europe."
Hawes also said that more needed to be done on the EV charging infrastructure in the UK, with £16bn of investment needed and a focus on street charging.
Find out the best cars coming out in 2021 here…
Source: Read Full Article