New DS 7 E-Tense 4×4 360 2022 review
The new DS 7 range-topper is an effective country-road tool, leaving us impressed but also a little confused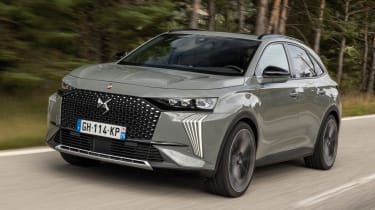 3.5 out of 5
Verdict
DS has done a great job of making this new DS 7 range-topper a competent back-road carver, but it seems like a strange place for the brand to focus so much energy when cars lower down the pecking order are still crying out for improved suspension. The interior and exterior tweaks across the line-up are welcome, though.
We have numerous misgivings about the DS 7, but one particularly egregious blot on its report card is the ride. As the first bespoke DS product following its separation from Citroen, it really ought to be smoother, given the brand's apparent focus on comfort.
Yes, the damping is soft, but it lacks control and consistency, bucking and pitching over imperfections in the road, and often struggling to settle down. Now, there's a facelifted version of the DS 7, and the suspension has been completely overhauled.
Top 10 best hybrid SUVs to buy 2022

But there's a catch. Only the E-Tense 4×4 360 – the new range-topper – gets these changes, as they're all aimed at sharpening up the driving experience at the slight expense of ride softness.

The DS Performance team has gone to town on the EMP2 platform, which the Stellantis Group also uses for the Citroen C5 Aircross, Opel Grandland and Peugeot 3008. It sits 15mm lower on new springs and tweaked dampers, while the track widths have increased by 24mm at the front, and 10mm at the rear.

There are new 21-inch wheels wrapped in Michelin Pilot Sport 4 S tyres which are – intriguingly – the bespoke 'TO'-marked versions originally developed for Tesla, and under these on the front axle lie a pair of 380mm ventilated brake discs squeezed by four-piston calipers.

The powertrain is – for the most part – the same as that of the DS 7 300 plug-in hybrid. The 1.6-litre inline-four petrol engine and electric motor that feed the front wheels haven't been altered, and neither has the rear-mounted electric motor. The inverter and the powertrain's software are both new, however, bringing the power output from 296bhp to 355bhp, while the torque swells from 450Nm to 520Nm. The 0-62mph time is now a very respectable 5.6 seconds, and it'll top out at nearly 150mph. Healthy figures, although DS insists this is supposed to be a grand tourer rather than an out-and-out performance car.

You only need to glance at the DS 7 360 briefly to see it's a little different from its stablemates. The 21-inch wheels look particularly vast thanks to the use of barely-there 35-profile tyre sidewalls, and the more low-slung nature of the body is immediately obvious.

Top 10 best hybrid cars to buy 2022

The difference in the driving experience meanwhile is abundantly clear from the moment you set off – the low-speed ride is busy, and at times verges on crashy. This will be partly down to the new springs and dampers, and partly down to the big wheel and super-low profile tyre combination. It's a shame it's not available with smaller rims, as good as the new 'Brooklyn' design wheels look. They're also going to be extremely vulnerable to kerb damage, with the tyre sidewalls offering barely any protection. Park with care.

The ride improves at speed, but this is certainly no waft-mobile, with body movements remaining very active even on the smooth French autoroutes of our first drive location. Peeling off and heading into the mountains, the payoff becomes clear – this is a DS 7 that's happy to be hustled at a good pace through a set of tight bends.

Considering the DS 7's bulk (this version is near-enough two tonnes), body control is commendably tidy. The 360 responds well when fast changes of direction are demanded by the driver, and the car stays nicely level even when pushed. There's nothing in the way of meaningful feedback in the steering, which is at least nicely weighted.

Despite the front axle being supplied with considerably more torque than the rear, it isn't overloaded even under full throttle on a tighter corner. Lateral grip is decent, too, although an overly-ambitious entry speed will remind you of the DS 7's height and weight, as the front end pushes on into tyre-squealing understeer. Be more realistic in your expectations, and the DS 7 360 can be quite fun on the right road.

The enlivened hybrid set-up never leaves you wanting for power but doesn't feel hugely fast either. The whole affair is also somewhat undone by the eight-speed automatic gearbox, which is overly keen to downshift even under only part throttle, especially in Sport mode, sending the revs spiking.

The 1.6-litre engine sounds strained in its upper reaches, and given all the extra low-down torque afforded by the motor, the transmission's obsession with sending you there seems needless. Although there are some paddle shifters to allow the driver to take some control of the gearbox, there's no manual mode, so you can't stop the pointless kickdown moments. This attitude is still present in other modes, albeit to a lesser extent.

Top 10 best mid-size SUVs on sale 2022

This hampers the enjoyment of DS Performance's very successful chassis tweaks during dynamic driving, although the new set-up can be appreciated elsewhere too. While it might seem counterintuitive, this version of the DS 7 is more comfortable because of its firmer nature. The standard car is too soft for its own good – there isn't enough finesse in the damping, so undulations and imperfections in the road surface can leave it wallowing around clumsily. The 360, on the other hand, is much more controlled.

As with all models in the range, it's refined on the move, isolating occupants well from wind and road noise. It's a particularly relaxing car to drive when running on electric power alone, something the DS 7 can do for up to 36 miles. The transition from electric-only to hybrid running isn't always the slickest, though – when a decent amount of throttle is applied, there's a noticeable pause before the 1.6-litre engine wakes up to join the party.

The DS 7 is also now inside, featuring new colour choices and leather patterns – including the smart embossed 'draped' leather effect for the dashboard – plus a slick new 12.3-inch digital instrument cluster and 12-inch infotainment screen running the newer IRIS software.

It's a reasonably responsive, crisp-looking display, although the shortcut keys at the bottom are small and thus not easy to use on the move. Thankfully, there is a view that places the dual-zone climate control functions on either side of the map, reducing the need for on-the-move touchscreen fiddling. Since the display is bigger, the map is kept at a reasonable size in this view. We'd like the navigation itself to be a little quicker, however – it's often a little laggy, left 'catching up' with your actual position.

As before, the cabin is full of various shiny trinkets, including a B.R.M analogue clock which emerges from the top of the dashboard on start-up. It's borderline chintzy in there, but the interior makes for a welcome change too often dour cabins of German rivals. The level and quality of the build quality leave us with no complaints, too.

DS has had a go at improving the outside as well. The look of the DS 7 has always been one of its stronger suits, but now, it's looking smarter than ever. There's a larger grille at the front, plus a new LED daytime running light signature featuring four dramatic vertical strakes on each side of the bumper.

The fresh headlights feature DS's Pixel LED Vision 3.0 technology, which provides more effective cornering lighting. You no longer get the party-trick rotating of elements inside the clusters on start-up – according to Stellantis global boss of communications Bastien Schupp, this is down to that function not being compatible with the latest Pixel tech. He wouldn't confirm or deny if the removal also makes the clusters easier to manufacture and/or less likely to go wrong in the long term.

At the back there are some new creases, increasing the visual aggression, and slimmer light clusters. 'DS Automobiles' script is now in place of the old 'Crossback lettering. Even though the body houses a larger battery, practicality is unchanged. You still get a generous 555 litres of boot space – enough to challenge SUVs from one class up like the Audi Q5 – plus a good amount of rear legroom and enough headroom back there to accommodate people up to just over six feet tall despite the sloping roofline.

It's a practical, handsome car that's much better to drive than you might expect, but we can't help but be a little confused as to who it's for. It seems odd to invest what must have been a sizeable chunk of R&D into the chassis of what will be a niche model (the 360 is expected to make up 10 per cent of UK DS 7 sales) while leaving the suspension of the bread and butter versions untouched.

It's particularly befuddling considering DS's supposed hallmarks of 'comfort and serenity' we were told about in the pre-drive presentation, although Schupp claims the brand's "centre point" remains where it should be since the 360 Performance is as extreme as DS will go across its line-up. Given this car – admittedly in very well-specced Opera trim – already costs £60,440, that's probably for the best.

| | |
| --- | --- |
| Model: | DS 7 Opera E-Tense 4×4 360 |
| Price: | £60,440 |
| Engine: | 1.6-litre 4cyl petrol + 2x e-motors/14.2kWh battery |
| Power/torque: | 355bhp/520Nm |
| Transmission: | Eight-speed automatic, four-wheel drive |
| 0-62mph: | 5.6sec |
| Top speed: | 148mph |
| Fuel economy: | 161.1mpg |
| CO2: | 40g/km |
| On sale: | 28 September |

Source: Read Full Article