New Hyundai Kona Electric 2020 review
The popular Hyundai Kona Electric SUV has been updated for 2020 and it's now better than ever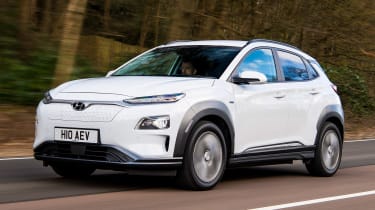 4.5 out of 5
Verdict
The Hyundai Kona Electric still isn't the last word in driving pleasure, but these updates have done nothing to diminish its appeal as a sensibly priced EV with an impressive battery range for the money. The only fly in the ointment, in fact, is that we know that further improvements to the battery range are coming later this year, so it might well be better to wait until the summer before ordering.
With new pure-electric models being launched almost every week these days, it's easy to forget some of the star offerings that impressed us not too long ago. Take the Hyundai Kona Electric; it was our Affordable Electric Car of the Year back in 2018, but was soon outshone by the Kia e-Niro's mix of a similar battery range and a slightly larger cabin.
Now the Kona Electric has been given a set of mild mid-life revisions – and while they don't extend to an extra 40mm in the wheelbase, they could nudge this baby SUV back towards the top of the EV pile.
Best electric cars to buy 2020

You'll need to be a Kona aficionado to spot the changes from the outside. The ultra-slim headlights and complex side surfacing remain unchanged, but there are tiny tweaks to the lower lights at the front, and the tail-lights, to help aerodynamics.

Inside, the stand-out feature is a new 10.25-inch widescreen infotainment display that's standard on all but the basic SE editions of the car. While the interface takes a little getting used to – it mixes on-screen buttons with the ability to swipe between screens, left and right – you soon learn how to access your favourite bits of functionality easily, and it's crisp, clear and quick to respond to inputs.

More reviews for Kona Electric

Car group tests

Hyundai Kona Hybrid vs Kia Niro Hybrid
Kia e-Niro vs BMW i3 vs Hyundai Kona Electric
Mazda CX-3 vs Hyundai Kona vs Peugeot 2008

In-depth reviews

Hyundai Kona review
Hyundai Kona Electric review

Long-term tests

Hyundai Kona Electric Premium SE: long-term test review

Road tests

New Hyundai Kona Hybrid 2019 review

There are a few fresh bits of trim in the cabin to lift the perceived quality a little, but the end result is still an interior that's functional and smart rather than luxurious. As before, the space in the rear seats is best reserved for children, and the boot capacity remains a meagre 332 litres. The Kona is many things, but it can't quite pass itself off as a full-sized family car.

Underneath, the core recipe hasn't really changed much, either – but then that's no bad thing. The Kona packs a 64kWh battery, which is good enough for a range comfortably north of 240 miles in real-world use. Based on our miles, the official WLTP figure of 278 miles is entirely feasible. There's a faster three-phase on-board charger now, which cuts the time required to take the battery from zero to 80 per cent by a fifth; it's now 75 minutes.

On the road, the Kona feels pretty much the same as before. The 201bhp motor and 395Nm of torque are at the very limit of what the chassis can cope with, so sudden prods of the throttle will spin up the front tyres and leave the car squirming as it tries to find sufficient traction on its relatively thin tyres.

The best tactic is to choose the Eco driving mode and enjoy the stunted delivery of power that this brings. It's more progressive yet still quick enough for most situations, while also being more efficient.

The secondary ride is still a little too firm, so while the car stays pretty flat in corners, you do end up being bounced around a bit over even smaller road imperfections.

One of the Kona's biggest upgrades isn't actually in the vehicle at all. It's on your smartphone, where there's now an app that allows you to control charging and pre-conditioning of the vehicle remotely.

But in a strange development, we already know that there's a further revision to this car in the pipeline. Wait until the summer to order a Kona Electric, and it'll get chassis mods that boost its official range, on the same 64kWh battery, to a freakish 300 miles.

| | |
| --- | --- |
| Model: | Hyundai Kona Electric Premium SE 64kWh |
| Price: | £37,950 (after gov't grant) |
| Engine: | 64kWh battery, single electric motor |
| Power/torque: | 201bhp/395Nm |
| Transmission: | Single-speed auto, front-wheel drive |
| 0-62mph: | 7.9 seconds |
| Top speed: | 104mph |
| Range: | 279 miles (WLTP) |
| CO2: | 0g/km |
| On sale | Now |

Source: Read Full Article