New manual gearbox Toyota Supra revealed for the UK market
The new six-speed manual gearbox contributes to a reduction in weight and is part of a set of model year revisions for 2022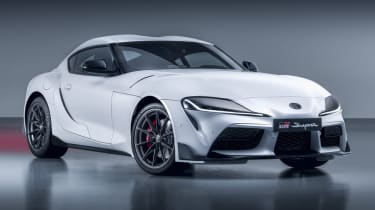 Toyota claims it has committed to cars for 'driving purists' by revealing a manual transmission version of the Supra coupe, which will go on sale in the UK later this year in two trim levels.
Paired exclusively to the Supra's larger engine option – a 3.0-litre, turbocharged six-cylinder BMW unit developing 335bhp – the new manual gearbox will be available in standard versions of the 3.0-litre car and loftier specced Pro versions.
New 2022 Toyota GR86 sells out in 90 minutes
There's no word on the availability of the new gearbox in 2.0-itre four-cylinder versions of the Supra, but the brand's new GR86 sports car, designed to sit beneath the Supra in the line-up, should provide for that customer base.
The new gearbox has been designed by Toyota specifically for use in the Supra. To accommodate its arrival, several key re-engineering developments have been necessary, says the brand.
The existing transmission housing – home to an eight-speed ZF automatic transmission until now – has been redesigned for the new six-speed manual, partly contributing to a reduction in weight and possibly an increase in noise, given some acoustic packaging has been eliminated. A newly engineered clutch is linked to the gearbox.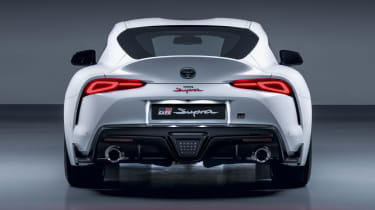 The gearbox uses electronics and sensors to optimise performance, ensuring optimal engine torque and revs on upshifts and downshifts. However, this electronic assistance can be switched off, should the driver choose.
In the cabin, the centre console has been subtly redesigned to accommodate the new gear lever, which Toyota says has been meticulously fashioned to be as pleasing to shift as possible. The revised centre console places the shifter further back than the equivalent automatic gear lever, to provide more space between itself and the climate control settings and sit nearer the driver.
With the new transmission come newly developed traction control, torque vectoring and differential settings for optimal traction and agility. The gearbox and the changes made to fit it contribute to a reduction in weight, too. The manual transmission and newly designed 19-inch wheels shave off 21.8kg. This combines with further reductions in mass stemming from a new audio system, the removal of leather upholstery and electronically adjustable seats to make the manual Supra weigh 38.3kg less than automatic versions of the 3.0-litre model in Pro specification.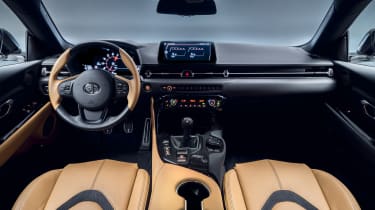 The manual model's arrival coincides with the introduction of tweaks across the range for the Supra. Both manual and automatic versions come with retuned suspension and steering, a new anti-roll stabilisation programme intended to reduce the likelihood of snap-oversteer, and two new paint colours for buyers to choose from.
Fully revised UK prices and specifications will be announced when the updated Supra with manual option lands on sale in Britain later this year.
Read our review of the Toyota Supra here…
Source: Read Full Article