New Maserati Grecale GT 2023 review
Maserati's new Grecale midsize luxury SUV intends to do what the larger Levante never could… sell in decent numbers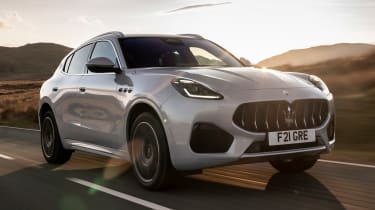 4.0 out of 5
Buy used for less at Buyacar
Verdict
You might think the Grecale is a bit late to the party, but with consumers still buying luxury SUVs of all sizes in their thousands, it would be foolish for Maserati to let a little tardiness stop it getting in on the fun. Tech, luxury and driving dynamics are all impressive parts of the Grecale package, and it's sprinkled liberally with Italian charisma, too. The key here is that unlike the mid-spec Modena or the near-£100k Trofeo, this base GT model has all the charm without a heinous price tag.
If you're one of the many car buyers in the UK that each year decides to put your money down on a midsize luxury SUV, take note. There's now a new and distinctive Italian player in the field, the Maserati Grecale.
The Grecale is marketed as sitting at the top-end of its segment, mainly against rivals like the Porsche Macan and Range Rover Velar. Maserati's gone all-in on a model that might finally bring some volume and presence to the range that has flattered to deceive in the past. We've already driven the mid-level Grecale Modena, and now it's the turn of the entry-level GT model, which kicks off at £61,570. 
New Maserati Grecale 2023 review

Maserati might market the Grecale as a Macan rival, but place the two side by side and you'll notice the Maserati's actually the bigger car, with a slightly larger footprint and more space inside the cabin. The interior is a real highlight because the Grecale feels genuinely luxurious, and we're not just talking generic 'premium SUV' luxury here. The materials used across the cabin, whether it be on the seats, dashboard or door inserts, is all waxy, luxurious and highly detailed. Other elements that stand out include the column-mounted aluminium paddle shifters and optional open-pore timber trim – elements that reiterate how expensive the Grecale feels.

Tech is also remarkably good, with a slick dual-screen centre stack that's quick to respond and easy to use once you're up to speed, with the caveat that the lower screen's functions can be a little fiddly to use on the move. The digital driver's display is fairly standard but the new digital interpretation of Maserati's clock is a nice surprise, even if some might feel that it's another pointless exercise in digitisation. One element that didn't go down particularly well is the push-button gear selector that bisects the two touchscreens – we like physical buttons but for selecting gears this just isn't very intuitive. 

More reviews

Road tests

New Maserati Grecale 2023 review
Maserati Grecale Trofeo 2022 review

The Grecale's driving manner is one familiar to many modern Italian cars, whether that be an Alfa Romeo or Ferrari. This is defined by very light and very fast steering – a combination that initially makes the Grecale feel lighter and more agile than it actually is. This featherweight feel is shared by the pedals, and even the door as you close it behind you. It doesn't make the Grecale feel flimsy, rather delicate and lightweight. By contrast, Porsche generally goes down the exact opposite route when it comes to the tactile elements of the Macan, with heavy steering, pedals and a chunky physical gear selector. 

Under the Maserati Grecale's sculpted bonnet sits a 2-litre turbocharged petrol engine with a substantial mild-hybrid system backing it up. Rather than just streamlining the engine's operations, there's enough punch in the small electric motor to do a relatively good job of filling in the gaps in torque that the turbocharger can't quite get to. With 296bhp it's not a fire-cracker, but then it is more potent than Porsche's 262bhp four-cylinder engine in its base Macan, and has more charisma to boot. Performance is impressive considering the relatively subdued on-paper figures – the car hitting 62mph in just 5.6 seconds. 

Just as in the Modena and Trofeo, a twist of the steering wheel-mounted drive mode selector will find Sports mode which unlocks a sharper throttle, a more noticeable boost from the MHEV system and an exhaust flutter under hard upshifts. It might not make you go any faster, but helps underline the Grecale's connection to its more exotic Maserati stablemates. The gearbox itself is also very good, with sharp shifts and smooth operation. The all-wheel drive system also still feels quite rear-biased in its torque delivery, helping the car come across as agile when powering out of tight corners. 

Pootle around at normal speeds and the Grecale will match its quoted 30mpg-ish fuel economy figure, and while this is very far from impressive, most petrol-powered midsize SUVs in the class match that sort of figure. Finally, a word on the ride. This base GT model features passive dampers on a coil-spring setup, and by and large it's a nicely balanced arrangement. The 20-inch wheels on our test car (19s are standard, 21s optional) seemed to find a good understanding with the road surface and the compromise between body control and low speed composure feels well judged, if a tad on the firm side. 

Where the Grecale hits the sweet spot most accurately is in its sense of style, prestige and luxury. While some might point out a certain resemblance to a popular compact crossover built by the blue oval from some angles, the Grecale has plenty of road presence that buyers in this segment will lap up. There's also the fact that many will be ready to shift out of their Macans and Velars, cars that don;t have direct petrol-powered replacements on the cards, Maserati might just have this still popular niche all to itself.

| | |
| --- | --- |
| Model: | Maserati Grecale GT |
| Price:  | £61,570 |
| Engine:  | 2.0-litre 4 cyl turbo MHEV |
| Transmission:  | Eight-speed auto, four-wheel drive |
| Power/torque:  | 300bhp/450Nm |
| 0-62mph:  | 5.6 seconds |
| Top speed:  | 149mph |
| Economy:  | 32.5mpg |
| CO2:  | 198g/km |
| On sale:  | Now |

Source: Read Full Article