New McLaren 750S replaces 720S in supercar line-up
The new McLaren 750S has been revealed in coupe and Spider form, and arrives with 740bhp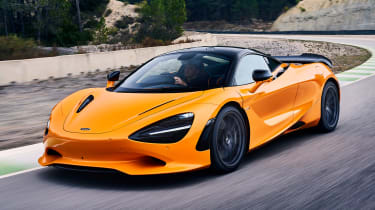 The next chapter in McLaren's supercar legacy has been revealed with the debut of the new 750S, the successor to the firm's 720S that will sit at the very centre of McLaren's supercar range. Available as both a coupe and open-top Spider from launch, the 750S is very much an evolution for the brand, retaining familiar technical elements that include a carbon fibre monocoque chassis, a turbocharged V8 engine and Proactive chassis control adaptive suspension system. The new 750S is available to order now, with prices still to be confirmed. 
Highlights of the new 750S start with the powertrain, which retains the Ricardo-built twin-turbocharged 4.0-litre V8 rather than adopting the plug-in hybrid V6 powertrain introduced in the new Artura. The engine has received a range of subtle updates to further improve upon its already impressive performance, such as increased boost pressures for its twin-scroll turbochargers, lightweight forged pistons, a bespoke engine management system and a new stainless steel exhaust that's 2.2kg lighter than the 720S's. The result is a peak power figure of 740bhp produced at 7,500rpm and 800Nm of torque from 5,500rpm, increases of 30bhp and 30Nm respectively compared with the 720S. 
New McLaren Artura 2023 review
As with all McLarens, power is sent to the rear wheels via a seven-speed dual-clutch transmission, which now features a final shorter drive for even more explosive acceleration through the gears. Unlike the Artura, which has seen McLaren finally give in and fit a traditional limited-slip differential on the rear axle, the 750S retains an open-diff that uses the brakes to limit unwanted wheel-spin. 
The 750S coupe will scorch from 0-62mph in 2.8 seconds and hit 124mph from rest in 7.2 before reaching a top speed of 206mph. The Spider has identical figures, save for a 0.1-second slower 0-124mph time. McLaren will offer three Pirelli tyre options, with standard P Zero, P Zero Corsa and track-focused Trofeo R options.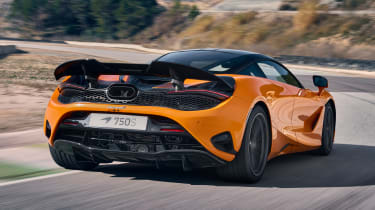 All 750S models feature standard carbon-ceramic brakes, but a new Senna-inspired 'track' brake package, utilising upgraded carbon-ceramic discs and monoblock calipers, is available. The brake upgrade is teamed with a larger brake booster and vacuum pump to optimise braking performance during sustained use on track. 
The 750S retains McLaren's Proactive Chassis Control system, which does away with traditional anti-roll bars and instead cross links each of the four hydraulic dampers. The system is now in its third generation and has been redesigned to give the 750S an even wider breadth of capability. 
The coil springs are softer than on the 720S but have been tuned with new dampers and a new geometry set-up to offer more stability in its stiffer modes. The new spring and damper design also knocks a further 2kg off the total weight of the system. In addition to this, McLaren has increased the track width on the front axle by 6mm, improving front-end grip. 
McLaren is quoting a kerbweight for the 750S of 1,389kg, a 30kg saving compared with its predecessor. When fitted with all the available lightweight options, which include new carbon-fibre seats and the lightest forged aluminium wheels ever fitted to a road-going McLaren, this can be reduced to as little as 1,277kg (dry). Thanks to the carbon-fibre chassis construction, the Spider doesn't require much additional strengthening and weighs only 49kg more than the coupe. Overall, McLaren says more than 30 per cent of the 750S's total parts count is brand new.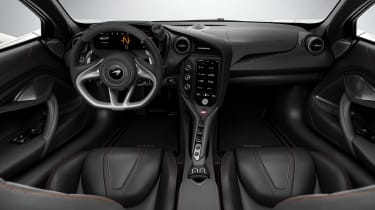 McLaren has retrofitted the interior with the latest infotainment and user interface elements first seen in the Artura, including a new static instrument display with similar mode toggles mounted at its edges. 
The exterior design is only very subtly modified compared with the 720S it replaces, with a slightly different front splitter, new vents at the rear flanking the diffuser, and a centrally-mounted exhaust outlet. The active rear wing is slightly larger than before, while those optional ultra-lightweight wheels join existing designs.
The McLaren 750S's key rival is Ferrari's 296 GTB, a supercar that takes a more complex approach to its design and engineering by incorporating a plug-in hybrid system. Other, more traditional alternatives include the Maserati MC20 and Lamborghini Huracán Tecnica. 
Available to order now, customer cars will arrive to customers towards the end of this year. Pricing is still to be finalised, but expect around a 10 per cent increase over the 720S, which costs from around £230,000. 
Click here for our list of the best supercars on sale…
Source: Read Full Article