New Mercedes GLC Coupe arrives with updated plug-in hybrid tech
The sleeker version of the Mercedes GLC SUV has been unveiled with electrified power across the board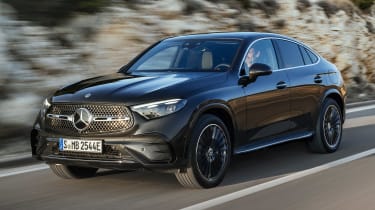 Hot on the heels of the second-generation Mercedes GLC revealed last year, comes the swoopy GLC Coupe. The GLC is Mercedes' most popular model globally and with the previous coupe variant accounting for up to a quarter of its sales, there's a lot riding on the new car.
Mercedes says the new GLC Coupe will hit European markets from July 2023 and, just as with the SUV model last year, the updates have focused on electrification.
New Mercedes GLC Coupe ride review
There are four mild-hybrid diesel options, plus two pure-diesel and two pure-petrol versions. However, Mercedes' 200 4MATIC petrol engine doesn't feature here on the GLC SUV, so it's unlikely we'll see this entry-level engine in the UK on the Coupe.
The 220 d and 300 d diesels use a 2.0-litre, four-cylinder motor with mild-hybrid tech, offering 197bhp and 269bhp respectively. The quickest of the mild-hybrid GLC Coupes is the petrol 300, with a 0-62mph time of 6.3 seconds, while the 300 d takes 0.1 seconds longer.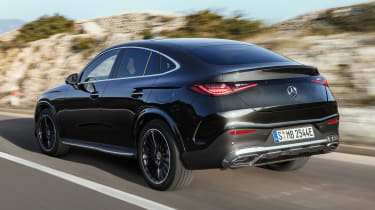 There are also three plug-in-hybrid powertrains, all using a four-cylinder engine and featuring a 31kWh battery that can power the GLC by itself for an electric-only range of up to 81 miles.
The petrol 300 e has 313bhp and 550Nm of torque, while the diesel 300 d e ups this to 335bhp and 750Nm. The range-topping model is the 400 e, with a total of 381bhp and 650Nm, but given that it's not offered on the regular GLC in the UK, we're not expecting to get it in the Coupe.
All of the PHEVs get an 11kW AC charger as standard, but an optional 60kW DC set-up can complete a full recharge in around half an hour.
We've seen AMG versions testing already; expect these to follow the lead of the latest C 63 in using four-cylinder-hybrid power, for a total of around 671bhp.
The GLC Coupe is 47mm longer than its SUV sister. The sloping roof does hurt boot space, but capacity is still 45 litres up on the old model's, at 545 litres. However, this drops to 390 litres in the plug-in versions.
UK buyers are likely to be offered the sportier AMG Line as the entry-level trim. Standard kit should include 18-inch light-alloy wheels, wireless phone charging, and heated front seats.
Click here for our list of the best SUVs on sale right now…
Source: Read Full Article