New Mercedes GLC Coupe ride review
We go for a ride in the new Mercedes GLC Coupe, which has been handed uprated steering and sports suspension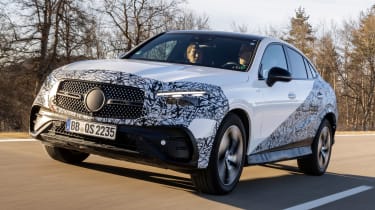 Verdict
The Mercedes GLC Coupe is shaping up to be a stylish, versatile offering, although there's a slightly diminished level of practicality. The ride and refinement are good, but we'll have to wait to say definitively if it's any more fun to drive than the standard GLC.
As the best-selling Mercedes in the world, the pressure is on the new GLC SUV to maintain its popularity, and a hefty 25 per cent of its sales are expected to come from this GLC Coupe variant.
This is still a development car, made clear by the camouflaged exterior, but a full reveal will happen soon. The Coupe will broadly follow on from the previous-generation car with its styling cues, with the rear featuring a sloping roofline and new light clusters for a more rakish profile. The front is pretty much exactly the same as on the current GLC.
Top 10 best SUVs to buy 2023
The engine range and the front of the cabin will be the same as the regular model, too, but headroom in the back seats is more restricted, due to the swooping roofline.
We hit the road in the GLC Coupe and even from the passenger seat it feels familiar, provided you don't look behind you (the sloped roofline doesn't do rear visibility any favours, either).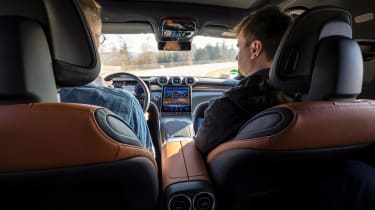 Our 256bhp GLC 300 model uses a 2.0-litre turbocharged four-cylinder petrol engine (the regular GLC's engine line-up will be mirrored by the Coupe's), although performance figures have not yet been published. Our car is also fitted with air suspension, but it hasn't been changed specifically for the new car. Our driver is Dominik Voogdt, an engineer for the GLC Coupe, and he tells us that it was "not necessary to adapt the suspension for the GLC Coupe. We have the same wheelbase".
What is different for the Coupe, we're told, is the steering. It's 10 per cent more direct and when coupled with the Sport suspension fitted as standard, is aimed at giving a more dynamic driving experience. However, from our first taste of the Coupe (and admittedly from the 'wrong' side of the car) there doesn't appear to be any more agility than in the regular GLC. We'll have to wait for our first drive to give a final verdict.
What we can say is that the Coupe feels just as refined as the SUV. The ride is on par with its more practical sibling and the car feels like one of the most comfortable mid-size SUVs around.
Mercedes says its MBUX software will be updated periodically from launch and will continue beyond the next-generation MB.OS infotainment system due to arrive in 2024.
| | |
| --- | --- |
| Model: | Mercedes GLC Coupe 300 AMG Line |
| Price: | £55,000 (est) |
| Engine: | 2.0-litre 4cyl turbo petrol MHEV |
| Power/torque: | 256bhp/400Nm |
| Transmission: | Nine-speed automatic, four-wheel drive  |
| 0-62mph: | 6.1 seconds (est) |
| Top speed: | TBC |
| Economy: | TBC |
| On sale: | Summer |
Source: Read Full Article