New Paul Stephens Autoart 993R is the ultimate 90s Porsche 911
380bhp lightweight 993 restomod can crack 180mph flat out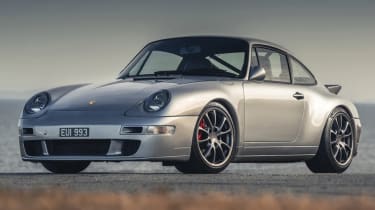 Porsche restomod specialist Paul Stephens has revealed the Autoart 993R, a modern interpretation of Porsche's last air-cooled – and some would say best – 911.
Based on a narrow-bodied 993 generation 911, it includes 993RS and Porsche GT components, plus a sprinkling of bespoke parts made by Paul Stephens. The idea is to harness the "rawness and charm of an air-cooled Porsche" but in a significantly lighter package, and with a lot more power.
New Porsche 911 Sport Classic 2022 review
That power comes from a reworked version of the 993 Carrera 2's 3.6-litre engine, with capacity increased to 3.8-litres. To that, you can add 993 RSR barrels and pistons, lightened steel conrods, an oil pump and crankshaft from the 997 GT3, individual throttle bodies and a bespoke Paul Stephens crankshaft.
As a result of that, power increases to 380bhp at a heady 8,500rpm, while maximum torque of 360Nm comes in at 5,675rpm – not bad considering the original car produced 272bhp and 330Nm.
It's especially not bad when you consider the 993R weighs 150kg less than the 1,370kg 993 it's based on. This significant weight saving comes thanks to the use of a lightweight aluminium bonnet, composite bumpers, a composite engine cover and thin motorsport glass.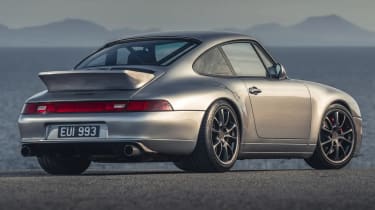 The resulting 272bhp power-to-weight ratio is a match for a 996 GT3 – meaning in the absence of official figures, you can expect performance of 0-62mph in around four seconds and a top speed of more than 180mph.
Armed with this knowledge, it's good to know the chassis has also been gone over with a fine tooth comb. It's been seam welded for stiffness, while the standard suspension is replaced with Porsche Motorsport parts that are five-way adjustable. You also get a Wavetrac limited-slip differential and Cargraphic exhaust.
Braking, meanwhile, comes from 993 RS discs and pads, complete with ABS. And the wheels? They're the same 18-inch alloys you'll find on the 996 GT3, complete with modern Michelin Pilot Sport rubber.
Inside, you can expect the 993R to be every bit the retro racer. Out goes the original dashboard assembly, electric windows, electric seats, central locking, glovebox and door grab handles. In their place, you'll find composite panels, carbon-fibre Recaro bucket seats and a roll cage.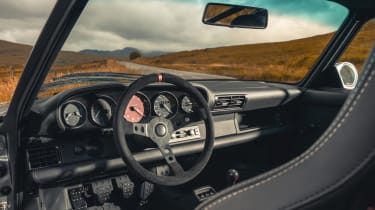 Even the air-conditioning has been replaced by a compact modern system and you get a simpler, lightweight wiring loom.
Sounds expensive? You're not wrong. Prices have yet to be confirmed, but when a solid 993 will set you back £60,000, you can expect the Autoart 993R to cost more than double that.
Now read about Nardone Automotive's restomod of the Porsche 928…
Source: Read Full Article