New Porsche Boxster GTS 4.0 PDK review
Can you have more fun for £70,000 than you do in the new Porsche Boxster GTS PDK? We think not.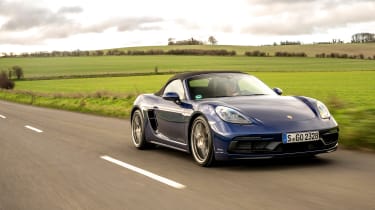 5.0 out of 5
Verdict
Even faster than its manual sibling, the Boxster GTS 4.0 PDK is one of Porsche's most usable, fun cars. It feels perfectly sized for British roads and handles superbly, and the dual-clutch automatic gearbox doesn't take away an emotional appeal that the regular four-cylinder Boxster simply cannot match. With near-supercar performance and a well-finished cabin, this car looks a bargain, even at just under £70,000.
We were totally bowled over by the Porsche 718 Boxster GTS 4.0 when we tried the flagship roadster with a manual-transmission earlier this year. Now it's time to try the version which appeals less to purists but may well sell in greater numbers: the 718 Boxster GTS 4.0 PDK.
Slotting the seven-speed dual-clutch transmission into the range-topping variant of its entry-level convertible might look a brave move on Porsche's part – not least because it's going to want more money for it (the car costs £68,643, a premium of £2,303 over the manual). But it not only opens up extra potential sales; it also creates a little extra wriggle room on the engineering front.
That's because the PDK transmission is able to deal with a little more shove than the manual – and Porsche has, conveniently, passed this gain on to the consumer. So while the basic power output remains the same as the GTS 4.0 manual, at 395bhp, you get 430Nm of torque instead of 400Nm. And as a result, the fast-shifting auto is even quicker – by a full half a second, in fact, from 0-62mph, at just 3.8 seconds. Let's stop for a moment and just acknowledge that figure: a Boxster that's sub-four seconds from 0-62mph.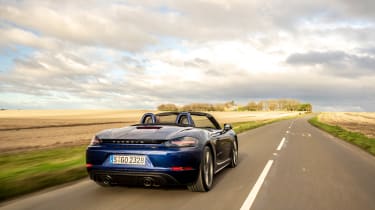 28
At this point you may be expecting us to start chipping away at the PDK experience by stressing the fact that it's not as involving as the Boxster manual. Of course it can't quite match the experience of the six-speeder. But that doesn't mean it ever feels inferior; find the right stretch of road and this remains one of the standout models in Porsche's (very strong) line-up.
More reviews for Boxster
Car group tests
Porsche 718 Cayman/Boxster – best sports cars
Porsche 718 Boxster 2.0 – Best cars for under £400
Audi TT RS vs Porsche 718 Boxster S
Porsche 718 Boxster vs Audi TTS Roadster

In-depth reviews

Porsche 718 Boxster review

Road tests

New Porsche 718 Boxster GTS 4.0 2020 review
New Porsche 718 Boxster T 2019 review

Used car tests

Used Porsche Boxster review

The powertrain is so smooth and linear, in fact, that at first you may miss the absence of the sort of kick in the kidneys that you get when a turbocharger spools up. But then you'll look down and realise that, with the revs rising towards the heady peak power delivery point of around 5,000rpm, you are, in fact, gathering velocity at a shocking rate of knots.

The GTS spec gets a sports exhaust as standard and it works beautifully with the six-cylinder engine, delivering a booming note from around 4,000rpm and then a proper scream once it's really on song 1,000rpm later. It's intoxicating – and while you may miss the ability to heel and toe to your heart's content, believe us when we say that over a deserted stretch of road, you won't find yourself feeling anything less than fully occupied in the PDK.

This car is about much more than its engine, too. The Boxster's chassis has always been nicely judged and the adjustments to cope with the extra power have not played around with that, so you get a roadster that phases out the worst road imperfections, responds instantly to inputs through the satisfyingly weighty steering, and stays incredibly flat mid-corner, with exceptional control that belies its open-topped body.

If you do want to cover long distances in your GTS, then, you'll find that it has that incredible duality that the best Porsche models usually possess – so it'll cruise along in comfort, with only tyre roar (possibly the car's biggest flaw) and a little bit of wind noise from around the roof seal at the A-pillar to complain about.

The cabin is beautifully finished and, by Porsche standards, well equipped as standard – although of course, there remains huge scope to add thousands of pounds to your price tag via the comprehensive options list (our German-spec, left-hand-drive test vehicle was taken to a cool €105,000). The fascia layout still feels reassuringly driver focused, although the infotainment system is now firmly eclipsed by what you can get in a 911 – and it's worth noting that Porsche only supports Apple smartphone connectivity; Android Auto isn't even an option.

| | |
| --- | --- |
| Model: | Porsche Boxster GTS 4.0 PDK |
| Price: | £68,643 |
| Engine: | 4.0-litre 6cyl petrol |
| Power/torque: | 395bhp/430Nm |
| Transmission: | Seven-speed dual-clutch auto, rear-wheel drive |
| 0-62mph: | 3.8 seconds |
| Top speed: | 179mph |
| Economy/CO2: | 28mpg/230g/km |
| On sale: | Now |

Source: Read Full Article