New Porsche Cayenne Turbo S E-Hybrid Coupe 2021 review
Is the new Porsche Cayenne Turbo S E-Hybrid Coupe the perfect mix of hybrid efficiency, performance, coupe-looks and SUV practicality?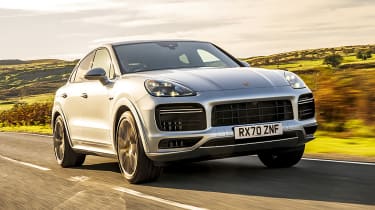 3.5 out of 5
Verdict
As polished as the Porsche Cayenne Turbo S E-Hybrid Coupe is, it's a car that's hard to justify. The standard Cayennes are even sharper to drive, and those who care about the clean air or financial benefits of a PHEV are unlikely to be the same people willing to sink £125,000-plus into one of the fastest large SUVs on the market. Porsche has long produced brilliant combustion-powered cars, and now fully electric products too. This is an inferior option to both.
Driving the Porsche Cayenne Turbo e-Hybrid, here sampled in Coupe form, brings a quandary that rarely crops up among most other PHEVs on the road. 
Like all traditional plug-in petrol/electric cars, Porsche's flagship SUV allows the average commuter to cover most – if not all – of their daily drive without burning any fossil fuels at all. Left to its own devices, the Cayenne starts in E-Power mode; an electric motor offers up 134bhp and a generous 400Nm of torque, making it perfectly fine for cruising around in a soothing silence. 
Fastest SUVs in the world 2020

It's at the point in when more power is needed that the serenity in most PHEVs is rudely interrupted by a bland four-cylinder petrol engine. But that isn't the way Porsche does things. 

In the case of the Cayenne, a twirl of the steering wheel-mounted drive mode select switch to Sport or Sport Plus delivers extra shove courtesy of a twin-turbocharged 4.0-litre V8. It sounds utterly fantastic. Even at slow speeds, the temptation to ignore the eco modes is huge, just to hear that menacing V8 burble.

Head out of town, and the engine opens its lungs to produce a glorious roar, combining with the e-motor to deliver a savage turn of speed. The numbers are true supercar stuff: 671bhp, 900Nm of torque, and a 3.8-second 0-62mph time. Throw in the 183mph top speed, and it makes the Cayenne Turbo S E-Hybrid Coupe the fastest Cayenne – and one of the fastest SUVs – money can buy. 

What's arguably as remarkable as the straight line speed is the way that the Cayenne Coupe handles. As standard, the Turbo S E-Hybrid gets air suspension and Porsche Dynamic Chassis Control – an active anti-roll system which fights physics to keep the car level through the corners. It really works, too; the result is a sharpness and a willingness when turning into corners – yet the overall balance remains neutral. It's assisted on this car by the optional rear axle steering. A £1,448 optional extra, it helps the Cayenne to tackle a twisty road like no car of this size has any right too. It feels completely natural, too, while the steering response itself is beautifully weighted and precise.

It manages this trick while offering a relative degree of compliance to the ride comfort, too. Compared to the brutal ride quality of one of its closest rivals, the BMW X6 M, the Cayenne feels positively luxurious. Those wide tyres generate an appreciable amount of road noise though, and the 285mm-section fronts can occasionally tramline across ruts and cambers. However, in both instances it's nowhere near as bad as the BMW.

This all may sound impressive, but even with the magic that Porsche has worked on the dynamics, the E-Hybrid still isn't a match for the other Cayennes through the bends. The problem is weight: thanks to a 17.9kWh battery – up from 14.1kWh in the previous version – this car tips the scale at 2,610kg. That's 335kg more than the regular Cayenne Coupe Turbo, and over 600kg heavier than the base V6 model. As a result, all of those versions feel more agile through corners, less lethargic when moving off, and more fun overall – big influences among performance car buyers.

The packaging headaches which come with housing all of the extra electrical tech harms practicality, too – if only slightly. Open up the Cayenne Coupe's powered tailgate, and the E-Hybrid offers a 500-litre boot – 98 litres less than the standard petrol alternatives. Further forward within the gorgeous and flawlessly finished cabin, passenger space is unaffected – there's still plentiful rear legroom and, despite the sloping roofline, decent headroom too.

Of course, none of the other variants cars can drive in a zero-emission mode. Officially, the Turbo S E-Hybrid will cover a WLTP-certified electric range of 24 miles. In the real world, and on a very cold day, a range of 18 miles is more realistic. Progress isn't perfectly smooth in this mode: the electric motor, which is integrated into the eight-speed gearbox, shifts through the ratios in the same way the combustion element does. This means that there's a subtle jolt as each new ratio is selected.

In other words, if you do lots of short trips, then the electric motor could possibly save you a few quid, and a little more when taxes are factored in. Are those qualities appealing to a company car user looking for a family hatchback? Absolutely. Should they appeal to buyers willing to splash out £125,946 (before options) on a high performance car that doesn't drive as well as the cheaper models in the range? We'd have to say no.

Like any other Porsche, it's possible to dip into the options range and add five figures to that starting price with little effort. Offered without a hint of irony on this 2.6-tonne hybrid SUV is what Porsche calls the Lightweight Sports Package. While we'd question if anyone can feel the weight-saving benefits of a carbon fibre roof and trim around the rear diffuser, features like the 22-inch alloy wheels, sports exhaust, alcantara steering wheel and glorious houndstooth seat upholstery certainly add a little character. Still, at £7,482, it's a pricey package.

| | |
| --- | --- |
|   | Porsche Cayenne Turbo S E-Hybrid Coupe |
| Price: | £125,946 |
| Engine: | 4.0-litre V8 twin-turbocharged petrol plus electric motor |
| Power: | 671bhp/900Nm |
| Transmission: | 8-speed auto, four-wheel drive |
| 0-62mph: | 3.8 seconds |
| Top speed: | 183 mph |
| Economy/CO2: | 74.3mpg/86g/km |
| On sale: | Now |

Source: Read Full Article