New Porsche K1 set to take on luxury electric SUV sector
Porsche has teased its new flagship SUV, due to launch by 2027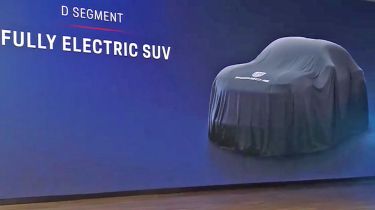 At its 2023 annual press conference, Porsche gave us the first official teaser image of its all-new SUV model. It's currently codenamed 'K1' and it'll be positioned above the upcoming Cayenne EV as a larger all-electric luxury SUV model. 
We got official confirmation of the K1 last year but during the latest presentation, Porsche CEO Oliver Blume announced the car will offer "strong performance, automated driving functions and a new interior experience". 
We already know the K1 will use a modified version of the VW Group's forthcoming SSP – or Scalable Systems Platform, electric architecture – also destined for use in the Macan EV and Audi Q6 e-tron. Porsche's electrification strategy will see the Macan EV hit the roads next year, followed by a 718 EV in 2025 and a zero-emissions Cayenne in 2026. The K1 will most likely make its debut in 2027. 
New Porsche Macan EV to offer over 600bhp
Blume had previously confirmed where the K1 will be manufactured. He said, "We plan to add a new luxury, all-electric SUV model to our portfolio, which will roll off the production line in Leipzig.
"This will further expand our position in the luxury automotive segment. We are targeting the higher-margin segments in particular and aim to tap into new sales opportunities in this way."
Anyone wondering why Porsche is expanding its SUV range might want to look at its 2022 figures which show that it delivered 87,000 Macans and 96,000 Cayennes compared to 40,000 911s and 34,000 Panameras.
The K1 teaser image doesn't give much away but we can see a sloping roofline with a double-bubble central section. Despite this, we expect the K1 to offer seven-seats to differentiate it from the smaller Cayenne EV. Beneath the cloak it appears the headlights have switched from Porsche's traditionally round design to a squared-off cluster.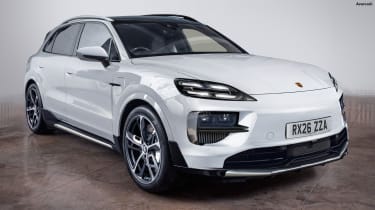 Porsche K1 exclusive image
Our exclusive image shows how Porsche might scale up the profile of the current Cayenne while adopting clear EV styling cues for the K1 model. It's likely that the company will make its offering a more rakish alternative to the polarising looks of the BMW iX.
It's now expected that conventional SSP products will be limited to 400V technology, helping to keep prices down, but that SSP Sport-based models will offer 800V electrics that can support charging of up to 350kW. Porsche is leading the SSP Sport project, but Lamborghini, Bentley and Audi are likely to make use of this as well.
Porsche also revealed that the next generations of the Panamera and Taycan will both use SSP Sport. As well as the Macan, Porsche also plans to build the next generation of Cayenne as an all-electric vehicle, using PPE.
Click here for our list of the best electric SUVs on sale now…
Source: Read Full Article