New Range Rover 2022 review
The new Range Rover is a brilliant all-rounder, boasting outstanding levels of luxury, cutting-edge tech and an impressive driving experience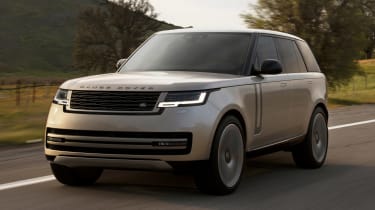 5.0 out of 5
Buy used for less at Buyacar
Verdict
The new Range Rover is modern British luxury at its best. It blends traditional craftsmanship and engineering brilliance with the very latest tech that enhances ownership and the driving experience. And what surprised us most is how much we enjoyed driving the car. The Range Rover always was a great all-rounder; part luxury car, part family car, part 4×4. That has all been enhanced – and we'd add part GT into the mix. It's an outstanding achievement.
In over 50 years of the Range Rover, this new model is just the fifth iteration of the iconic 4×4. To put that into context, in roughly the same period of time, there have been 11 versions of the Honda Civic, while plenty of other legendary models – including many other 4x4s – have been and gone.
The original Range Rover was conceived as the ultimate lifestyle SUV; luxury came later. This new model is tasked with reinventing the genre yet again, with luxury, technology and design to the fore. And this is our first opportunity to get behind the wheel of the new car to give our first verdict.
Top 10 best luxury SUVs 2022

Look at the new Range Rover, from the front at least, and you'd be forgiven for thinking this is a design evolution. But stand the new car against the old model and the one just going off sale – itself still highly rated – suddenly looks old and a bit fussy.

More reviews

Car group tests

BMW 7 Series vs Range Rover

In-depth reviews

Road tests

New Kingsley ULEZ Range Rover Classic 2021 review
New Range Rover D300 Westminster 2021 review
New Range Rover D350 Autobiography 2020 review
New Range Rover P400 Vogue 2020 review
New Range Rover SDV8 2019 review

Used car tests

Used Range Rover (Mk4, 2012-2021) review

The beauty of the new car is in the detail – and the detail is all about simplicity. There are fewer welds around the roof, for example, leading to a cleaner look above the totally flush-fitting side glazing. Oh, how Land Rover's engineers must have rolled their eyes at the design team when all that was suggested, but oh how those very same engineers have come up with incredible solutions to make those far-fetched sketches become reality.

There are fewer creases on the doors, the side vents are more subtle and feature a body-coloured panel within them, there are flush door handles, the headlights are slimmer and a tech story in themselves, and the front is cleaner with just horizontal lines below the bumper.

Then there's the back, with the usual bustle below the rear window and split tailgate – the lower portion is smaller than before, no doubt in response to existing owners saying they'd like to see it easier to reach far flung corners of an enormous boot.

But the light treatment – 'hidden until lit' – looks like a thin black line that surrounds the boot and incorporates the Range Rover name at the top, proudly sitting in what looks like an increasingly common light bar. It's not, a measure of restraint that sums up the design – less is most definitely more.

Oh yes, those slim, vertical rear lights – simple LED designs that house everything needed at the back. And hidden until lit.

You can decide whether or not you like the design, but one thing we do like is the improved paint finish and panel fit. It was pretty good before, now it's excellent – no doubt the result of the substantial investment in Land Rover's Solihull factory in the Midlands, where the Range Rover is built, to try and reverse the model's reputation for quality.

PARTNERSHIP

Need to sell your car?

They're only available on long-wheelbase cars, which aids clambering into the third row and also gives surprisingly good knee and headroom for anyone below six feet tall – although your knees will be elevated. Of course, all the seats are powered and the rearmost ones gracefully hide away in the boot floor.

In standard wheelbase models, the longer wheelbase of the new car compared with its predecessor improves the already generous legroom, while the quality of design and finish across the entire interior is hugely impressive.

Under the clamshell bonnet of the new Range Rover you'll be able to choose from six powertrain options, for now. We say for now because the first all-electric Range Rover is coming in 2024.

Before then, in a few months, you'll be able to choose from two plug-in hybrid models with different power outputs and a claimed all-electric range of a handy 70 miles. Initially, depending on the spec you go for, you can choose from two diesels or two petrols, one of which is a 4.4-litre V8.

Most of our time was spent in the more powerful of the two diesels, a 345bhp six-cylinder engine with a whopping 700NM of torque. Despite diesel being a dirty word for some, that doesn't apply to Range Rover owners – especially those buying for themselves rather than through their companies. For them, the idea of being able to drive long distances without the need (if not the desire) to stop is hugely appealing.

And this engine is hugely appealing in its character, too. On this form, diesel is not dead. It's the torque that makes this engine, giving the big Range Rover an unexpected sense of urgency. It's smooth and only sounds remotely like a diesel when you accelerate hard – which you might be tempted to do with a 5.8-second 0-60mph time.

For most of the time, though, it's not far off the silence and smoothness of the six-cylinder petrol, but with a good deal more grunt.

The slick-shifting eight-speed ZF automatic gearbox helps, too, making light work of changes when pushing on and just blending into the background the rest of the time.

A heavier diesel engine in the nose can sometimes upset the balance of a car, but here's perhaps the most surprising aspect of the new Range Rover – it handles well and can be great fun to drive. Key to this new-found agility is rear-wheel steering, which gives the big car impressive manoeuvrability at slow speeds and when parking, but also helps to tighten things up when driving faster.

The new Range Rover is no sports car, for sure, but it'll grip, stay flatter than before and you'll be able to place it with greater confidence through a corner (or anywhere else for that matter), which you'll enjoy. In fact, you'll just enjoy driving this car much more all-round.

It's incredibly quiet, with next to no road noise and only a bit of wind noise around the mirrors, although we're told that's likely to be improved on production cars.

Then there's the ride – best described as beautifully judged. It's communicative so you're aware of the state of the road surface, but it always stays comfortable – and this was a car riding on massive 23-inch wheels.

The Land Rover team references a 'magic carpet ride' and there's certainly plenty of magic going on with the active electronic air suspension and other high-tech features that boost its ride and handling.

On one particularly swift section on our test route, heading downhill through a sweeping right hander, we hit a bump mid-way through the corner. That might induce one of two things on a large SUV like this: you'd either feel the car's suspension hit its bump stops and give you a jolt or you might feel the car get a bit bouncy for a bit too long. The Range Rover does neither; there's just a gentle bit of body movement then it carries on with its business.

In fact, our test route was long and twisty, and the road was damp. Yet in spite of many hours behind the wheel we got out feeling remarkably fresh – and smiling.

Of course, being a Range Rover, we had to venture off-road where you have the strange juxtaposition of sitting in one of the classiest, most comfortable cabins over some seriously inhospitable terrain. The Range Rover didn't even break sweat, taking care of all the tricky stuff thanks to the various Terrain Response settings. In fact, over some of the trickiest stuff, you just sit back and steer – the car pretty much does the rest.

On and off-road, the diesel engine impressed us so much we'd take it ahead of the 395bhp six-cylinder petrol. Sure, there are slight (not much) refinement gains in the petrol, while the fuel is also cheaper, but both share the same zero to sixty time, although that mighty amount of torque makes the diesel feel quicker than the petrol. It'll go further between fills, too.

The V8, on the other hand, is always going to be tempting; not so much for its 516bhp and 4.5-second 0-60 sprint time, more for its fruity exhaust note – starting with a short and tuneful crescendo when you press the starter button.

Although our test car was the range-topping long-wheelbase SV model in luxury Serenity trim (you could go for a sportier Intrepid version), it felt just as wieldy as the standard wheelbase model – the Range Rover is one of those rare cars that feels like it shrinks around you; remarkable for something of its size and weight.

As well as SV, with its ceramic gear shifter and badges, plus numerous other luxury touches, there'll be a limited number of First Edition cars, then moving further down the range the usual Autobiography, HSE and SE models.

Our HSE-spec car came with all the luxury and safety technology you could want, with much of the tech having the potential to get better with age thanks to over-the-air software updates.

And not only were the seats super-comfy, we also loved the combination of premium, sustainable textiles used not only on the seats, but also the steering wheel, across the dash and doors, and on the gear shifter. We'd come across Kvadrat before, a more traditional woven material, but the Ultrafabrics on the seat facings felt like a cross between leather and suede. In their own way, they point towards the tech story that's behind the Range Rover – all designed just to make your life better.

And so it should with prices starting at a shade under £100,000. However, that places the Range Rover in an interesting niche, above SUVs from premium brands, but below those from luxury makers. The new model feels more in keeping with the latter, but in many ways very much better.

| | |
| --- | --- |
| Model: | Range Rover HSE D350 MHEV (SWB) |
| Price: | £108,775 |
| Engine: | 3.0-litre six-cylinder diesel mild hybrid |
| Power/torque: | 345bhp/700Nm |
| Transmission: | Eight-speed automatic, four-wheel drive |
| 0-60mph: | 5.8 seconds |
| Top speed: | 145mph |
| MPG: | 37.2mpg |
| CO2: | 198g/km |
| On sale: | Now |

Next Steps

Source: Read Full Article