New Singer ACS duo revealed with over 450bhp and rally inspiration
New Singer ACS vehicles get extensive off road modifications and a twin-turbocharged flat six producing in excess of 450bhp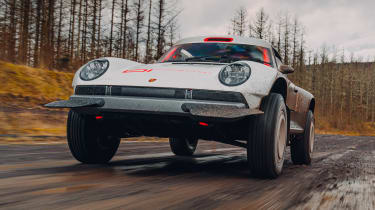 California-based Porsche restoration specialist Singer has revealed its latest creations: a pair of all-terrain models offering a 2021 interpretation of the 1980s World Rally Championship and Rally Raid racers made by Porsche. 
The Singer ACS (which stands for All-terrain Competition Study) consists of a pair of rally-prepped machines that take inspiration from cars like the 911 SC/RS and 959 which Porsche entered into the WRC and the Paris-Dakar Rally.
Secret Porsche concept cars uncovered for the first time
Commissioned by one of Singer's long term clients, ACS has been co-developed in the UK by Richard Tuthill, whose Banbury-based operation specialises in motorsport and rally preparation for classic Porsches. Last year, Tuthill Porsche constructed the car that won the 2019 East African Safari Classic – a 5,000km event that runs through Kenya and Tanzania. Back in the 1980s, Tuthill partnered with Prodrive to develop the original World Rally-prepped 911 SC/RS.
Two cars have been built: the first, white car is adapted for "high-speed desert rallying" while the second car is designed for tarmac rallying. Appropriately for the latter, it's finished in a shade called Corsica Red.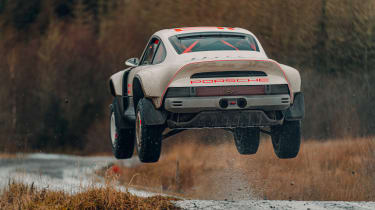 But it's the mechanical specifications that show how extensively the ACS cars have been modified to cope with the harsh environments of competitive rallying. 
As with other Singer creations, the starting point is a 1990 964-generation 911, which is reskinned in a carbon fibre body. However, as the wild looks suggest, these are unique to the ACS and are designed for two main purposes. The first is to take into account the increased cooling demands required in harsh off-road environments, and the second is to allow easy access to important mechanical components which may need to be examined during service stops. As a result, the entire front and rear sections both open up like huge clamshells. 
The panels wrap around an extensively reinforced monocoque, and one which accommodates a significantly raised ride height. Bumpers front and rear are simple bars, which enable even greater approach and departure angles.
Tough rally-spec suspension is then attached to the bulked-up chassis. Twin dampers – each five-way adjustable – are mounted at all four corners, in order to control the shocks endured by the new long-travel suspension. Contact to the ground is through chunky BF-Goodrich all-terrain tyres, wrapped around 8×16" forged aluminium wheels. Brakes discs are steel, and are gripped by four piston calipers all round.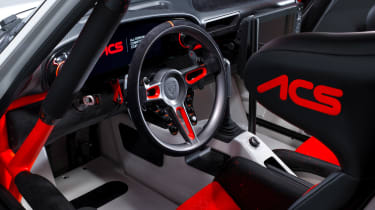 Porsche's 'Metzger' flat six remains Singer's start point for the engine, but its configuration here is new. Capacity is 3.6-litres, but it's boosted by a pair of intercooler-fed turbochargers. Total power can be adjusted based on the demands of the specific rally, but the new unit offers at least 450bhp and 569Nm of torque. 
Drive is sent to all four wheels via front, centre and rear limited slip differentials, and a five-speed sequential dog-box, which allows the driver to shift up without lifting the throttle. The gears can be operated through either an extended gear lever on the transmission tunnel, or by steering wheel-mounted paddles.
Other modifications to the standard Singer formula include a long range fuel tank and two full size spare wheels.
Inside, the ACS sports a much more contemporary appearance than SInger's retro-inspired road cars. Accessed through shorter doors (a result of the significantly reinforced sill area) the cabin reveals a pared-back dashboard, constructed from carbon fibre. This houses a digital instrument panel in front of the driver, and a huge GPS race navigation system ahead of the passenger. 
Many of the controls are housed on a unique steering wheel, while a huge hydraulic handbrake stands taller than the extended gear lever. Safety is provided by unique seats, harnesses and a roll cage – all certified by motorsport's governing body, the FIA. Finally, both driver and passenger benefit from their own in-built drinks system.
What do you think of the Singer ACS? Let us know your thoughts in the comments section…
Source: Read Full Article