New Skoda Enyaq iV 2021 review
The new Skoda Enyaq iV is the Czech firm's first bespoke electric car and it brings a practical outlook to the EV ownership experience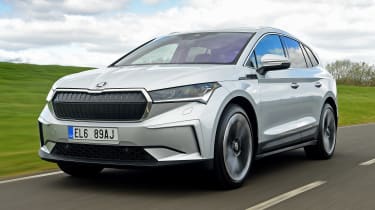 4.5 out of 5
Verdict
The Skoda Enyaq iV 80 is an EV with a great depth of ability. Its ride, refinement and practicality are the key elements here, while on-board tech and solid performance play strong supporting roles. We'd like a little more range (warmer conditions should help) and stronger brake regeneration, but dynamically the car is good. We'd add 125kW charging to boost flexibility too, but at the Enyaq's core is a likeable – and even luxurious – refined personality that convincingly catapults Skoda into a new era.
As a pragmatic brand for the people, Skoda claims that its new Enyaq iV electric SUV will bring EVs to the many, not just the few. With prices from £31,995 including the recently revised £2,500 Plug-in Car Grant, roughly the same as the entry-level Kodiaq TDI seven-seater, and there's certainly some truth in the firm's claims.
Refreshingly though, Skoda isn't actually trying to reinvent the wheel with its first bespoke EV. Instead, it feels like it's sticking true to its values with a practical, high-quality, usable EV that delivers decent technology and is relatively affordable.
Electric cars with the longest range

Prices rise to £40,920 for the high-spec ecoSuite model with the 82kWh battery driven here, but that's no different with similarly specced rivals. This Enyaq iV offers a claimed 333 miles of range and is fitted with an electric motor serving up 201bhp and 310Nm of torque. A kerbweight of 2,015kg means its performance isn't quite as rapid as we've come to expect from some EVs, with what feels like a conscious decision from Skoda to smooth out delivery so it's linear and progressive.

The 0-62mph sprint takes 8.5 seconds, but the benefit is that the Enyaq is supremely relaxing. Performance is still adequate, while accessing the maximum the motor offers is an altogether more refined experience than flat-out acceleration in a petrol or diesel SUV. There's very little motor whine.

However, we would like an extra, more aggressive brake regeneration setting to help make one-pedal driving easier. There's an adaptive auto regen function, but even in the strongest B Mode you need to anticipate quite a long way in advance. You can adjust the level of regen using the steering wheel paddles, with three settings available.

One big factor in our car's refinement is the £785 Drive Sport Plus package, which adds adaptive dampers, among other features. Set to Comfort, even on optional 21-inch alloy wheels, the ride is extremely smooth. Bad potholes do make themselves known occasionally, but the suppleness means the Enyaq is really quite comfortable.

Despite this softer, more forgiving set-up, the car doesn't fall apart dynamically. The battery is mounted low down in the floor, so the Enyaq still handles with as much composure as we'd expect from a family SUV. Big wheels mean low-profile tyres, but these help the steering's precision; you can point the Enyaq into a turn and be confident it will grip even at faster speeds on twisty, bumpy roads, yet it still provides good composure.

The steering is light, but one benefit of the VW Group's MEB electric car platform the Skoda uses is that, with no engine up front, there's lots of steering lock. The front wheels can turn through quite a wide arc, so for a 4,649mm-long car, the Enyaq is easy to manoeuvre.

The other benefit the bespoke EV platform brings is that the wheels can be pushed to the extremes of the vehicle's footprint. Combined with no central transmission tunnel in the rear, there's an impressive amount of room inside, while boot space is great, at 585 litres.

This overall feeling of airiness inside is helped by the Enyaq's deep dash. It creates a space for a head-up display that projects info on the windscreen in the driver's eyeline, such as sat-nav instructions that grow in size as you approach a turn.

A pair of screens are standard; a smaller panel ahead of the steering wheel shows basic info (speed, range, brake regeneration, etc) with good clarity, while the 13-inch centre screen has great graphics and responses.

However, the climate control is all touchscreen-operated, while the volume control is a touch-sensitive slider. It's not always the easiest to use on the move, but then, steering wheel controls get around this.

What you can't get around is the Enyaq's predicted range relative to its 333-mile claim. Admittedly we tested the car in cold conditions, but with a full battery the car predicted a range of just under 210 miles.

This is still enough for most people's needs, mainly because you can have faith in the Enyaq's predicted range reading. With relatively little concession to eco-conscious driving, range used versus distance travelled was roughly 1:1. Having the ability to trust an EV like this greatly reduces range anxiety, especially if the predicted range is some way short of the claims.

All Enyaqs come with 50kW DC rapid charging, which sees the battery recharged from zero to 80 per cent in one hour and 10 minutes. However, 82kWh models can add 125kW rapid charging for an extra £440. This drops the charging time to just 38 minutes, and seems like a no-brainer to us. You can also fully replenish the battery from a 7.2kW wallbox in 13 hours.

Beyond the added flexibility of 125kW rapid charging and the adaptive dampers, we wouldn't suggest you need any other extras. High-spec ecoSuite models gets lots of kit, including leather, all-round parking sensors, a rear camera, LED lights, dual-zone climate control, AEB with collision warning, lane assist, sat-nav, wireless Apple CarPlay and Android Auto.

The Enyaq iV's strength, though, is that's it's easy to get on with. It's exactly how we hoped Skoda's first bespoke EV to be.

| | |
| --- | --- |
| Model: | Skoda Enyaq iV 80 |
| Price: | From £39,350 |
| Battery/drive: | 82kWh/single electric motor |
| Power/torque:  | 201bhp/310Nm |
| Transmission: | Single-speed automatic, rear-wheel drive |
| 0-62mph: | 8.5 seconds |
| Top speed: | 99mph |
| Range: | 333 miles |
| Charging time: | 1h 10 min (0-80%) |
| On sale | Now |

Source: Read Full Article