New Smart #3 SUV debuts at Shanghai with sleek coupe-style body
The all-new Smart #3 electric coupe crossover is a long way from the brand's formative city car speciality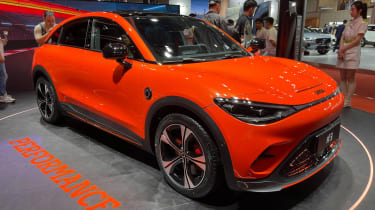 Smart's reboot as a premium all-electric brand continues with the reveal of the new #3 electric coupe crossover. Debuting at the Shanghai Motor Show, this new model will join the existing #1 in the reformed range, sharing its bespoke EV underpinnings that have been co-developed with Chinese automotive powerhouse Geely.
Few specific details have been confirmed about the Smart #3 so far, but from what we can see it clearly retains a similar design language formed by the Mercedes team under the supervision of design chief Gordon Wagner. This is exemplified by the #3's smooth bodywork, front and rear light bars and clamshell bonnet, elements that were all debuted on the more upright #1. 
Top 10 best electric SUVs to buy 2023
Under the skin the two are expected to share a majority of their powertrain and chassis elements, with development mainly driven by Geely. This includes the use of the Chinese group's Sustainable Experience Architecture, or SEA, platform that is also found in models from Zeekr and eventually Volvo, too.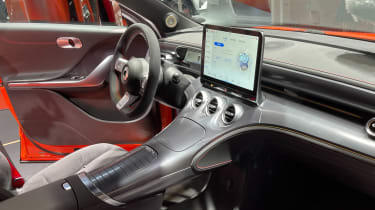 The fundamentals are as you might expect of a modern EV, with a 62kWh (usable) battery pack mounted between the axles and the option of either a single, or dual motor powertrain option. The initial, single-motor Smart #1 models produce 268bhp and 343Nm of torque, which is capable of a 0-62mph time of an impressive 6.7sec. An even more powerful dual-motor Brabus version will be added to the range in time, which in the #1 produces 422bhp. These powertrain options are all expected to be carried across wholesale to the new #3. 
The cabin is also based on a design first seen on the #1, but features new design elements on the flowing dashboard that are designed to give it a sportier feeling. These include new round air-vents and the use of sportier materials and trim. 
The #3 will make its European debut in September, with a local launch set for some time in 2024. Until then, Smart will begin its new era in Europe with the #1, which will be available in the UK and Europe from the summer. 
Now check out our review of the Smart #1…
Source: Read Full Article